15 years helping Canadian businesses
choose better software
Local product
What Is FunctionFox?
With over 20 years of experience in helping creative companies succeed, FunctionFox provides simple yet powerful project management tools that allow you to keep multiple projects on track, forecast workloads, and reduce communication breakdowns. Stay on top of deadlines through project scheduling, task-based assignments, Gantt charts, and comprehensive reporting. We understand your industry, and can tailor FunctionFox to fit your needs. Try a free demo, and let us help you stay creative.
Who Uses FunctionFox?
Graphic design, advertising, communications, marketing, multimedia, public relations, and interactive firms all choose FunctionFox as their web-based time and project management application.
Where can FunctionFox be deployed?
Cloud-based
On-premise
---
About the vendor
FunctionFox
Located in Victoria, Canada
Founded in 2001
Countries available
Canada, United States
FunctionFox pricing
Starting Price:
Yes, has free trial
Yes, has free version
FunctionFox has a free version and offers a free trial.
Pricing plans
get a free trial
About the vendor
FunctionFox
Located in Victoria, Canada
Founded in 2001
Countries available
Canada, United States
FunctionFox videos and images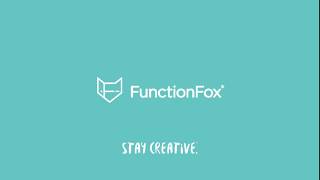 Features of FunctionFox
Access Controls/Permissions
Activity Dashboard
Activity Tracking
Advertising Management
Alerts/Notifications
Approval Process Control
Assignment Management
Billable & Non-Billable Hours
Budget Management
Budgeting/Forecasting
Business Process Automation
Calendar Management
Campaign Analytics
Client Management
Collaboration Tools
Communication Management
Configurable Workflow
Content Management System (CMS) Software
Cost-to-Completion Tracking
Create Subtasks
Customizable Branding
Customizable Templates
Data Import/Export
Discussions/Forums
Display Ad Management
Document Management Software
Drag & Drop
Employee Database
Employee Management
Employee Scheduling Software
Employee Time Tracking
Expense Tracking
File Sharing Software
For Creative Agencies
For Small Businesses
Forms Management
Gantt/Timeline View
Graphical Workflow Editor
Idea Management Software
Marketing Calendar
Mobile Access
Mobile App
Mobile Time Tracking
Online Time Tracking Software
Percent-Complete Tracking
Portfolio Management
Prioritization
Project Management Software
Project Planning/Scheduling
Project Time Tracking
Project Tracking Software
Real Time Data
Real-time Alerts
Reporting & Statistics
Reporting/Analytics
Reporting/Project Tracking
Resource Management Software
Roadmapping
Role-Based Permissions
SSL Security
Search/Filter
Spend Management Software
Status Tracking
Task Editing/Updating
Task Management Software
Task Progress Tracking
Task Scheduling
Task Tagging
Time & Expense Tracking
Time Tracking Software
Timesheet Management
Web-based Deployment
Workflow Configuration
Workflow Management Software
Alternatives to FunctionFox
Travis
Director of Business Development in US
Verified LinkedIn User
Used the Software for: 2+ years
Reviewer Source
Great Software to keep track of hours and projects
Pros:
We have used this program for a few years now and have found it very easy to track progress on projects, log hours, and make sure that our office is running as efficiently as possible. This has been a great investment for us!
Cons:
It took some time to get familiar with how to use the software. Adding gantt charts for project planning would be great, but overall this program fits our needs quite well.
Ashley
PR & Social Media Manager in US
Public Relations & Communications, 2–10 Employees
Used the Software for: 1+ year
Reviewer Source
Nothing in life is perfect... But FunctionFox is pretty darn close
Comments: Before, we had to collect time per client, project and task manually from consultants every week. And then compile those time reports into a collective spreadsheet. It was like pulling teeth. But with FunctionFox, all we need to do is simply track time for users in the platform, and then export a .csv spreadsheet. It's ridiculously simple and easy – and we love it.
Pros:
What we like most about FunctionFox is the ease of use. It's user-friendly, pretty self-explanatory, and it has a ton of features that would come in handy for a variety of businesses. For us, specifically, time tracking by project, task and client are super important because that's how we report our time to our clients. Prior to FunctionFox, this was a daunting task and caused many stress headaches. Now, it's simple, quick and painless.
Cons:
There's nothing we liked least, per se. There is a feature we wanted but wasn't exactly available. When we have a certain number of hours to use per a monthly retainer, we sometimes carry over unused hours on that retainer to the next month. There was no way to track those hours as they add up, yet not go over a certain limit.
FunctionFox Response
11 months ago
WOW! So wonderful to hear Ashley. Thank you! :) With Gratitude.
Sarfaraz
SEO Manager in India
Verified LinkedIn User
E-Learning, 501–1,000 Employees
Used the Software for: 6-12 months
Reviewer Source
Streamlining Your Workflow with FunctionFox All-in-One Project Management Solution
Comments: FunctionFox has greatly improved my business's workflow and financial stability. Its stopwatch feature has allowed me to accurately track the time spent on each job, which has helped me to more accurately estimate jobs and bill clients. This feature alone has paid for the cost of the software and has brought more financial stability to my small business. Additionally, the new rebranded user interface is intuitive and easy to navigate. Overall, I highly recommend FunctionFox for its time tracking capabilities and its ability to keep my business organized.
Pros:
Function Fox offers a variety of time tracking methods, which provides designers with the flexibility to choose the method that works best for them. Although we have not fully utilized all the features, the Gantt charts are particularly useful for planning and adjusting project schedules. The software is user-friendly, and I did not have to spend time training my designers on how to use it. Function Fox also provides one-to-one live tutorials, which is a great feature for new users. Despite we are planning to hire a project manager soon, Function Fox has been a great tool for managing our projects and schedules\''
Cons:
While FunctionFox is a great tool for time tracking, I have found that the backend organization of clients and projects can be confusing and difficult to navigate. Additionally, the integration options for communication with other software are limited and not user-friendly to set up. Also, updates and new features have to be added to your account by a FunctionFox representative, which can be time-consuming. Overall, the time tracking capabilities of the software are great, but the backend organization and integration options could be improved.
FunctionFox Response
8 months ago
Hi Sarfaraz. Thanks for your detailed review. Could you kindly provide us with your mailing address - we'd love to send you a little thank you in the mail. With gratitude.
Terri
Office Manager in US
Public Relations & Communications, 11–50 Employees
Used the Software for: 2+ years
Reviewer Source
We've Used FunctionFox for Years!
Comments: Time-tracking is key for our organization as we are a consulting firm that relies on accurate tracking for project management, cost and invoicing. This has been a perfect tool and we've used it over for well over 10 years.
Pros:
This program is very user-friendly and is an integral part of our day-to-day operations. As a consultant firm, we needed a time-tracking system that would make important changes as we continue to grow as a company. Honestly, we couldn't function well without it!
Cons:
There are some functionality issues that are minor but could use improvement. Moving projects (rather than just clients) from one to another is an example.
FunctionFox Response
3 months ago
WOW! thank you so much for the kind review Terri. We truly appreciate your detailed feedback and loyalty as a long term customer. With Gratitude Corina and the Fox team
Jaydra
President, Investigator in US
Accounting Software, 2–10 Employees
Used the Software for: 6-12 months
Reviewer Source
Excellent product, works well, does what we need
Comments: What a great product, it's simple, it works well, and has never failed to do what we need. The sales and onboarding process was done very well and I felt taken-care of the entire time. I highly recommend this for time-tracking.
Pros:
I love the level of detail I can drill-down to with timekeeping. Once we set up our project templates and task list template, creating new projects was a breeze. Time tracking takes a couple clicks and the records everything we need to know to bill clients and run payroll. It's not overly-complicated either. It's simple and it does exactly what it needs to do.
Cons:
Everything is so malleable within the system, so anything that annoyed me about the program I have been able to change - I love everything about it, I have no complaints!
Alternatives Considered: Time Tracker, TimeSolv and BigTime
Reasons for Choosing FunctionFox: Quickbooks Time used to be a product called t-sheets and it was amazing. Then Intuit got ahold of it and ruined it like they do. It stopped doing what we needed and started trying (and failing) to do a bunch of fancy integrations instead, so we had to find another solution.
Switched From: QuickBooks Time
Reasons for Switching to FunctionFox: I have practice management software for project tracking and invoicing for the different kinds of projects we work. Because we work multiple types of projects, we needed a time-tracking solution separate from those project management software. FunctionFox lets us track all the details we need and doesn't have to be inside any other software.
FunctionFox Response
11 months ago
Thanks so much Jaydra! 10/10. So pleased it's worked out so well for you. Thank you for taking the time to share a review. We appreciate it!