Local product
What Is FunctionFox?
With over 20 years of experience in helping creative companies succeed, FunctionFox provides simple yet powerful project management tools that allow you to keep multiple projects on track, forecast workloads, and reduce communication breakdowns. Stay on top of deadlines through project scheduling, task-based assignments, Gantt charts, and comprehensive reporting. We understand your industry, and can tailor FunctionFox to fit your needs. Try a free demo, and let us help you stay creative.
Who Uses FunctionFox?
Graphic design, advertising, communications, marketing, multimedia, public relations, and interactive firms all choose FunctionFox as their web-based time and project management application.
Where can FunctionFox be deployed?
Cloud-based
On-premise
---
About the vendor
FunctionFox
Located in Victoria, Canada
Founded in 2001
Countries available
Canada, United States
FunctionFox pricing
Starting Price:
US$35.00/month
Yes, has free trial
Yes, has free version
FunctionFox has a free version and offers a free trial. FunctionFox paid version starts at US$35.00/month.
Pricing plans
get a free trial
About the vendor
FunctionFox
Located in Victoria, Canada
Founded in 2001
Countries available
Canada, United States
FunctionFox videos and images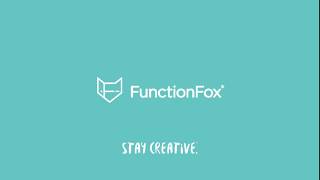 Features of FunctionFox
Access Controls/Permissions
Activity Dashboard
Activity Tracking
Activity/News Feed
Advertising Management
Alerts/Notifications
Approval Process Control
Assignment Management
Billable & Non-Billable Hours
Billing & Invoicing
Budget Management
Budgeting/Forecasting
Business Process Automation
Calendar Management
Campaign Analytics
Client Management
Collaboration Tools
Communication Management
Configurable Workflow
Content Management System (CMS) Software
Cost-to-Completion Tracking
Create Subtasks
Customizable Branding
Customizable Templates
Data Import/Export
Discussions / Forums
Display Ad Management
Document Management Software
Drag & Drop
Employee Database
Employee Scheduling Software
Expense Tracking
File Sharing Software
For Creative Agencies
For Small Businesses
Forms Management
Gantt/Timeline View
Graphical Workflow Editor
Idea Management Software
Marketing Calendar
Mobile Access
Mobile App
Online Time Tracking Software
Percent-Complete Tracking
Portfolio Management
Prioritization
Project Management Software
Project Planning/Scheduling
Project Tracking Software
Real Time Editing
Real-time Alerts
Reporting & Statistics
Reporting/Analytics
Reporting/Project Tracking
Resource Management Software
Roadmapping
Role-Based Permissions
SSL Security
Search/Filter
Spend Management Software
Status Tracking
Task Editing/Updating
Task Management Software
Task Progress Tracking
Task Scheduling
Time & Expense Tracking
Time Tracking Software
Timesheet Management
Web-based Deployment
Workflow Configuration
Workflow Management Software
Alternatives to FunctionFox
Ashley
PR & Social Media Manager in US
Public Relations & Communications, 2-10 Employees
Used the Software for: 1+ year
Nothing in life is perfect... But FunctionFox is pretty darn close
Comments: Before, we had to collect time per client, project and task manually from consultants every week. And then compile those time reports into a collective spreadsheet. It was like pulling teeth. But with FunctionFox, all we need to do is simply track time for users in the platform, and then export a .csv spreadsheet. It's ridiculously simple and easy – and we love it.
Pros:
What we like most about FunctionFox is the ease of use. It's user-friendly, pretty self-explanatory, and it has a ton of features that would come in handy for a variety of businesses. For us, specifically, time tracking by project, task and client are super important because that's how we report our time to our clients. Prior to FunctionFox, this was a daunting task and caused many stress headaches. Now, it's simple, quick and painless.
Cons:
There's nothing we liked least, per se. There is a feature we wanted but wasn't exactly available. When we have a certain number of hours to use per a monthly retainer, we sometimes carry over unused hours on that retainer to the next month. There was no way to track those hours as they add up, yet not go over a certain limit.
FunctionFox Response
last month
WOW! So wonderful to hear Ashley. Thank you! :) With Gratitude.
Lukas
Freelance Designer in US
Design, Self Employed
Used the Software for: 2+ years
Great Product Great Staff
Comments: My experience with function fox has been great. I've found the support from the company very responsive and the product
Pros:
The product is easy to use, with a lot of features. Was easy to learn due to the responsiveness of the team members and built in support. Couldn't recommend it more.
Cons:
I wish the invoice ad report side was a bit more customizable but a very minor comment.
Alternatives Considered: Harvest and Basecamp
Reasons for Switching to FunctionFox: It had everything I was looking for in the most simple way possible.
FunctionFox Response
4 weeks ago
Thanks so much Lukas. Such kind comments. We enjoy working with you.
Jaydra
President, Investigator in US
Accounting Software, 2-10 Employees
Used the Software for: 6-12 months
Excellent product, works well, does what we need
Comments: What a great product, it's simple, it works well, and has never failed to do what we need. The sales and onboarding process was done very well and I felt taken-care of the entire time. I highly recommend this for time-tracking.
Pros:
I love the level of detail I can drill-down to with timekeeping. Once we set up our project templates and task list template, creating new projects was a breeze. Time tracking takes a couple clicks and the records everything we need to know to bill clients and run payroll. It's not overly-complicated either. It's simple and it does exactly what it needs to do.
Cons:
Everything is so malleable within the system, so anything that annoyed me about the program I have been able to change - I love everything about it, I have no complaints!
Alternatives Considered: Time Tracker, TimeSolv and BigTime
Reasons for Choosing FunctionFox: Quickbooks Time used to be a product called t-sheets and it was amazing. Then Intuit got ahold of it and ruined it like they do. It stopped doing what we needed and started trying (and failing) to do a bunch of fancy integrations instead, so we had to find another solution.
Switched From: QuickBooks Time
Reasons for Switching to FunctionFox: I have practice management software for project tracking and invoicing for the different kinds of projects we work. Because we work multiple types of projects, we needed a time-tracking solution separate from those project management software. FunctionFox lets us track all the details we need and doesn't have to be inside any other software.
FunctionFox Response
last month
Thanks so much Jaydra! 10/10. So pleased it's worked out so well for you. Thank you for taking the time to share a review. We appreciate it!
Claude
Co-owner in Canada
Graphic Design Software, 2-10 Employees
Used the Software for: 6-12 months
Feedback regarding Function Fox
Comments: I have been very impressed with the FunctionFox staff and their project management software from the very beginning of the process. The sales rep. was very knowledgeable and explained the features and benefits very clearly. The samples and tutorials were great and made the learning process kinda fun.
FunctionFox's support team are exceptional at responding to our questions and reply promptly with detailed user friendly instruction on how to take full advantage of the powerful tools and functionality. Deciding to use FunctionFox in our face paced graphic design company was a great decision. It helps us spend more time on being creative and less time retyping project names, task names, design rates etc.
Pros:
The software is designed with the creative industry in mind. You can set up project names, common tasks with specific hourly rates. When it comes time invoice a project I no longer have to request time sheets from staff. I just log in to the software, select the project name within the appropriate dates and all of the information that I need is presented quickly and efficiently which makes invoicing easy.
Cons:
I can honestly say that I cannot find anything wrong with this software.
Alternatives Considered: monday.com
Reasons for Switching to FunctionFox: We chose FunctionFox because it was originally designed for an advertising agency so it was a perfect fit for our graphic design company. Much like an advertising agency, we handle multiple details and aspects of a project. FunctionFox software helps to keep a birds eye view on project details, project costs and scheduling. It just seemed like the best choice for our company.
Meredith
Director of Operations in US
Graphic Design Software, 2-10 Employees
Used the Software for: 1+ year
Source: SoftwareAdvice
It won't make you lunch, but it does everything else.
Comments: We use Function Fox to keep track of our team's time and to quote future projects. The reporting gives us insight into areas we need to improve or quote differently. The system provides us with a big picture view of our workload along with the granular data for digging into the details. So far, I haven't found anything it cannot do, except make me lunch. :) To make the most of the software, I think it's wise to have a dedicated project manager on staff, although our designers embraced it fairly quickly and enter their own actions and other data.
Pros:
Function Fox provides several ways to track time, so designers have their choice of methods. Even though we don't use it like we should (we're hiring a project manager soon), the Gantt charts are awesome for planning out a project and adjusting schedules as needed. I don't have to train my designers how to use it; Function Fox provides one-to-one live tutorials.
Cons:
The user interface is not as user-friendly or aesthetically pleasing as some of the other products.