What Is DonorSnap?
Discover why thousands of nonprofits have trusted DonorSnap for over a decade. DonorSnap is an all-in-one donor management software. Save countless administrative hours with time-saving tools and integrations. Take your fundraising to the next level with robust reporting and communication tools. Pricing starts at $39 per month. Try DonorSnap with your own data risk-free for 30 days.
Who Uses DonorSnap?
DonorSnap serves nonprofits of all type, shape, and size. The system can be easily customized to suit the needs of almost any organization. We'll let you know if DonorSnap won't work well for you.
Where can DonorSnap be deployed?
Cloud-based
On-premise
---
About the vendor
DonorSnap
Founded in 2007
Countries available
Canada, United States
DonorSnap pricing
Starting Price:
US$39.00/month
Yes, has free trial
No free version
DonorSnap does not have a free version but does offer a free trial. DonorSnap paid version starts at US$39.00/month.
Pricing plans
get a free trial
About the vendor
DonorSnap
Founded in 2007
Countries available
Canada, United States
DonorSnap videos and images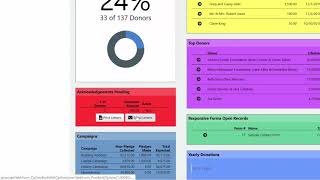 Features of DonorSnap
Alumni Management Software
CRM Software
Calendar Management
Campaign Management Software
Communication Management
Contact Management Software
Contribution Tracking
Dashboard Software
Donation Tracking
Donor Management
Email Marketing Software
Event Management Software
For Nonprofits
Fundraising Management
Grant Management Software
Member Database
Membership Management Software
Online Giving
Payment Processing Software
Pledge Management
Receipt Management
Recurring Giving
Reporting/Analytics
Social Media Integration
Alternatives to DonorSnap
Celeste
Operations Manager in US
Verified LinkedIn User
Nonprofit Organization Management, 51–200 Employees
Used the Software for: 2+ years
Reviewer Source
Great solution for small nonprofits
Pros:
DonorSnap is easy to use. My favorite feature is the form builder; the forms integrate nicely with our website and are a great solution for event registration forms that import the data directly into the CRM. I've used both DonorSnap and Saleforce for registration and hands down DonorSnap is far more reliable, simpler, and offers better customization for our needs vs Salesforce. It's also far easier to use both as the administrator and as an end user. I've never had a DonorSnap form fail me. I can't say the same for Salesforce. We use DonorSnap for tracking donors, volunteers, and participants in our programs. DonorSnap keeps their software updated and is very good about offering training and notifications of any server maintenance that may disrupt use (it never does).
Cons:
The report features are very robust but not always intuitive to set up and run. Fortunately if you get stuck, DonorSnap's support team is fabulous and will help you to figure it out.
Roland
IT Support - Web Support in US
Nonprofit Organization Management, 11–50 Employees
Used the Software for: 2+ years
Reviewer Source
The D.O.V.E. Fund - Development of Vietnam Endeavors
Comments: As a retired Software Engineer and Developer for a large corporation, this package is a good step for our application. I know that there are a lot of features (i.e. Tickler, Pledges, Volunteer Tracking, etc.) that we have not touched as that support is not in our focus at this time.
Pros:
The software allowed us to import a lot of our information from an older (non DonorSnap) system, using the Excel Interface. Edits were easy to do as we continued to add more information to our system, and allow mass edits using the Excel interface.
Cons:
We have asked for a few enhancements from the DonorSnap support and most of them have been very quickly. There are a few flags in the database (i.e. Bill Me) which are not exposed to be used in the DataMinerPlatinum for custom reports. There are a few work-arounds, so this is not a show stopper.
Kim
Executive Director in US
Nonprofit Organization Management, Self Employed
Used the Software for: 2+ years
Reviewer Source
Not User Friendly
Comments: Overall experience is that it served a purpose for us while we needed it. But, I am thankful we switched to a more user friendly platform. I voiced my concerns to them several times and never had any feedback. The best part of it was the customizable dashboard.
Pros:
The only positive was that fact that it is a Donor relations management /record keeping at a fair price.
Cons:
The initial import was not easy. We were also told we would not have to make journal entries because it integrated great with QuickBooks, that was not the case. For what we needed it for, the import/export was very complicated and had lots of bugs. The reports are not easy to pull information. Data Miner Platinum is not user friendly and should not be so confusing. Mailing reports are cumbersome. You cannot customize letters and emails with your logo. The support side also had a lot to be desired. Anytime we needed help we were referred to a video that was just as confusing. The responsive forms were VERY cumbersome to make and took way too much time. It was just too much time administrative wise.
Alternatives Considered: Kindful and Bloomerang
Reasons for Switching to DonorSnap: Cost
DonorSnap Response
2 years ago
Hi Kim, Thank you for taking the time to give us your feedback. We are sorry to hear your experience did not meet your expectations. We take all customer feedback to heart to improve our product and respond to every support request. At one point you had requested complimentary event registrations in the same form as paid registrations. We are happy to share that we now offer that functionality in our online forms. We also offer pre-designed templates for our forms so users don't have to spend the time building them from scratch. As for your challenges with Quickbooks, our integration allows users to record donations in DonorSnap and send them over to Quickbooks in a few clicks. They come over as journal entries and can even provide donor details if you set that up. We are happy to hear that you have found a product that better fits RCISD's complex needs and we wish you the best of luck in the future. Take Care, The DonorSnap Team
Pamela
Executive Director in US
Nonprofit Organization Management, 2–10 Employees
Used the Software for: 2+ years
Reviewer Source
Donorsnap is the best
Comments: We live on it. Could not run our business with out it.
Pros:
Easy to useEasy to setup responsive formsEasy to run reportsI love that I can design my dashboard with info I want to see every dayTrack donors the repeat giving year to yearAll our volunteers are tracked, plus we know which ones are donors Many ways to track a donorEasy to pull reports
Cons:
Combining a screen or reports with donors and volunteers
Alternatives Considered: DonorView and Blackbaud eTapestry
Reasons for Choosing DonorSnap: We wanted to track or donors in a better way. After a lot of research, we decided on Donorsnap for its capabilities and the price.
Switched From: Microsoft Access
Reasons for Switching to DonorSnap: Price and capability
Catherine
Database Admin in US
Nonprofit Organization Management, 2–10 Employees
Used the Software for: 1+ year
Reviewer Source
Well worth the price tag
Comments: Easy and seamless because I tried to learn and conceptualized how each field in Donorsnap work first before mapping fields from the old system. Conversion and support team were very helpful and prompt in responding to issues.
Pros:
Very inexpensive but can do all the basic functionalities for advancement day to day operations. Batch entry is so easy once you understand how it works. Query, reporting and exporting custom reports is very user friendly. As with all other systems, a software is only capable to it's fullest potential if you understand how the various modules within the system work together. Training and support is crucial and their customer support is hands-on one of the best.!
Cons:
The standard reports work for the most part but I wish it gives us much more flexibility. It also limits selection of fields based on active fields/codes which means that you'll have to basically leave all codes - old and new - for the report to work accurately. This means for example that if you inactivate a Campaign code from 2 or 3 years ago, you are not able to run revenue from those codes unless you reactivate them. This is a nightmare for admins from a table code management point. The design of the standard reports need to be improved as well to look presentable especially when executives ask for last minute reporting and you know how often that happens.
Alternatives Considered: DonorPerfect
Reasons for Choosing DonorSnap: Financial decision
Reasons for Switching to DonorSnap: Pricing. This is a very small organization and Donorsnap provided everything they need for a very, very reasonable price.
DonorSnap Response
2 years ago
Hi Catherine, Thank you for your review and feedback regarding the standard reports. We're currently working on improving these canned reports to offer additional functionality. If you have more specific reporting needs in addition to including inactivated campaign codes, please let our support team know so that we can work towards making that happen. Thank you again for your review!