What Is AWeber?
AWeber is a market leader of small business email marketing software. Founded in 1998, AWeber has over 20 years of proven success helping more than one million customers around the world reliably connect with their prospects and customers through powerfully-simple email marketing software.
Along with its award-winning 24/7 US-based customer support, AWeber delivers the ability to quickly build responsive landing pages, load and manage contacts, send amazing emails, and analyze results.
Who Uses AWeber?
Small businesses, entrepreneurs, nonprofits, bloggers, podcasters and other online content creators around the world.
Where can AWeber be deployed?
Cloud-based
On-premise
---
About the vendor
AWeber
Located in Chalfont, US
Founded in 1998
AWeber support
Phone Support
24/7 (Live rep)
Chat
AWeber pricing
Starting Price:
US$19.99/month
Yes, has free trial
Yes, has free version
AWeber has a free version and offers a free trial. AWeber paid version starts at US$19.99/month.
Pricing plans
About the vendor
AWeber
Located in Chalfont, US
Founded in 1998
AWeber support
Phone Support
24/7 (Live rep)
Chat
AWeber videos and images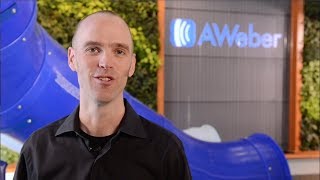 Features of AWeber
AB Testing
Alerts/Notifications
Auto-Responders
CAN SPAM Compliance
CRM Software
Campaign Analytics
Campaign Management Software
Contact Database
Contact Management Software
Content Management System (CMS) Software
Customer Segmentation
Customizable Fields
Customizable Templates
Dashboard Software
Data Import/Export
Drip Campaigns
Email Campaign Management
Email Marketing Software
Email Tracking Software
Event Triggered Actions
For Small Businesses
Form Builder
Interaction Tracking
Landing Pages/Web Forms
Lead Management Software
Lead Notifications
List Management
Marketing Automation Software
Mobile Optimized Emails
Online Forms
Publishing Options
ROI Tracking
Reporting/Analytics
Segmentation
Social Marketing
Subscriber Management
Tagging
Template Management
Third Party Integrations
WYSIWYG Editor
Web Notifications
Website Visitor Tracking
Steve
Writer / Producer in US
Entertainment, Self Employed
Used the Software for: 2+ years
AWeber Let me down - I no longer use their service.
Comments: Email and list management was great for a time, but then was outweighed by the bad customer service.
Pros:
I was introduced to this as the 'big guns' of email automation. And it's got a lot to recommend: double opt in, forms, ease of use and complete functionality.
Cons:
Customer service is the BIG DRAWBACK. Perhaps if you're a big company, they treat you better. For me (a very small company) their customer service was lacking repeatedly. I would email or call and be told I'd get a response in 24 - 48 hours. A WEEK or more later, I'd hear back. At least one of these instances was an urgent next-day mailing. I got more apologies than help. And, after years of working with them, I left, option for MailerLite.
Juan
Creator in Ecuador
Verified LinkedIn User
Higher Education Software, Self Employed
Used the Software for: 1+ year
Aweber is the classic tool for email marketing
Comments: Solid company. Too pricey for me but a great tool.
Pros:
Ease of useSimplicityHigh email open rates
Cons:
Lacks tools of the last yearsWriting space could improve
Internet, 2-10 Employees
Used the Software for: 2+ years
A good overall product but quite expensive and quite limited
Comments: I signed up there because there were number one and it was an easy setup. Over the years competition has been improving a lot and cutting down the price while Aweber stayed the same while raising prices. I was also disappointed when I realized I was charged multiple times for one email address (for each list), and also for unsubscribes. Have to get in touch with support for them to delete in batches. Good support, that being said. Over the years I got frustrated by using the software and how much I was paying for it.
Pros:
Deliverability to subscribers inbox. Aweber is a reference and well known so email do get in people's inbox. However that has changed in recent years in my country (France). I enjoyed the drip sequence (emails are sent in order over days), but that feature is now available in competitors for cheaper, sometimes better. Customer support has been great, very fast, friendly and responsive.
Cons:
Templates are quite dated and the general interface is a bit limited. For example, you can only delete 100 subscribers at a time... even if you are charged for the unsubscribed users. Pricing is quite high considering the features. Too high for the money I make with the list. Languages : some part of the software are "hardcoded" in English which is problematic for foreign subscribers.
Alternatives Considered: Constant Contact and Mailchimp
Reasons for Switching to AWeber: Price and deliverability
Pedro
FREELANCER in Brazil
Marketing & Advertising, 2-10 Employees
Used the Software for: 6-12 months
Alternative Aweber for those starting out.
Comments: Aweber is great, it has benefited me in many ways with my email campaigns. I know exactly who is opening my emails and clicking on referral links or sales pages in my automations. That way I can create accurate reports for non-interacting people or buyers and etc... This is a big help to increase your sales, because you can focus a strong campaign on the right people, just by looking at the reports generated by the tool. I have an excellent relationship with aweber, the first 3 months were tense, but she helped me to get the necessary results to continue in the fight.
Pros:
An extremely fantastic tool when it comes to email delivery. Incredible accuracy of my automations. Without a doubt it's one of the best I've ever used. A great help for those who are just starting out and don't have much capital to invest. Because aweber allows you to use and learn about the tool for free for 3 months. In addition to the company's integrity in providing knowledge to its customers and users, they fill their inbox with hundreds of emails almost daily, but it's just to inform about the tool and its features, free courses and lectures for better performance. aweber support is very good and fast, prompt service, they always solved problems for me immediately. Also, I used several free Landing Pages templates with fantastic layouts and almost automatic. I just needed to choose the model and just type a call to action. For everything, I recommend aweber, an outstanding service.
Cons:
Negative points about this tool, I don't have. But just an addendum, for those outside the US and needing to use the tool, it's a great idea while using the free months. But if you're setting up and collecting leads in your campaigns, no results. You may get frustrated, as the payment will be a little expensive, taking into account the dollar's value in relation to other countries. But on the whole, I have no criticisms about this software.
Ben Marcoux
Manager in US
Verified LinkedIn User
Marketing & Advertising, 2-10 Employees
Used the Software for: 2+ years
AWeber: A Good Start With Email Marketing
Comments: I enjoyed using AWeber. It was easy to set up lists and broadcast emails. And it made it possible for me to get started building my business online without much tech skill. However, as I became a more advanced marketer and wanted more control in my business, the way AWeber was set up did not seem to make certain advanced automation features possible. Or the interface was set up in such a way to dissuade you from using it for more complex features.
Pros:
The best part about AWeber is how easy it is to use. There aren't a whole lot of bells and whistles which means that it's super fast to get up and running. And honestly, though it's not my favorite tool, most businesses would do better to use AWeber than their current email marketing system. Also, it's got good deliverability which means your emails actually show up in the inbox instead of spam.
Cons:
I call AWeber a "beginner" email marketing tool because that's what it feels like. Yes, it'll get you up and running. But it doesn't "feel" powerful and the lack of features leave some things to be desired. But "something" is better than "nothing", so if using something easy gets you and your business to do email marketing, than by all means use AWeber.
Alternatives Considered: Ontraport and Keap
Reasons for Choosing AWeber: I don't have anything good to say about MailChimp. Not only is the interface clunky, but oftentimes deliverability suffers. And as if that isn't enough, a lot of businesses that are totally ethical, GOOD businesses are forbidden from using the platform. I have many friends who have woken up to their accounts banned, locked out of all their email contacts without so much as a reason. And these weren't people running aggressive offers. They were just regular businesses (like flower shops) that apparently tried to sell their products a little too "hard" and therefore caught the ban hammer.
Switched From: Mailchimp
Reasons for Switching to AWeber: At the time I was just getting started in internet marketing, I wanted to use what the "big names" used. So I looked into the platforms they "recommended." This was before I understood affiliate marketing and didn't know they were getting paid to say how awesome these platforms were. When in reality, yes they are super powerful. But they're also really clunky and take a SUPER long time to learn. Plus, I quickly realized I wouldn't use MOST of what these other platforms offered, so I quickly decided on AWeber so I could get started with my business.