What Is Acctivate Inventory Management?
Built for growing product-selling businesses using QuickBooks, Acctivate is a premium inventory management & multi-channel order fulfillment add-on that helps you focus on growth without operational limitations.
Solve for QuickBooks limitations, including real-time inventory visibility, multi-warehousing, multi-channel orders, ecommerce fulfillment, EDI transaction support, barcoding, landed cost, lot and serial number traceability and more.
Who Uses Acctivate Inventory Management?
Small to medium size, product-selling businesses looking to get more out of QuickBooks by adding growth-focused inventory management and high-volume order fulfillment capabilities.
Where can Acctivate Inventory Management be deployed?
Cloud-based
On-premise
---
About the vendor
Acctivate
Located in Arlington, US
Founded in 1985
Acctivate Inventory Management support
Countries available
Canada, United Kingdom, United States
Acctivate Inventory Management pricing
Starting Price:
Yes, has free trial
No free version
Acctivate Inventory Management does not have a free version but does offer a free trial.
Pricing plans
get a free trial
About the vendor
Acctivate
Located in Arlington, US
Founded in 1985
Acctivate Inventory Management support
Countries available
Canada, United Kingdom, United States
Acctivate Inventory Management videos and images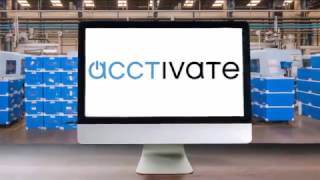 Features of Acctivate Inventory Management
Accounting Integration
Accounting Software
Activity Dashboard
Alerts/Notifications
BOM Creation
Backorder Management
Barcode/Ticket Scanning
Barcoding/RFID
Billing & Invoicing
Bills of Material
CRM Software
Cataloging/Categorization
Check-in/Check-out
Cost Tracking
Customer Database
Customer History
Delivery Management Software
Demand Forecasting
Document Management Software
Expiration Date Management
Inventory Auditing
Inventory Control Software
Inventory Management Software
Inventory Optimization Software
Inventory Tracking
Item Management
Kitting
Lot Tracking
Marketplace Integration
Mobile Access
Multi-Channel Communication
Multi-Location
Order Entry Software
Order Fulfillment Software
Order Management Software
Order Tracking
Product Identification
Production Management
Purchase Order Management
Purchasing & Receiving
Quality Control
Quality Management Software
Quotes/Estimates
Real Time Data
Real Time Notifications
Recall Management
Receiving/Putaway Management
Recurring Orders
Reorder Management
Reporting & Statistics
Reporting/Analytics
Returns Management
Sales & Operations Planning
Sales Forecasting Software
Sales Reports
Search/Filter
Shipping Management
Supplier Management
Supply Chain Management Software
Third Party Integrations
Traceability
Warehouse Management Software
eCommerce Management
Alternatives to Acctivate Inventory Management
Reviews of Acctivate Inventory Management
Rafi
Affiliate marketing in Canada
Verified LinkedIn User
Apparel & Fashion, Self Employed
Used the Software for: 6-12 months
Reviewer Source
Acctivate Inventory Management
Comments: well
Pros:
Comprehensive Inventory Management: Acctivate offers a wide range of features and functionalities to efficiently manage inventory, including stock control, order management, purchasing, and tracking.Integration with QuickBooks: Acctivate seamlessly integrates with QuickBooks, providing a synchronized and streamlined solution for inventory management and financial operations.Customization Options: Users appreciate the ability to customize Acctivate to fit their specific business needs. It allows for flexible configuration of fields, reports, and workflows to adapt to different industries and workflows.
Cons:
Complexity: Some users have found Acctivate to have a steeper learning curve, especially for those who are new to inventory management software. The extensive features and functionalities may require some time and training to fully grasp and utilize effectively.Limited Mobile Access: Acctivate's mobile app or mobile access options may be limited compared to some other inventory management solutions. This can be a drawback for businesses that require remote access or mobile functionality for inventory management tasks.Integration Challenges: While Acctivate integrates well with QuickBooks, some users have reported challenges or difficulties in integrating with other software systems or third-party applications they use, which may require additional customization or development work.
Paul
Purchasing Manager in Canada
Retail, 11–50 Employees
Used the Software for: 2+ years
Reviewer Source
Acctivate Review
Comments: We have been using it for 6 years now. There was a bit of a learning curve. Once sorted out, we can order receive, pick and sell our product with ease. Database size has been a bit of an issue and Intuit file size management grows quickly. Great product for a mid size business.
Pros:
Acctivate brought us up to todays technology in product Inventory and sales control, at a reasonable price.
Cons:
The lack of Vendor control, and Vendor Options make things hard. Doing a Daily Sync with Quickbooks does not come with out issues, and tax rounding is Canada is a large issue. We do have SOP's in place to administrate these short falls.
Alternatives Considered: Sage Intacct and NetSuite
Reasons for Choosing Acctivate Inventory Management: It was a slow custom developed product with no support.
Reasons for Switching to Acctivate Inventory Management: Price, not needing to upgrade our server, ease of use.
Electrical/Electronic Manufacturing, 2–10 Employees
Used the Software for: 1+ year
Reviewer Source
Source: SoftwareAdvice
Can't function with Acctivate
Comments: We bought Fishbowl inventory in 2017 and returned it within a month. And then spent considerable time looking at options and reviewing them. We spend days and days with Acctivate before buying. And then we bought it. It took three or four months to get us to an 'active state'. At which point we discovered that the entire way we setup our product structure would not work. So we started over and now, 12 months after purchasing, we have finally invoiced the projects from November of 2017. We have posted over 100 requests in the online help system and with a few exceptions been told that our ideas are not applicable to their users.
We have made the decision to not to renew our maintenance plan.
And Acctivate was not interested in extending our plan for a few more months give the total disaster we have had implementing it.
We did consider it affordable and the yearly maintenance costs reasonable given the platform.
However, we have spent lot of money on labor to get the system implemented AND still had to hire an outside consultant to build custom routines to be able to get reports that answer basic stocking questions. We continue to find the interface prevents you from being able to make smart decisions at the moment you have to (when you can see the data) and is wholly lacking for a system with as much data as it has. We can not say strongly enough that you should really consider your options before moving forward with Acctivate.
Pros:
Lot's of handholding during setup. Possibly considered affordable - unless you count your time. At this point - not much - We have fought for a year to get the system online.
Cons:
Lack of respect for the ideas and needs of customers It hides important information needed to make decisions in the windows where you need to make decisions. It doesn't auto update backorders A huge list of other items.
Biotechnology, 2–10 Employees
Used the Software for: 1+ year
Reviewer Source
Acctivate Inventory Management works well suits our needs
Comments: Very please with our choice
Pros:
The setup and learning curve were very reasonable, daily use and upkeep is easy
Cons:
The dashboard needs to be more user friendly to setup and use (sizing and placing the report boxes is awkward) Some dropdown menus are not intuitive, but once learned easy to navigate
Alternatives Considered: Fishbowl and NetSuite
Reasons for Switching to Acctivate Inventory Management: the setup and prep where much easier compared to the other two products
Gabriel
Sr. Director of Operations in US
Apparel & Fashion, 11–50 Employees
Used the Software for: 1+ year
Reviewer Source
Excellent for the Price!
Comments: We were able to greatly improve visibility of our performance allowing us to focus resources in the areas that needed help. The quality and consistency of our output also improve dramatically. Probably the one area that had the most drastic improvement has been our warehouse. The ACCTivate our inventory is the most accurate it has ever been and order processing accuracy has also improve dramatically with the use of the mobile scanners.
Pros:
Software is filled with many intuitive features that cover a wide variety of of business uses in everything from order processing to inventory management. Inventory management includes ability to manage using bins and multiple physical or virtual warehouses. This is a strong feature for an application in this price range. The ability to create custom fields in virtually every section of the software helps resolve many challenges, and the fields are, in most cases, can be made to appear in reports. Has a great order management module that can be customized for specific views and allow for both visibility and batch management of open sales order. Mobile/handheld support allowed our warehouse to switch from manual to scanned picking, which greatly improved accuracy and accountability. Software supports ODBC connectivity which provide a solid work around for the software's lack of strong out-of-the-box reports (see below) In conclusion, if you are a small to mid-size business that has outgrown Quickbooks, you really cant go wrong with ACCTivate. So long as your Quickbooks data is clean and organized, migration is quick and painless.
Cons:
Out of the box reporting is a bit limited depending on your needs. Very basic reports are fine and they are accurate, but if your business has complex or custom logics by which you evaluate performance, you will need to hire a report writer (Crystal Reports) to build your report templates. No real audit trail tracking/reporting so seeing who did what can be a challenge. Lacks ability to restrict certain permissions that can lead to accidental or deliberate manipulation of data resulting in order processing errors.
Acctivate Response
6 years ago
Gabriel, your feedback is greatly appreciated. We are happy to hear about the improvements across your business after implementing Acctivate, especially the visibility & productivity gains that have allowed you all to focus on the work at hand. We also continually strive to learn what businesses need and how we can enhance our software, so it is also good to know about reporting and permission based needs. - Dakota