What Is Telenotes?
Get better sales call notes with Telenotes!
Your sales reps love to talk, but hate to type. Yet you still need their data from the field.
Discover how Telenotes can help you keep your reps focused on selling, and leave the data entry to us.
Who Uses Telenotes?
Not provided by vendor
Where can Telenotes be deployed?
Cloud-based
On-premise
---
About the vendor
Telenotes
Located in Murray, US
Founded in 2001
Countries available
Canada, United States
Telenotes pricing
Starting Price:
US$135.00/month
No free trial
No free version
Telenotes does not have a free version and does not offer a free trial. Telenotes paid version starts at US$135.00/month.
Pricing plans
About the vendor
Telenotes
Located in Murray, US
Founded in 2001
Countries available
Canada, United States
Telenotes videos and images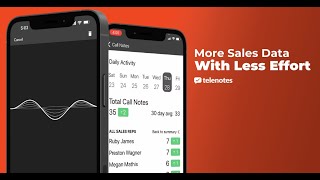 Features of Telenotes
Activity Dashboard
Batch Processing
Calendar Management
Calendar/Reminder System
Contact Database
Contact Management Software
Customer Database
Customizable Fields
Data Import/Export
Document Storage
Email Management Software
Interaction Tracking
Lead Capture Software
Lead Management Software
Mobile Access
Opportunity Management
Performance Metrics
Pipeline Management
Quotes/Estimates
Reporting/Analytics
Sales Pipeline Management
Search/Filter
Segmentation
Shared Contacts
Task Management Software
Territory Management
Third Party Integrations
Workflow Management Software
Alternatives to Telenotes
Timm
Regional Manager in US
Facilities Services, 2-10 Employees
Used the Software for: 2+ years
Maps program
Comments: The biggest problem solved is being able to track the information from a call. I receive followup tasks and calendar reminders in real time and can act on the requests of my customers right away. I have talked to other sales professionals who use different CRMs and find that they don't like them and spend more non-sales time inputting their call notes, if they even remember them. Telenotes makes it EZ to input, act, and move on to the next client without having to remember all the details in my mind. They are my sales brain!
Pros:
I travel some remote areas and sometimes it is difficult to find new prospects. With a few key words and the Telenotes maps program I have identified several new prospects in my areas and have been able to turn them into my distributors. It is great when I get put off by a current customer or if I just run out of calls to make. This program has shown me that there is always another call to make. If I need help with the program TNOTES has always been right there for me. They have truly made me a lot more than I pay them! Great ROI.
Cons:
I usually have to input the call info on the app before I pull away from the call. On the other hand I have been able to input information even in front of the customer so he knows I am paying attention to his needs.
Telenotes Response
2 years ago
Awesome! Thanks for the info and the kind review Timm!
Michele
Director of Sales & Operations in US
Transportation/Trucking/Railroad, 51-200 Employees
Used the Software for: 2+ years
Outstanding product and support!
Comments: The Telenotes team provide outstanding support! They are quick to answer questions by phone or email. Whether it is the app or the online portal; the functionality of the product is user friendly. The program is reliable and provides us with a great way for everyone to stay on the same page and I absolutely love the reminder emails with follow up tasks!
Pros:
What I like most about the software is the ease of use, the features offered and the benefits we receive from it.
Cons:
Honestly I don't have any complaints about the software. Every week we learn something new about it and how it can assist us with our day to day business.
Telenotes Response
3 years ago
We're so glad you enjoy Telenotes. We built it for people like you and always hoped it would simplify the sales life and lead to more sales!
Renee
Outside parts sales in US
Transportation/Trucking/Railroad, 51-200 Employees
Used the Software for: 2+ years
My experience using Telenotes .
Comments: The ability to track where I've been .The ability to follow up on what I've done .
Pros:
What a valuable tool it is in my line of work . I am on the road all the time.Being able to have previous contacts and what we talked about available at my fingertips.
Cons:
Previously I did not care for the feature of voice recording because you were not able to erase what you said but now you've added the feature of where you can play it back and be able to delete it and start over.
Telenotes Response
3 years ago
Glad to hear that you're benefiting from Telenotes and that the update helped! Thanks for your continued use, feedback, and support!
Lexie
Transriber in US
Verified LinkedIn User
Telecommunications, 51-200 Employees
Used the Software for: 6-12 months
Gets the job done.
Comments: I am a graphic designer so it's hard not to analyze the look of the program that looks like it was designed in the early 2000s. That does not affect the capabilities of the program though. This program has every capability it needs to in order to get the job done with ease. If somehow the non-responsiveness and slowdowns could be fixed, it would make the workflow much quicker and more efficient. However, when there is a problem, it is quickly resolved by those in charge of maintaining the program.
Pros:
This software gets the job done. All of its functions are designed to help make your workflow easier and as quick as possible. Having a foot pedal and knowing the keyboard shortcuts makes using the software a breeze.
Cons:
Though it gets the job done, there are often major delays. I use the program every day and every day I have to exit and re-enter the program multiple times to get the flow going again or because it stopped responding. For some reason, this software is also much slower when other people in our house are on the wifi for reasons I do not understand because no other program I use is slower when other people access the wifi.
Facilities Services, 11-50 Employees
Used the Software for: 1+ year
Telenotes Benefits
Comments: Telenotes enables me a reminder of my daily activities and schedules events with the ease of voice dictating on my phone.
Pros:
I like that I have a built in administrative assistant who tracks all of my daily activities and schedules events on my calendar. All I have to do is get on the app on my mobile phone and dictate my daily activities with customers and potential customers.
Cons:
I would like the ability to send emails to customers.
Telenotes Response
2 years ago
Thank you, Ward! It's a pleasure to serve you!