Remote Support
What Is Remote Support?
BeyondTrust Remote Support (formerly Bomgar Remote Support) enables secure, instant remote support to customers using Windows, Mac, Android, iOS, or other devices, whether or not they are on the
Read more
corporate network. Users can fix end systems or troubleshoot issues using screen sharing, remote control, unattended access, file sharing, annotations, and mobile device camera sharing. Real-time chat, canned scripts, collaboration and escalation tools improve technician efficiency.
Read less
Who Uses Remote Support?
BeyondTrust Remote Support offers the capabilities that enterprise level IT and customer support organizations need. We serve all industries.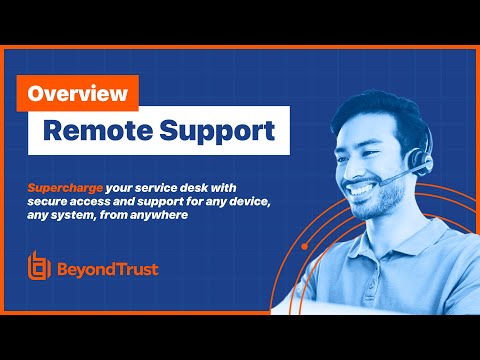 Not sure about Remote Support? Compare with a popular alternative
Alternatives to Remote Support
Reviews of Remote Support
Ivan
Technical Services in Argentina
Verified LinkedIn User
Computer Software, 11-50 Employees
Used the Software for: 1+ year
Alternatives Considered:
Support software done right
Comments: Very intuitive, I like it very much. When you come across a product like this, you get to understand the experience that was put into the development of this product. No support software comes close.
Pros:
It is really customizable and was thought carefully for enterprise environment. It is also suited for heavy support workloads where many agents have to fire up the console and help many customers at once. The new user interface is very nice too. Privilege escalation is a really useful feature and canned scripts really help at providing agile support.
Cons:
It doesn't come with audio features. You can only use chat or you have to call your customer separately. The lack of audio it's its Achilles' Heel. It's also pricey, but the price is worth it, nonetheless the price can put off some companies.
Pushkar
Desktop Support Engineer in India
Information Technology & Services, 5,001-10,000 Employees
Used the Software for: 1+ year
Best Remote tool easy to Access no extra permissions required
Comments: Overall experience is good but need to upgrade file sharing feature this is very bed
Pros:
Real time sharing is very good some of remote tool is very painful they will ask lots of Permission to access client r user machine & working with all domain & non-domain & mac machine also this is the best featur
Cons:
After sharing the file through this then main screen is stuck remote is working very slowly this is very bed
Diana
Coaching Program Manager in Philippines
Financial Services Software, 5,001-10,000 Employees
Used the Software for: 1+ year
Bomgar review
Comments: It was okay but not great. Manageable I would say. None the less it's still better than webex remote..
Pros:
It's faster than webex remote. It's quicker to generate a link for clients so we can remote in. It's modern and better aesthetically.
Cons:
Takes too long to set up. There were like different layers of authentication and token and codes to start it up and set it up. Too time consuming
Temitope
System Administrator in Nigeria
Verified LinkedIn User
Telecommunications, 1,001-5,000 Employees
Used the Software for: 2+ years
Alternatives Considered:
Easy to use remote support solution
Comments: The product helped us during the Covid pandemic when all users were working from home, it has been a lifesaver for us. I recommend this product to any organization looking for a perfect remote support tool.
It has helped increase our business process and compliance level. We have also been able to meet up with the agreed internal SLA.
Pros:
Its ability to do admin tasks on the end user's system without giving the user an admin password. Screen sharing does not require any software installation. It has different ways to access a user system, you can simply send the user a link or inform the user to find you on the public URL. The solution is very easy to set up compared to some other products. Third-party integration with solutions like SysAid was also seamless. With little or no training, the solution is good to go for anyone.
Cons:
For me, the solution is perfect, except for the UI interface which needs to be improved to make it look more fanciful.
Sakshi
Infrastructure Engineer in India
Information Technology & Services, 10,000+ Employees
Used the Software for: 2+ years
Tool for remote desktop connection
Comments: Being a infrastructure engineer I am using remote support tool to provide support and help to developers and internal members of organisation.several times we need to support remote employees/developers hence remote support always act as a connecting bridge between me and developers. Also beyond trust remote support allows me to deploy new version or patches on servers without manually login on server which I like the most.Excellent tool for IT engineers, it's easy to use and work with this tool.
Pros:
The best thing is remote support allows users to connect to client's system using link or session key, so it's easy to connect on another's system.My Fav feature of beyond trust remote support is it allows users to share the screen as well screen recording is also easy. The interface is user friendly and establishing a connection with client's system is possible even when internet speed is slow. I would say just give a trial to beyond trust remote support.
Cons:
I would say there is no dislike for beyond trust remote support.it is fullfilling all my needs without any issue.