What Is SalesNexus?
The All in 1 solution for Sales Teams from 5 to 50. Designed by salespeople, for salespeople. SalesNexus automates outreach via email, text/sms and manages sales response and customer follow up. SalesNexus is easy to tailor to your unique business processes and allows salespeople to manage more relationships by automating on-going engagement campaigns.
Who Uses SalesNexus?
Medium sized B2B sales teams from 5 to 100.
Where can SalesNexus be deployed?
Cloud-based
On-premise
---
About the vendor
SalesNexus
Founded in 2001
Countries available
Canada, United States
SalesNexus pricing
Starting Price:
US$45.00/month
Yes, has free trial
No free version
SalesNexus does not have a free version but does offer a free trial. SalesNexus paid version starts at US$45.00/month.
Pricing plans
get a free trial
About the vendor
SalesNexus
Founded in 2001
Countries available
Canada, United States
SalesNexus videos and images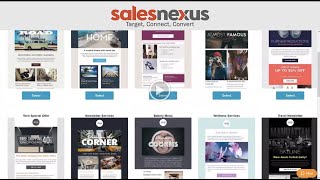 Features of SalesNexus
Automated Responses
Batch Processing
CAN SPAM Compliance
Calendar Management
Calendar/Reminder System
Campaign Management Software
Cataloging/Categorization
Contact Database
Contact Management Software
Customer Database
Customizable Fields
Customizable Templates
Data Import/Export
Document Storage
Drip Campaigns
Email Management Software
Email Marketing Software
Interaction Tracking
Landing Pages/Web Forms
Lead Capture Software
Lead Management Software
Lead Qualification
List Management
Marketing Automation Software
Mass Texting
Mobile Access
Mobile Keywords
Multi-Channel Marketing
Opportunity Management
Performance Metrics
Pipeline Management
Prospecting Tools
Quotes/Estimates
ROI Tracking
Reporting/Analytics
Sales Pipeline Management
Scheduled Messaging
Search/Filter
Segmentation
Shared Contacts
Social Marketing
Social Media Integration
Subscriber Management
Task Management Software
Template Management
Territory Management
Third Party Integrations
WYSIWYG Editor
Website Visitor Tracking
Workflow Management Software
Alternatives to SalesNexus
Walter
Author of Suspense & thriller Novels in US
Publishing, 2-10 Employees
Used the Software for: 1-5 months
Source: SoftwareAdvice
SalesNexus CRM is only for those who want it all!
Pros:
A database is a complicated and touchy part of about every business I can think of, including mine. I'm a writer of suspense and thriller novels. You may ask, why does a writer need a database." The bottom line to that question is to sell more books. But to accomplish that goal, I deal with a bunch of folks in the publishing industry, agents, designers, videographers, editors, publishers, book printers, distributors, and many others. I also must keep track of book signing events, speaking engagements, vendor schedules, and so on. Phone calls, emails, snail mail and meetings, lots of meetings, accompany all of that. With my SalesNexus Customer Relations Management system (CRM) and the expertise of their knowledgeable support crew, I can do all that is needed to attain my goals and more. Much more! When I became a SalesNexus client, I was assigned one of the support tech's, [SENSITIVE CONTENT HIDDEN]. That is a big deal. Most software firms don't do that. You call the customer support line and deal with whichever technician is available. If like me, you have to integrate old data into the new SalesNexus system, it is going to take many phone calls. [SENSITIVE CONTENT HIDDEN] applies his knowledge and experience with the CRM system to fulfill my business requirements. With some other company, you'll spend your time explaining to each new support specialist that takes your call over and over again the level of completeness and what else your project needs. I'm not new to computers, their demands, and quirks
Cons:
No, and SalesNexus not only cause us t switch from Hubspot but because of it's functionality, we will be eliminating two other vendor services.
Cheryl
Administrator in US
Legal Services, 2-10 Employees
Used the Software for: 2+ years
Useful but no longer user friendly.
Comments: As previously stated: We use the system to calendar client visits and deadlines, docket important legal dates and record notes on the client.
Pros:
Our firm uses the system for our docket/calendar and conflict database. It's effective for that purpose.
Cons:
When the system did it's last major update, many of the flexible portions of the system were taken out of where they were useful and hidden under one lump system settings. For example: To add a new city, one must go to system settings/change fields/field/add a new entry when it used to be available right on the city field of a new client record. That's neither user friendly or efficient. One has to think like a programmer to navigate many portions of the database now. While it's fine for someone like me with that background, to a novice user it's confusing and frustrating.
SalesNexus Response
4 years ago
Cheryl, Thanks for sharing your thoughts! We want to make sure you're able to get the most out of SalesNexus. There IS a way to address your frustration with the City Drop Down. In Create & Change Fields, you can turn on the Allow User Edit List or Enter Custom Value or both. The first will allow you to add items to the list on the fly while on a contact. The 2nd will allow you to enter a city for a given contact even if it's not on the list. If you'd like, we can turn them on for you. Just let us know. Or let us know if there is a good time for a quick call and we can walk you through it. Email us at [email protected] Thanks, Craig
John
Verified LinkedIn User
Used the Software for: 2+ years
Source: GetApp
Support at Sales Nexus is Over the Top!
Comments: Everyone I have spoken to at Sales Nexus over the years has been extraordinarily responsive to my needs as a small company. The chat feature allows me to explain better my situation, and get better answers than a help desk. It also gives me a transcript of the exchange so I can save them and not forget the procedures. I am also impressed by the persistence of the support staff in pursuing my problem du jour to make sure that I'm totally satisfied. Sales Nexus is the center of my company's marketing, and has been an investment that continues to return its cost to me as profits. I've tried many other ways of doing business, and none were as cost-effective and game-changing as Sales Nexus. The staff is available and super-intelligent. Today Mark knew to include a tweak that I forgot to say I needed, and I was amazed to see it already implemented for me without addition explanation or charge. Thank you guys at support in Sales Nexus. You make a difference for me everyday!
Pros:
I use the email features of SN to great advantage. If you want to send a direct, personal message to a lot of people, Sales Nexus is really the cheapest and most reliable, while allowing you to get help every step of the way.
Cons:
There may be features you won't need in the program, but it's still worth the benefits.
Kurtis
President in US
Verified LinkedIn User
Real Estate, Self Employed
Used the Software for: 2+ years
Source: GetApp
Still The Best CRM
Comments: I have been using Nexus for 6 years. I'm a big CRM guy and I am constantly checking to see what else is out there- nothing has convinced me to move. The reasons are:
1) EXTREMELY custom - izable fields
2) VERY robust sorting abilities, you can sort, filter and search and find anything you are looking for
3) VERY robust scheduling follow up ability- with campaigns, you can schedule a series of activities on auto pilot
4) Reporting- so many ways to generate the reports you need
5) Dashboards (also very customizable) - can see your Key Perform. Indicators at a glance
6) VERY robust admin features- the ability to have separate sales reps/managers with different access/edit levels
There are many more reasons, but this is still the best CRM around!
Cons:
Printing letters- the mail merge if you are mass printing is not very functional- needs work.
Health, Wellness & Fitness, Self Employed
Used the Software for: 2+ years
Sales Nexus User Review
Pros:
I have been using Sales Nexus for years. I think they have a great CRM system with the ability of scheduling tasks and emails. No need to add an email marketing system with all of their functions. They are a contact management and marketing platform combined. They have excellent customer service that lets you know when they are going to be doing maintenance. If there has ever been a problem they are quick to respond with answers to my questions.
Cons:
I really can't think of anything I don't like with the exception of a subscribe form which you can add to your website youself, which is what I did. Their email templates are easy to use and design with links to social media, they have sales propecting as well as a lead system.
SalesNexus Response
4 years ago
Thanks so much for sharing your thoughts Mara! Let us know if we can help with anything! Craig