15 years helping Canadian businesses
choose better software
What Is HappyFox Help Desk?
[New: Unlimited Agent Pricing] HappyFox is a web based customer support software hosted on the cloud. It helps to track and manage all customer support requests across multiple channels like email, chats, social media and phone in a centralized ticket support system. Integration with other web apps like CRM, live-chats, voice and bug tracking apps makes it practical help desk. Similar customer support queries can be handled using canned actions and smart rules to automate responses.
Who Uses HappyFox Help Desk?
Most commonly used by IT, Customer Service, Operations, Facilities, HR, Marketing and Finance teams. HappyFox is very versatile making it a great fit for companies of any size.
Where can HappyFox Help Desk be deployed?
Cloud-based
On-premise
---
About the vendor
HappyFox
Located in Irvine, US
Founded in 2012
HappyFox Help Desk support
Phone Support
24/7 (Live rep)
Chat
HappyFox Help Desk pricing
Starting Price:
US$39.00/month
Yes, has free trial
No free version
HappyFox Help Desk does not have a free version but does offer a free trial. HappyFox Help Desk paid version starts at US$39.00/month.
Pricing plans
About the vendor
HappyFox
Located in Irvine, US
Founded in 2012
HappyFox Help Desk support
Phone Support
24/7 (Live rep)
Chat
HappyFox Help Desk videos and images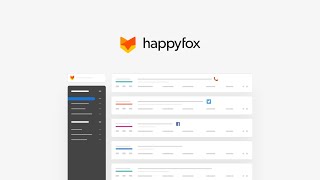 Features of HappyFox Help Desk
Access Controls/Permissions
Activity Tracking
Alerts/Escalation
Alerts/Notifications
Assignment Management
Automated Routing
Call Center Management
Cataloging/Categorization
Collaboration Tools
Contact Database
Contact Management Software
Content Management System (CMS) Software
Customer Complaint Tracking
Customer Database
Customer History
Customizable Branding
Customizable Templates
Dashboard Software
Discussions/Forums
Email Management Software
Feedback Management
For Insurance Industry
Full Text Search
Interaction Tracking
Issue Auditing
Issue Tracking Software
Knowledge Base Management
Lead Management Software
Live Chat Software
Macros/Templated Responses
Multi-Channel Communication
Multi-Language
Negative Feedback Management
Performance Metrics
Queue Management
Real Time Notifications
Remote Access/Control
Reporting/Analytics
Routing
Sales Pipeline Management
Self Service Portal
Sentiment Analysis
Service Level Agreement (SLA) Management
Support Ticket Management
Surveys & Feedback
Task Management Software
Text Editing
Third Party Integrations
Ticket Management
Widgets
Workflow Configuration
Workflow Management Software
Alternatives to HappyFox Help Desk
Reviews of HappyFox Help Desk
Abimbola
Customer Support Team Lead in Nigeria
Verified LinkedIn User
Entertainment, 51–200 Employees
Used the Software for: 6-12 months
Reviewer Source
Happyfox is changing the way helpdesk solutions run.
Pros:
First ,I have to commend the Happyfox team for running a good and effective support department. We switched to Happyfox in January and the experience so far , has been impressive. Setup time was a breeze ,and the support team were on hand to guide us through all hurdles during the first few weeks. I like how every conversation from emails ,social media messages ,voice calls etc are converted into tickets which we can track and respond to ,within the Happyfox interface.While making it easy to track key customer service metrics like first response time, time spent by each staff on tickets etc I will say Happyfox is changing the look ,function and feel of helpdesk solutions and I love this revolution.
Cons:
It is normal when trying a new innovative service to see it as all perfect. At this point, I see Happyfox as perfect,maybe I will find NEGATIVES as my organization continue using Happyfox.
Clay
Network Administrator in US
Education Management, 501–1,000 Employees
Used the Software for: 6-12 months
Reviewer Source
HappyFox Help Desk Review
Comments: Happy Fox is an incredible ticketing solution and I cannot recommend it enough. For the price I do not think that it can be beaten.
Pros:
What I like most about Happy Fox Help Desk is how easy it is to customize. You can tailor the help desk home page exactly to your liking. Not only can you customize the appearance, but it is also extremely simple to customize the options/dropdown menus that our users select when they are submitting a ticket.
Cons:
I wish there was an alerts button for the recent tickets that you have been tagged on. Currently, there is no notifications tab to see all of the tickets with recent activity that applies to you.
Alternatives Considered: Zendesk Suite
Switched From: SysAid
Reasons for Switching to HappyFox Help Desk: Price and because Happy Fox seemed geared towards education.
Used the Software for: 6-12 months
Reviewer Source
Overall good product but with hidden gotchas
Comments: We have a place to store tickets. That is it. We are not seeing the full benefits of a good ticketing system because it lacks so many simple features.
Pros:
Nothing in particular jumps out at us. It is no different than most other products in the same category. It has the same basic features as the big names.
Cons:
Does not support daylight savings time. In order for your time/date stamps to look right when viewing tickets, every user has to adjust their personal time zone. Since we are Eastern, that meant we had to select Atlantic during DST. Then when it switches back, we need to remember to go in and change it back to EST. No plans from them to address this bug. We disposed of several older SLAs (no tickets ever tripped them). They still show up in the report when you export the SLA data. They show as inactive but why? They were removed and there is no data associated with them. Staff Name tag. This one is rich... on a Notification to the caller (New or Reply), it inserts the name of the agent making the update or writing the ticket. On a notification to staff (New or Reply), it shows the name of the person the notice went to. Why on earth would I need to see my name when it comes to me? It doesn't work in Smart Rules either. It only adds a name when you "Assign" the ticket to someone and it is the assigned to, not the agent writing the update. Support has been great, but the product has so many holes in it, we really can't use it right. We have been using it for 8 months and we are not seeing any cost benefit because we have to spend so much time working around bugs, beating reports into submission, or reviewing tickets to check field values since you can't limit who can enter some data.
Verified Reviewer
Verified LinkedIn User
Retail, 1,001–5,000 Employees
Used the Software for: 1-5 months
Reviewer Source
Customizable to every need
Comments: The customer service from the team is beyond exceptional. Best ever.
Pros:
It is so adaptable. We could add fields we needed. We could add branding. Canned responses. It allows for tickets created by phone, email and social media.
Cons:
It is difficult to set up but the team is very helpful.
Alternatives Considered: Sprout Social, Meltwater and Klear
Reasons for Choosing HappyFox Help Desk: We grew too large in our business to not have a proper function build software.
Reasons for Switching to HappyFox Help Desk: It offer every thing I need. I could apadt it to match my current processes. It allowed for manual ticket entry if needed.
Information Technology & Services, 201–500 Employees
Used the Software for: 1+ year
Reviewer Source
HappyFox
Comments: Users can efficiently manage support tickets, automate tasks, and create custom workflows to enhance efficiency. The software supports multiple communication channels, ensuring consistent support across email, phone, live chat, social media, and self-service portals. The knowledge base feature empowers customers to find solutions independently, reducing repetitive inquiries. Reporting and analytics tools provide valuable insights for performance evaluation and decision-making. However, there may be a learning curve for new users, the pricing structure could be a concern for some businesses, and customization options may have limitations. Overall, HappyFox is a comprehensive solution that can greatly benefit businesses in improving their customer support processes.
Pros:
Efficient ticket management: HappyFox helps businesses effectively manage customer support tickets, ensuring timely resolution and preventing any issues from slipping through the cracks.Automation and workflow: The software automates repetitive tasks and allows businesses to create custom workflows, reducing manual work and improving efficiency.
Cons:
Learning curve: HappyFox may have a learning curve for users unfamiliar with ticketing systems or customer support software.Pricing: The cost of HappyFox may be a consideration for small or start-up businesses, as the pricing is based on the number of agents or users.