Qgiv
What Is Qgiv?
Qgiv exists to help nonprofit organizations raise more with a comprehensive suite of fundraising tools featuring donation forms, event registration, peer-to-peer fundraising, text giving with
Read more
outbound messaging, and auction events. Unlimited users with unlimited access to tools and support, no long-term contracts, and integrations with leading CRM and email tools make it easy for nonprofits to experiment with new technology and grow their digital fundraising programs.
Read less
Who Uses Qgiv?
We work with nonprofit organizations of all sizes, from brand-new nonprofits who just filed their 1023s to national organizations with many chapters.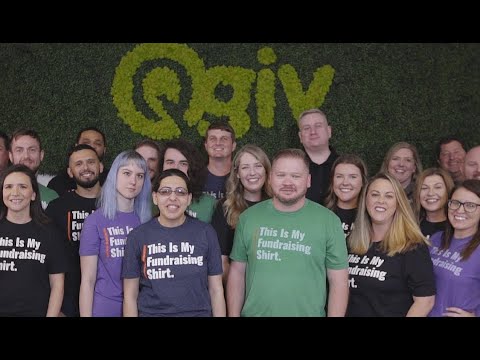 Not sure about Qgiv? Compare with a popular alternative
Not available in your country
Roger
Chief Operating Officer in US
Verified LinkedIn User
Used the Software for: 1+ year
We use Qgiv to bring in donations to our organization.
Comments: Great information about our donors that allow us to follow up, connect and take action towards. Additionally, the real time availability of what is coming in is very nice!
Pros:
Very intuitive, easy to use. Pretty straightforward and A LOT of functionality. Reporting is VERY ROBUST! Lots and lots of data made available via their dashboard.
Cons:
Probably cost. As a non-profit, would like more competitive pricing available an d more options to allow customers to purchase only what they need. Also, would really like to see a more customer friendly text giving platform.
Michelle
Community Events Director in US
Nonprofit Organization Management, 2-10 Employees
Used the Software for: 6-12 months
Ease of Use
Pros:
I love the easiness of the ability to get someone from your customer service to help me when I'm having trouble. Your team has been so helpful!
Cons:
The cost is expensive per month for our non profit as I understand things are expensive but every penny we spend is a penny we lose.
Qgiv Response
3 years ago
Hi Michelle! Thanks so much for your review! We love that your registrants found it so easy to sign up for events! We've got some exciting changes on the horizon we think you'll love. We're sorry to hear that pricing is a pain point for you. We make every effort to be transparent, fair, and flexible in our pricing structure. If you have any feedback on what could make the system more valuable to you, we'd love to hear about it! Send us an email at [email protected] and we'll talk through it.
Douachee
Marketing Manager in US
Nonprofit Organization Management, 11-50 Employees
Used the Software for: 1+ year
I don't love or hate Qgiv...
Comments: We only use Qgiv for our walks, so we use it a couple of times a year. Using Qgiv is really frustrating at first, but once you talk to someone, it helps a lot. Time is needed at the beginning to understand the program and set-up, but once you spend that time, working with Qgiv gets easier. From a marketing standpoint, I do wish it the design of it could be stronger.
Pros:
Qgiv has really good customer support. Whenever I have questions, I am able to chat with someone or call to figure things out. Their timing is really useful. It is super helpful when I started using Qgiv.
Cons:
When starting, it's not as easy to understand how to customize everything the P2P pages. It's not the most intuitive setup. Also, for P2P, it would be nice to have the ability to restore last years' captains/team pages.
Qgiv Response
2 years ago
Thanks so much for leaving a review, Douachee! We're glad to hear that you've been able to chat through things with the Customer Experience team. ...aaaand we've got some good news! We're making some updates later this year to the peer-to-peer platform that we think you'll love. Stay tuned! :)
Benjamin
Online Fundraising Manager in US
Verified LinkedIn User
Nonprofit Organization Management, 11-50 Employees
Used the Software for: 2+ years
Very Good Beginner Nonprofit Fundraising Software
Pros:
I have stuck with Qgiv for years because of its ease of use and easy to navigate UI. I can get in and out, make quick changes and never am hit with anything unexpected or updates that scramble by ability to navigate to where I need to go. Qgiv has very good customer service. You will speak to real people. They do a good job of not being annoying when they trying to upsell but do it in a helpful way. For example, they will educate you on text-to-give offerings and look for ways it can help add value but without pushing it on you. One cool thing I'll add and recommend that Qgiv added in the last few years has been the ability of donors to cover transaction fees which has been a nice little boost to our average gift.
Cons:
This isn't the best software for a seasoned pro. Don't go in looking to organize donor and transaction data in lots of different ways. The dashboard reporting won't give you much more than how much you raised in the current month, but if that's all you need, Qgiv is a good choice.
Qgiv Response
4 months ago
Thank you so much for taking the time to leave a review. We value your feedback and are glad to hear that you feel supported by the Customer Experience Team and that you've enjoyed the GiftAssist feature! We recently launched new dashboard and reporting capabilities within Qgiv and would love the opportunity to chat with you more about these new features and the data you are looking for. Send us a quick message at [email protected] We look forward to hearing from you and thanks for trusting us with your fundraising needs!
Nonprofit Organization Management, 2-10 Employees
Used the Software for: 6-12 months
Complex data tracking
Comments: We've really appreciated the details we can pull from QGiv, and feel like it has given us a better handle on our fundraising efforts.
Pros:
We capture a lot of unusual data at some of our events, and QGiv lets us build custom fields to track those answers.
Cons:
Sometimes it can be hard to figure out what type of fundraiser you need to set up and where to start from. Once you get started, it's easy, though.
Qgiv Response
last year
Thanks so much for your review, Amanda! We're happy to hear that you find the custom fields on Qgiv forms easy to use and helpful! If you ever have feedback on what we could do better, please let us know at [email protected]!