ActiveCampaign
What Is ActiveCampaign?
ActiveCampaign's category-defining customer experience automation platform (CXA) helps over 130,000 businesses in 170 countries meaningfully engage with their customers. The platform gives businesses
Read more
of all sizes access to 500+ pre-built automations that combine email marketing, marketing automation and CRM for powerful segmentation and personalization across social, email, messaging, chat and text. Over 75% of ActiveCampaign's customers use its 850+ integrations.
Read less
Who Uses ActiveCampaign?
ActiveCampaign is ideally suited for small and medium sized businesses looking to grow through better customer relationships.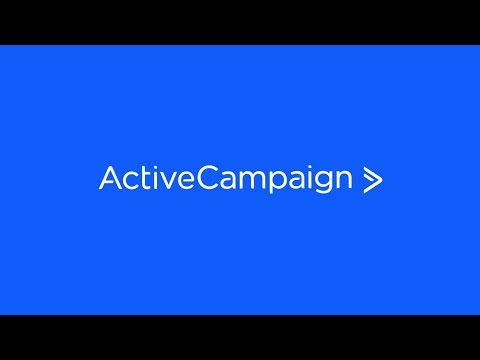 Not sure about ActiveCampaign? Compare with a popular alternative
Alternatives to ActiveCampaign
Reviews of ActiveCampaign
Néstor
Founder in Spain
Verified LinkedIn User
Marketing & Advertising, Self Employed
Used the Software for: 2+ years
This guys know how to do things the right way
Comments: Let me say it clearly: A-W-E-S-O-M-E Trust me, they are the "real deal".
Pros:
Instead of boring the hell out of you making a long list of all the things I like about AC, I would resume them in just 3 "little" things I care of: - Reputation: They REALLY care about sender reputation. And, you know... an email that doesn´t get to my suscribers is like loosing money out of my pocket. So, I´me really happy the way they´re handling things on this department - Ease of use + functionalities: Most other services only offer one of them things. But I want them all. AC covers all my needs regarding this issues (and I´m a choosy guy, you know). - It´s scalable!: This is a biggy. As your businees grows, you´ll have a new set of needs when it comes to automation. AC scales as your business thrives so you don´t have to switch companies never again.
Cons:
I´m a Spanish user and would love a full Spanish translation (at the moment we hace a partial translation) for Spanish users.
Computer Software, 11-50 Employees
Used the Software for: 1+ year
Alternatives Considered:
ActiveCampaign is the most (arguably) the most popular for a reason
Comments: Any obstacle we have faced since migrating to this email software has been removed by their stellar customer service reps, who record screengrabs during your chat with them to answer questions. The software itself is the best we've experienced for email autoresponders.
Pros:
Switching to ActiveCampaign has been a great business decision. Creating automations and flows triggered by customer activity has been a breeze and I commend their customer service for being readily available to answer any questions.
Cons:
There is a large learning curve for this software. Many of their written tutorials on their website don't fully answer the questions I needed answered.
Maud
Digital Marketing & Communications Manager in France
Financial Services Software, 11-50 Employees
Used the Software for: 2+ years
User review
Pros:
The interface is very intuitive. Ability to integrate with other platforms.
Cons:
The email editor is very bad to use. The product becomes difficult to use.
Nick
Chief Side Hustler in US
Online Media, Self Employed
Used the Software for: 2+ years
Alternatives Considered:
Affordable Marketing Automation
Comments: As an online business owner, my email list is really the lifeblood of my business and one of my biggest monthly expenses. ActiveCampaign has been a great investment and a service I'm happy to recommend.
Pros:
I've been an ActiveCampaign customer since 2017 and have recommended it to dozens of friends over that time. It's super powerful marketing automation and email marketing software, for a great price. (I believe I'm on their lowest pricing tier.) I like that I can easily integrate forms with other email collection tools to drive sign-ups (LeadPages, Group Leads, etc.) and create personalized welcome sequences and automations for different segments of my audience. Deliverability and open rates are strong.
Cons:
I have 3 main gripes. First, the reporting is weak. It would be cool to slice the new subscriber data by form to see what forms were driving the most sign-ups for a given time period. The only available option is the lifetime of that form. Since I have 100s of forms at this point, it's sometimes hard to tell where a spike in new subscribers is coming from. Second, the customer support is frustrating. There's very little proactive effort made to troubleshoot any issue and they make you jump through a bunch of hoops. Third, I wish they'd bring back area code geo-targeting. A few years ago, ActiveCampaign would assign subscribers an area code based on their IP address. This was super helpful for hosting local meetups whenever I'd travel. Now it seems they only assign a city, which is better than nothing, but not ideal.
Anastacia
Account Manager in US
Marketing & Advertising, 11-50 Employees
Used the Software for: 1+ year
Alternatives Considered:
ActiveCampaign
Comments: Overall, I like this product and it has a lot of helpful features/ tools within the software itself. So if you plan on using ActiveCampaign for more than just one element then it's definitely worth the time and money to use.
Pros:
I love that this software is just so easy to use on any level. Whether you are experienced with email marketing and automation or if you are new to the team and have never used it before. It's a simple click and drag or click to update etc. It makes it easy to get plenty of support from people on your team who just need to help to complete some simple tasks.
Cons:
The thing I disliked about this software is it a little cluttered. There are so many features and it can be overwhelming if you are only using it for one specific purpose.