What Is Wild Apricot?
Focus on growing your membership instead of repetitive admin tasks with WildApricot. Our easy-to-use software helps you automate membership dues, event registrations, and more. You'll also have access to a community of peers and experts to share knowledge and best practices.
Who Uses Wild Apricot?
WildApricot is an affordable cloud-based software for small associations, non-profits, state and local chapter organizations. Manage membership, website, events and more all in one place.
Where can Wild Apricot be deployed?
Cloud-based
On-premise
---
About the vendor
Personify
Located in Vienna, US
Founded in 1998
Wild Apricot pricing
Starting Price:
US$60.00/month
Yes, has free trial
No free version
Wild Apricot does not have a free version but does offer a free trial. Wild Apricot paid version starts at US$60.00/month.
Pricing plans
get a free trial
About the vendor
Personify
Located in Vienna, US
Founded in 1998
Wild Apricot videos and images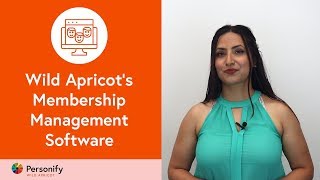 Features of Wild Apricot
Access Controls/Permissions
Accounting Integration
Activity Dashboard
Alerts/Notifications
Application Management
Attendance Tracking Software
Attendee Management
Collaboration Tools
Committee Management
Contact Database
Contact Management Software
Content Publishing Options
Contribution Tracking
Customizable Templates
Document Management Software
Donation Management Software
Donation Tracking
Donor Management
Dues Management
Electronic Payments
Email Marketing Software
Email Reminders
Event Management Software
Event Scheduling
For Alumni Associations
For Nonprofits
For Religious Organizations
Fundraising Management
Member Communication
Member Communities
Member Database
Member Directory
Member Portal
Member Types
Membership Management Software
Membership Renewals
Online Calendar
Online Giving
Online Registration
Payment Processing Software
Receipt Management
Registration Management
Reporting & Statistics
Reporting/Analytics
Self Service Portal
Website Management
Alternatives to Wild Apricot
Martin
Chief Content Officer in US
Verified LinkedIn User
Design, 11–50 Employees
Used the Software for: 1+ year
Reviewer Source
Best solution for small to medium sized associations
Comments: WildApricot is an excellent solution for managing association memberships and websites. The solution includes basic eCommerce and the ability to build a website with the Wild Apricot CMS - you can also connect easily to other website tools. Members love the easy of managing their own profiles and the other features for member communications.
Pros:
Easy of use, ability to customize the member database easily and the integrated content management system for a professional website.
Cons:
The software does not allow you to determine the membership ID within he system. This creates a challenge for any organization that already has a member number schema.
Alternatives Considered: MemberClicks and Membee
Reasons for Choosing Wild Apricot: The database was antiquated and difficult to manage.
Reasons for Switching to Wild Apricot: Wild Apricot was the most cost effective tool for overall membership management and the creation of a members' website. The cost of the solution and the costs of transactions was best with Wild Apricot and the system offered the currently needed features as well as a host of features that will be used in the future.
Melissa
Executive Director in US
Verified LinkedIn User
Nonprofit Organization Management, Self Employed
Used the Software for: 2+ years
Reviewer Source
Cost Effective Website and Database
Comments: Overall Wild Apricot is a great tool for associations and/or others who need to process dues payments, event registrations and keep up with your clients.
Pros:
Wild Apricot makes it easy to process registrations for events, dues payments and store purchases in addition to being a website. It is very easy to use. There are user groups that you can join to get help from other users. Also, it is very easy to create a manual invoice for things that I might need a product for or a registration. There is also an app for administrators which is super convenient when to try to look up open invoices, etc. when away from the office.
Cons:
There are several features that should be available that are not. First and foremost there should be the availability within in the software to create a pdf and email it to contacts. The store does not appear to be integrated with the mail database and there are not a lot of reports. When I have orders from my store I have to constantly watch for duplicates. There is also not an email report to run that will search for possible duplicates in the system.
Alternatives Considered: MemberClicks and StarChapter
Reasons for Switching to Wild Apricot: StarChapter is very dated software and not at all user friendly. I also felt like my questions were not heard or they were determined to do things their way. MemberClick was outside of our budget.
Financial Services Software, 2–10 Employees
Used the Software for: Free Trial
Reviewer Source
Wild Apricot Review
Comments: Overall, my experience with Wild Apricot was positive. The platform provided a comprehensive and user-friendly solution for managing membership-based organizations. The intuitive interface and customization options allowed for easy branding and personalization. The event management features were robust and simplified the planning and execution of events. The integrated communication tools facilitated effective member engagement. While there were limitations in customization and reporting, Wild Apricot served as a reliable and efficient platform for managing memberships and engaging with members. The responsive customer support was also helpful in addressing any questions or issues that arose.
Pros:
One of the things I liked most about Wild Apricot was its user-friendly interface and ease of use. Navigating through the platform and accessing its features was intuitive, making it simple to manage and maintain membership-based organizations. The ability to customize the website and membership portal was a standout feature, allowing for seamless branding and personalization. The event management module was comprehensive and made organizing and tracking events a breeze. Additionally, the integrated email marketing and communication tools were effective in engaging with members.
Cons:
While Wild Apricot had many positive aspects, one thing I liked least was the limited flexibility in customizing certain aspects of the platform. There were some design limitations, and advanced customization options required technical expertise or assistance from support. Additionally, the reporting capabilities, while adequate for basic needs, could have been more robust with additional analytics and data visualization options. It would have been beneficial to have more flexibility in tailoring the platform to meet specific organizational requirements.
Recreational Facilities & Services, 2–10 Employees
Used the Software for: 2+ years
Reviewer Source
A Dying Platform - Beware!
Comments: WA is a dying platform. Once there was a stream of new features and improvements. Now there is only a stream of price increases. When we adopted WA in 2015, there was a published development roadmap and robust interaction between development team and users. When Personify acquired WA in 2017 that turned around. Development ground to a halt, technical support has been cut back to chat and email during working hours only, and there are significant prices increases every two or three years.
Pros:
Fairly easy to use. It was relatively easy to move over our existing member data base and website.
Cons:
Technical support is available only by chat and email, and not nights or weekends. System is inflexible in a number of areas, particularly with event management. Reports are few and not useful. Admin UI clumsy in places. Once we added some event reporting using the API, we were able to make it work for our organization. Polishing in response to user requests would help, but feature development and enhancement are no longer happening.
Stephanie
System Administrator in US
Verified LinkedIn User
Information Technology & Services, 10,000+ Employees
Used the Software for: 1+ year
Reviewer Source
Friendly Website Design and Membership Management System
Comments: With Wild Apricot's assistance, we are able to easily add new events and maintain our website current with our ever-evolving needs. In addition to keeping tabs on emails and contacts. All of the personnel and volunteers of the several non-profit trade associations we oversee are constantly busy. Making a living in this industry is exciting and challenging, and there is never a dull moment.
Pros:
I appreciate not having to ask anyone else to help me run the website or set up events. If you have a basic understanding of computers, you should have no trouble getting about. You can customize your page and report generation in a number of ways.
Cons:
When I have a question about how to use the site, I wish I could talk to a real person. It would be fantastic if there was a real assistance line.