15 years helping Canadian businesses
choose better software
What Is Oracle Cloud HCM?
Oracle Fusion Cloud Human Capital Management is a complete cloud solution that connects every human resource process—and every person—across your enterprise. This provides a consistent experience across devices, enables one source of truth for HR data to improve decision-making, and empowers you with market-leading innovation to address your needs today and into the future.
Suite of human capital management applications includes: HR, benefits, payroll, performance and talent management.
Who Uses Oracle Cloud HCM?
Midsize and Enterprise Customers with 500+ employees.
Where can Oracle Cloud HCM be deployed?
Cloud-based
On-premise
---
About the vendor
Oracle
Located in Chicago, US
Founded in 1977
Oracle Cloud HCM pricing
Starting Price:
Yes, has free trial
No free version
Oracle Cloud HCM does not have a free version but does offer a free trial.
About the vendor
Oracle
Located in Chicago, US
Founded in 1977
Oracle Cloud HCM videos and images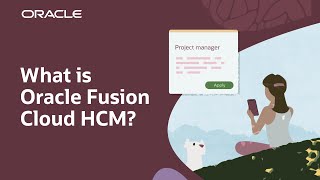 Features of Oracle Cloud HCM
360 Degree Feedback Software
API
Access Controls/Permissions
Activity Dashboard
Activity Tracking
Alerts/Notifications
Applicant Tracking Software
Approval Process Control
Assessment Management
Attendance Management
Attendance Tracking Software
Benefits Dashboard
Benefits Management
Blended Learning
Budget Management
CRM Software
Calendar Management
Candidate Management
Candidate Profiles
Candidate Tracking
Check Printing
Collaboration Tools
Compensation Management Software
Compensation Plan Modeling
Compensation Statements
Compliance Management
Compliance Tracking
Course Management
Course Tracking
Customizable Branding
Customizable Reports
Customizable Templates
Data Import/Export
Deduction Management
Direct Deposit
Document Management Software
Document Storage
Electronic Forms
Email Management Software
Employee Database
Employee Management
Employee Onboarding
Employee Portal
Employee Profiles
Employee Reward Programs
Employee Scheduling Software
Employee Self Service
Employee Time Tracking
Feedback Management
Gamification Software
Goal Setting/Tracking
HR Management
Incentive Management
Interview Management
Interview Scheduling
Job Posting
Labor Forecasting
Leave Tracking
Market Data Analysis
Merit/Bonus Management
Mobile Access
Onboarding Software
Online Benefits Enrollment
Online Time Clock
Orientation Workflow Management
Payroll Management
Payroll Reporting
Performance Management
Policy Management Software
Progress Tracking
Real Time Data
Recruitment Management
Reminders
Reporting/Analytics
Role-Based Permissions
Salary Planning
Self Service Portal
Sick Leave Tracking
Social Media Integration
Succession Planning Software
Surveys & Feedback
Talent Acquisition
Task Management Software
Tax Compliance
Third Party Integrations
Time & Attendance
Time Off Management
Time Off Requests
Time Tracking Software
Timesheet Management
Training Management
Vacation/Leave Tracking
W-2 Preparation
Workflow Management Software
Alternatives to Oracle Cloud HCM
Reviews of Oracle Cloud HCM
Ila
Sr Manager in US
Verified LinkedIn User
Information Technology & Services, 1,001–5,000 Employees
Used the Software for: 2+ years
Reviewer Source
Best HCM Product
Comments: Great experience as a implementation consultant and a user
Pros:
Easy to configure, very flexible, no coding required, flexible. Great reporting tools BIP and OTBI. Sandbox is a great feature for personalization
Cons:
Not too much customization possible. Limited context fields available
Alternatives Considered: SAP SuccessFactors HXM Suite and Workday HCM
Reasons for Switching to Oracle Cloud HCM: Reporting system was just amazing
Lavanya
Oracle Lead in US
Automotive, 1,001–5,000 Employees
Used the Software for: 2+ years
Reviewer Source
Oracle HCM Cloud Review
Comments: It solves the purpose of having one system of record for all data points. We can manage our workforce in a more efficient way. Overall it's a great software offered by oracle to meet the hcm business needs
Pros:
Ease of use, user friendly UI, Has all the modules like core HR, Absence, Goals, performance Management, compensation workbench. Improved the hiring efficiency and to track data for all employees at one place. Cloud based SAAS model , so no maintenance costs as quarterly upgrades are done by Oracle for no costs
Cons:
Payroll and Benefits module features can be improved. Search functionality can be improved. Mobile responsive UI performance delays can be improved
Alternatives Considered: Workday HCM
Reasons for Switching to Oracle Cloud HCM: Cost effective user friendly UI and the top notch software which serves our business needs
Verified Reviewer
Verified LinkedIn User
Professional Training & Coaching, 1,001–5,000 Employees
Used the Software for: 6-12 months
Reviewer Source
Sluggish old fashioned user interface - low end user acceptance
Comments: We wanted to have a best of breed solution for a medium sized professional services firm to support talent management, project management, time management as well as reporting & analytics. Our vendor took more than 18 (!) months to configure this solution which was supposed to be best of breed, but the end result is really poor. We do not know if it is the vendor or the product or a combination. But having to wait 30 seconds every time you want to see a time sheet is not acceptable, and all we get from Oracle is that it is a cloud product and we must understand that there are thousands of users and they are serviced from a server forest. I just think there must be something wrong in the whole setup which noone seems to understand or care about - both are very problematic. I was very surprised to read all the happy and positive references and after weeks of thinking I decided to write this one, which likely will be deleted.
Pros:
There is not really much to like about Oracle. A few things come to mind, such that each end user has It has the capability to configure which fields to display. Although the overall user experience is really bad (anyone claiming something else are living in the 80's)
Cons:
Consistently bad user interface across talent management, time & project management to reporting and analytics. Slow, slow, slow response times. Old fashioned user interface. No ability to use mobile - yep, that is right: NO mobile support for simple time entering, time approvals, expense approvals.
Verified Reviewer
Verified LinkedIn User
Information Technology & Services, 501–1,000 Employees
Used the Software for: 2+ years
Reviewer Source
Oracle Cloud HCM Review- as an Implementor
Comments: The Product drastically changes the reach and decision making abilities of the HR and Managers with all the right information at the right time.
you get notifications and alerts on email, to take action, and you can act on the notifications on your email Truly for a modern HR its a modern HR system
Pros:
1) Very Robust system 2) Complete Suite for all HR 3) Workforce Mobility as being on Cloud, Access to critical HR Functions on the GO 4) Compliant with Local Legislation, provided support for compliance, regular Updates takes care of any changes in legislative rules 5) Out of the Box Analytics with powerful OTBI tool 6) Enables HR and Mangers to engage workforce and keep track of overall health of the Organization 7) Effective Visualization tools like workforce Modelling with a view of cost and benefits analysis for moving workforce with in the enterprise 8) Very Secure system with top-notch security features, using Roles and Ip addresses 9) Audit capacity which is big pro, system can audit almost eveything with in, and audit trails are always kept, 10) Global System with Best Practice process compliance
Cons:
1) Oracle Fusion Time and Labor module is not fully matured, needs improvement in UI and workings 2) Payroll supported only for limited number of countries 3) No Post payroll Tax filing support for US 4) The system has many check points where the system asks for confirmation, this can be annoying sometimes
Verified Reviewer
Verified LinkedIn User
Health, Wellness & Fitness, 1,001–5,000 Employees
Used the Software for: 2+ years
Reviewer Source
Seeking Competitive Advantage at the cost of CUSTOMERS!
Comments: We all know that IT industry is highly competitive, and companies need to be abreast of the market trends.
#Oracle is not an exception. It was very nice to see a user friendly system when our company purchased #OracleHCM in 2016. As HR team, we have done all configuration, worked day and night for 7 months to make it happen, trained 1000+ employees, made so many user manuals, videos to explain how to use it. In other words, we spent a lot of time, effort and money to make it work.
Now we are in 2019, and to be in line with market trends #Oracle announced a new MANDATORY user interface for #OracleHCM. It means that it involves a lot of changes, where we have to make new user manuals again from scratch and retrain all staff (means a big cost and time – AGAIN! As this can be considered as implementation!). I am not even mentioning hours and days of testing where we have to compare every single approval flow and find out why my DFFs are missing in the new UI!
I call for action #Oracle Top Management about the customer challenges, one day it will be a call for leaving #Oracle license because of mandatory changes and it will be cheaper re-implement another HR system with normal management who listens to their customers and DO NOT impose any UI changes until the customer requests so!
Pros:
Approval flows flexibility and user friendly
Cons:
they change user interface and apply new patches every quarter, making life of a user impossible ! :(