What Is LiveChat?
Premium Live Chat and Help Desk Software for business.
LiveChat turns support teams into customer service rockstars. Customers love answers to their questions coming within seconds. Win hearts of customers with amazing customer service using LiveChat - join over 30,000 companies from over 150 countries and try LiveChat now!
Who Uses LiveChat?
LiveChat is used by companies all over the world and from every industry. Startups, small and medium businesses and enterprises all rely on LiveChat in their everyday customer service duties.
Where can LiveChat be deployed?
Cloud-based
On-premise
---
About the vendor
LiveChat Software
Located in Boston, US
Founded in 2002
LiveChat support
Phone Support
24/7 (Live rep)
Chat
LiveChat pricing
Starting Price:
US$24.00/month
Yes, has free trial
No free version
LiveChat does not have a free version but does offer a free trial. LiveChat paid version starts at US$24.00/month.
Pricing plans
get a free trial
About the vendor
LiveChat Software
Located in Boston, US
Founded in 2002
LiveChat support
Phone Support
24/7 (Live rep)
Chat
LiveChat videos and images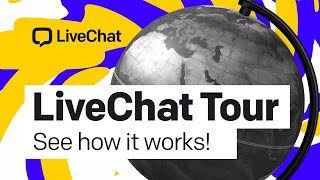 Features of LiveChat
Activity Dashboard
Alerts / Escalation
Auto-Responders
Call Center Management
Communication Management
Customer Database
Customer History
Customizable Branding
Email Management Software
Geotargeting
Interaction Tracking
Knowledge Base Management
Live Chat Software
Macros/Templated Responses
Mobile Access
Multi-Channel Communication
Offline Form
Performance Metrics
Proactive Chat
Queue Management
Real-time Consumer-facing Chat
Reporting/Analytics
Self Service Portal
Support Ticket Management
Third Party Integrations
Ticket Management
Transcripts/Chat History
Transfers/Routing
Website Visitor Tracking
Verified Reviewer
Administradora in Brazil
Verified LinkedIn User
Executive Office, 501-1,000 Employees
Used the Software for: 2+ years
LiveChat mudou minha empresa
Comments: Our company started using LiveChat because we were losing a lot of customers due to the lack of support that was able to solve problems quickly. Before we started using the software, we used e-mail and this generated very slow communication with our customers. We implemented LiveChat just over two years ago and improved the level of our service. Since then, we have increased the efficiency of our work, reduced costs and mainly improved our relationship with the client.
Pros:
LiveChat integrated perfectly with our business, the software is fast and allows us to reduce the average service. Because we are able to solve our customers' problems more quickly, we were able to expand our customer portfolio. This means increased revenue for our company. But the most positive effect was being able to improve the way our company was seen in the market. The best thing about LiveChat is that it allows us to work and at the same time provide support to our client, because whenever there is a new interaction, the software emits an audible warning on the mobile device and this allows us to be answering questions in real time.
Cons:
Well, we currently face only a few difficulties with the usability of the app for mobile devices, because the web version of LiveChat is perfect, but the mobile version and a little limited, in my view, needs to expand the features in the mobile version, such as the resolution tags that are not allowed to be added in each contact, but the web version has this function. Another issue that implies the use of LiveChat is the cost of implementation, which is a little high by the standards of some companies.
Greg
Owner in US
Verified LinkedIn User
Used the Software for: 1+ year
LiveChat Connects Me to My Candidates Fast!
Comments: I get instant connection to my customers with tons of features, customizations, and robust reporting.
Pros:
What I like most about LiveChat is it's reliability. When I began researching chat applications to recommend to a client for use in their recruiting efforts, I found a lot of options. I also found a lot of issues. Many of the applications I looked at were complicated and glitchy. Then I found LiveChat. LiveChat just worked. It was solid application whether online or on my desktop and it handled chat conversations reliable while offering all the features I was looking for in a manned chat application. When I spoke with a representative from the company, I found out why. LiveChat set out from the beginning to be a manned chat solution and to be the best in the business. I was kind of disappointed with this at the beginning, because I was hoping for a solution to handle both manned and bot style chats. LiveChat didn't have bots, but they were so far above every other manned chat platform, that I had to choose them. Incidentally, they have developed a bot situation since I first signed up with them and it is just as robust. It's called botengine.ai and I highly recommend it. BotEngine integrates seamlessly with LiveChat and both applications work reliably with Facebook Messenger, Web Pages, Landing Pages, and more. LiveChat offers tons of customization, professional looking interfaces, and robust reporting. I can easily use it on my desktop computer, my notebook, my tablet, or my phone. And just like I said before, it just works.
Cons:
If there was anything to dislike about LiveChat, it would be that it is resource-intensive on my iMac. This is a casualty of my business, though. I have to use a lot of memory-hog applications every day, so a lot of times I will enable LiveChat just on my mobile device or my notebook while I'm working at my desk. That way I can still respond to chats without slowing down my main machine.
Verified Reviewer
Verified LinkedIn User
Marketing & Advertising
Used the Software for: 1+ year
Source: GetApp
LiveChatInc Review
Comments: We are a 3rd party company using LiveChatInc app as our platform to serve our industry, and its been great. I tried several others, and there were functions I liked, but in the end, we came back to LiveChat because of their ease of use, support, and some unique capabilities other chat companies didn't have. There are a couple of important changes we would love to see to make it more customizable, but overall, I would recommend it highly.
I've tested at least 4 of the "top" live chat apps out there … and we came back to this one, as it was the best overall.
Pros:
First of all the Support team is very friendly and helpful. This is key and they have always tried their best to help, and were open to my feedback on improvements that could be made. It is very easy to use, very intuitive. Has some unique features I've not found in other live chat apps (example: auto greetings to customers are personal, and come specifically from one of my live chat experts. Other platforms I've used, it sends a generic auto invite, and the customer has to ACCEPT to chat, before they are connected with an agent. We have compared, and this one feature makes our take rate (customer engages in a chat) much higher, due to it being a personal invitation by one of our reps.
Cons:
The biggest one is the inability to customize Visitors window for our staff. An older version (which we still have to use) used to allow you to set up specific columns of info on each visitor. This way you could see how many times they visited, were invited, refused, etc… without having to click on each visitor to see this info. If you have a lot of visitors it is impossible to click on each of them in a timely manner and know whether to engage in a conversation. This is a big one that needs updated soon. It has taken a long while to have auto invites work properly on all mobile platforms (iPad, iPhone, tablets, etc). It still isn't possible on all, but on most devices now, customers will get a pop up if you send an invitation to chat. Wish you could set up a second Auto Invite (ie. at 1 minute into the visit, an auto greeting is sent … if declined, at 4 minutes, a second one is sent). Unfortunately, not possible. When you send a personal invite, it classifies it as a CHAT, even if the customer doesn't chat with you. So the archives get filled with "blank chats" that you have to leaf through. All of that said, besides the first one, it is still the best live chat app out there, in my opinion. Fingers crossed the Visitor view options will be changed back soon, to allow it to be more customizable for customers.
Eric
Global Director of Support in US
Outsourcing/Offshoring, 51-200 Employees
Used the Software for: 2+ years
Outsourced Provider LiveChat Integration
Comments: Around 5 years ago we began looking for a new LiveChat solution not only for our business, but the clients we represent who offer support of tens of thousands of end users each. Because of thi,s we needed a feature rich platform that integrated with our own internal tools but also was easy to integrate and configure on our client's websites. We looked at a number of different solution providers and LiveChat won our business with a stable platform, easy to integrate with, easy to separate out by customer and also was very budget friendly which is especially important in the outsourcing business. By selecting LiveChat we were able to consolidate down from 3 separate LiveChat providers into one, streamlining both our workflows and our set up process. Over the years LiveChat has continued to provide excellent support for their product and is constantly adding new features and tools that our team enjoys - chat agents, management, and developers alike. Whenever I have had an integration issue or a question about the product their support team has been extremely prompt and helpful in all of their support channels. We are very pleased with our choice to move to LiveChat and look forward to continuing business with them for many years to come.
Pros:
- Stable platform - Ease of separation of groups - Ease of integration - Reports and tools (admittedly we export this into our own tool and don't use LC's) - Security and custom rules - Customization and branding - Consistent improvements - Support team is prompt and helpful
Cons:
- Some updates cause issues with set up and updates aren't announced very well - Ticket system is 'meh' and we don't use it - No send chat transcript by group, it's all or nothing
LiveChat Software Response
4 years ago
Thank you and really happy you like using LiveChat, we do our best to make it even better, every day!
Computer Software, 2-10 Employees
Used the Software for: 6-12 months
Source: SoftwareAdvice
Apps for everyone!
Comments: We love LiveChat. The availability of the apps that span across different operating systems is a huge bonus and was what initially drew us to the program. Our customers love the program going from chat to form, as they can contact us when we are not available to answer a chat. While the price is a little higher than other live chat clients, this one is worth the price because of the use by multiple agents on a single license. This sold us on the program, and we will continue to use it until it is no longer supported. It's definitely worth it.
Pros:
Apps. Many other live chat options do not include apps, especially not ones that work across both Android, Apple, Mac, and PC. It's handy in case you are not in front of a computer or have to go from a Mac to a PC, then you have access on both. The fact that multiple agents can use the program (though only one at a time per license!) is very important. Many other live chat programs allow only one per person. This adds up quickly when you have more than one agent. The ability to change the website widget from a chat to a form is great on weekends or after business hours. This allows customers to be able to contact you without having to wait for business hours.
Cons:
The only slight con is the cost of the product, but this is offset by the ability for multiple agents to use one license, as long as only one is logged on at a time. To do the same with other programs, you would have to purchase more than one license. So, the cost is justified, but there is still the initial sticker-shock. If the price were a little bit lower, we would be able to purchase two licenses and have two people on at the same time. However, the ability to have more than one person use the license makes it seem like we have loads of agents on at the same time. We did experience one or two bugs, but the tech support was able to fix them quickly so that we were back online within minutes.