What Is Salesforce Sales Cloud?
Drive growth with Sales Cloud 360, the best-in-class sales solution that has helped power the world's best sales teams on the world's #1 CRM platform. Firms of all sizes, industries, and geographies, realize value faster with Sales Cloud 360. Increase rep productivity with data driven selling by quickly deploying industry-specific apps and best practice processes. You also get access to 150,000+ sales organizations and a 2 million user-strong community that are passionate about sales growth.
Who Uses Salesforce Sales Cloud?
With Salesforce's multi-tenant cloud computing model we can serve the needs of companies of all sizes, in any industry. Our customers benefit from a shared main framework, while maintaining privacy.
Where can Salesforce Sales Cloud be deployed?
Cloud, SaaS, Web-based, Android (Mobile), iPhone (Mobile), iPad (Mobile)
About the vendor
Salesforce
Located in San Francisco, U.S.
Founded in 2003
Phone Support
Chat
Salesforce Sales Cloud pricing
Starting Price:
Not provided by vendor
Yes, has free trial
No free version
Salesforce Sales Cloud does not have a free version but does offer a free trial.
About the vendor
Salesforce
Located in San Francisco, U.S.
Founded in 2003
Phone Support
Chat
Salesforce Sales Cloud videos and images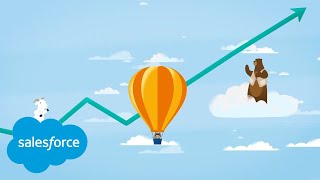 Features of Salesforce Sales Cloud
Access Controls/Permissions
Activity Dashboard
Activity Tracking
Appointment Management
Appointment Scheduling Software
Auto-Dialer
Batch Processing
Budgeting/Forecasting
CRM Software
Calendar/Reminder System
Call Center Management
Call List Management
Campaign Management Software
Cataloging/Categorization
Channel Management Software
Client Tracking
Client/Property Matching
Collaboration Tools
Commenting/Notes
Commission Management
Contact Database
Contact Management Software
Content Delivery
Contract/License Management
Customer Database
Customer Engagement Software
Customer Social Profiles
Customizable Fields
Dashboard Software
Data Import/Export
Data Visualization Software
Document Management Software
Document Storage
Email Management Software
Email Marketing Software
Email Templates
Employee Management
Estimating
Financial Management Software
For AEC Industry
For Mac Devices
For Sales Teams/Organizations
For Startups
For iPad Devices
Interaction Tracking
Key Performance Indicators
Knowledge Management Software
Landing Pages/Web Forms
Lead Capture Software
Lead Distribution
Lead Management Software
Lead Nurturing Software
Lead Qualification
Lead Segmentation
Live Chat Software
Marketing Automation Software
Mobile Access
Opportunity Management
Performance Management
Performance Metrics
Predictive Analytics Software
Project Management Software
Prospecting Tools
Quality Management Software
Quotes/Estimates
Real Time Notifications
Referral Tracking
Reporting & Statistics
Reporting/Analytics
Sales Activity Management
Sales Approval
Sales Pipeline Management
Scheduling Software
Search/Filter
Segmentation
Self Service Portal
Shared Contacts
Social Media Integration
Task Management Software
Territory Management
Third Party Integrations
Web-based Deployment
Workflow Management Software
Alternatives to Salesforce Sales Cloud
Reviews of Salesforce Sales Cloud
Avash K.
IT Director in Nepal
Verified LinkedIn User
Information Technology & Services, 2-10 Employees
Used the Software for: 2+ years
Full Fledged CRM for Every Business
Comments: My overall experience with Salesforce Sales Cloud has been exceptional. It's easy to implement, maintain and teach others to use it. The functions and flows are intuitive and easy to navigate once we get some experience. I highly recommend Salesforce Sales Cloud to every business as it can be used by businesses of any size.
Pros:
While there is a bit of a learning curve - Salesforce has exceptionally good and intuitive flows we get used to it. Another thing I like very much about Salesforce Sales Cloud is its scalability. Any business size can use it and scale it as the business grows which is rare in other CRMs as most are dedicated to certain business sizes. It is also flexible and customizable. I have set it up for a few clients of mine with little deviation in usage requirements and it worked perfectly with all of them. There is also a lot of automation that we can directly use - also we can take benefits of easy integrations available with other service providers. Also, it generally has more functions than we need so we don't need to worry much if the software is enough for a company. Maintaining it is also easy as every cloud service. Also, as with every cloud service - we can access it from different kinds of devices which is a added bonus.
Cons:
I don't think there is much to dislike about Salesforce Sales Cloud - I think the pricing for small businesses can be better. Also, there is a bit of a learning curve but that's okay as of all CRM I have used to date - Salesforce was relatively easier to learn.
Marketing & Advertising, 2-10 Employees
Used the Software for: 2+ years
Best Sales CRM
Comments: My experience has been super amazing using their Concierge support rather than hiring a developer to assist us with the development of our org
Pros:
The ability to integrate with such a large number of 3rd party apps and build the ultimate tech stack
Cons:
The platform is so powerful and has so many features and functionality, the more complex your use case the odds are you'll need to hire an expert to build out your org
Alternatives Considered: HubSpot CRM
Reasons for Choosing Salesforce Sales Cloud: Keap is not built for sales and sales enablement
Switched From: Keap
Reasons for Switching to Salesforce Sales Cloud: Hubspot is designed to be more of a all-in-one app as a Marketing CRM and a Sales CRM where Salesforce is a true Sales CRM that intregrates with a large number of 3rd party apps and specifically has a deep integration with Marketo, the gold standard in Marketing CRM apps
Paul B.
President in U.S.
Writing & Editing, Self Employed
Used the Software for: 2+ years
A three-year mistake that cost us plenty, a fool's gamble...
Comments: Polished sales process. Lots of promises. Bright, enthusiastic young people. Pricing that hooks you in. The reality" You are on your own. If you signed up for too many licenses, tough luck. If you are having trouble using it; live with it. If you didn't set it up right, that's your problem. Eventually, we dumped it and went to a simpler tool. Boy, was I a fool to think this would be easy. Staff resistance was an issue. People were too busy to keep it up to date. It was like you needed a team just to track the project tracking, data entry and reporting. Not ideal for a business where every client and every engagement was unique. Oh, the money I wasted.
Pros:
The prospect of improving project tracking, opportunities, etc. for the ad agency side of our business. It was going to change our business life. It really seemed like a good idea.
Cons:
The set up process was poor, hence we didn't help ourselves much by the inept, unschooled effort in setting this tool up. It required the commitment of more time and staff than as a four-person enterprise we had to spare. But no one told us that. Frankly, the legal pad that we used to keep track of issues and opportunities was far better than this expensive nightmare that withered off eventually due to non-user-friendliness. It's great for a big company, but once they sold us and we signed on for three long years, we were sunk. Even the print and format of the reports was too small. Maybe we were incompetent, but no SaaS user should ever be so up a creek.
Robert D.
Head of It in Australia
Verified LinkedIn User
Chemicals, 51-200 Employees
Used the Software for: 1+ year
Essential and Powerfull syste - If you can afford it
Comments: it has been positive. We started with nothing so it's a large change managment component. But i feel it will make a large positive impact on our sales and customer service teams. We are integrating it with other systems (workflow, ERP) to get as much information in one place for our sales teams to be more efficient. There is so much powerful functionality it's taking time to bed everything down but it's a positive step for my company.
Pros:
The customisation is incredible. You can change, add, update, reconfigure basically everything. There are so many standard objetcs to play witha nd then you can create brand new ones to fit your requirments. The possibilites are endless. It also has, hands down, the best online system training i have ever seen. Trailhead allows you to pick an area of interest, learn as you go, put your training into practical use in a dedicated salesforce org and then automated testing of what you have completed. Truly world class.
Cons:
The possibilities are endless, dauntingly so. The intial configuration is time consuming and there is a lot of knowledge required to get the setup right. Doing it without a trusted 3rd partner is very difficult. It is also expesnive of course but really it's in the "you get what you pay for" category.
Alternatives Considered: Dynamics 365 and SugarCRM
Reasons for Switching to Salesforce Sales Cloud: SugarCRM didn't fit with our integration strategy and we really looked at best in class. With Dynamics i had a strangely difficult time to actually engage with someone to properly look at the system whih i found dissapointing so i did my own research and pumped for Salesforce.
Santosh B.
Software Engineer in U.S.
Automotive, 10,000+ Employees
Used the Software for: 2+ years
Excellent SAAS Platform - Salesforce
Comments: The overall experience with Salesforce Sales cloud was excellent. We are using Sales cloud to capture Lead generations using Web-to-Lead models, etc. A lot of features can be implemented using available out of box functions. There is less customization needed using the developers help to reinvent the wheel again and avoid more issues and downtime to release.
Pros:
Salesforce has a lot of features which we can use right away and has the benefit to build many automations and integrate other systems on the Salesforce platform with less hassle and more reliable way. Salesforce provides more ways to implement new things in the system using best practices.
Cons:
Salesforce support can be more quicker than current turn-arounds. The pricing could be less with purchasing more bundles in the Salesforce platform. The UI can be more better with changing color palettes and make the UI changes more quicker avoiding cache issues on the browser.
Alternatives Considered: ServiceNow
Reasons for Switching to Salesforce Sales Cloud: Salesforce has many out of the box features included in the bundle including lead management, account management, order management. The pricing for Salesforce was way better than other applications available in the market. The support for Salesforce was incredible quicker than any other vendor.