What Is Replicon?
Replicon unified platform helps manage time and costs across your enterprise for enhanced performance and profitability. Notifications, approval workflows, GPS tracking, & more supercharge productivity while freeing HR to focus on more strategic initiatives.
Configurable timesheets with advanced mobile capabilities enable time tracking for employees & projects anytime, anywhere. Stay on top of resource utilization with Replicon TimeOff add-on & map the right people to the right project.
Who Uses Replicon?
Replicon TimeBill enables hassle-free project time tracking, eliminating billing errors and inefficiencies, and helping you improve cash flow with faster billing cycles.
Where can Replicon be deployed?
Cloud-based
On-premise
---
About the vendor
Replicon
Located in Calgary, US
Founded in 1996
Replicon support
Phone Support
24/7 (Live rep)
Chat
Replicon pricing
Starting Price:
Yes, has free trial
No free version
Replicon does not have a free version but does offer a free trial.
Pricing plans
get a free trial
About the vendor
Replicon
Located in Calgary, US
Founded in 1996
Replicon support
Phone Support
24/7 (Live rep)
Chat
Replicon videos and images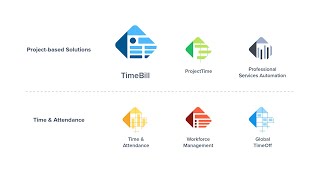 Features of Replicon
Access Controls/Permissions
Accounting Integration
Activity Dashboard
Activity Tracking
Alerts/Notifications
Approval Process Control
Approval Workflow
Automated Scheduling
Automatic Time Capture
Billable & Non-Billable Hours
Budget Management
Budgeting/Forecasting
Calendar Management
Client Portal
Collaboration Tools
Cost-to-Completion Tracking
Customizable Fields
Customizable Invoices
Customizable Templates
Document Management Software
Employee Database
Employee Scheduling Software
Expense Tracking
For Creative Agencies
For Small Businesses
Invoice Creation
Invoice History
Invoice Processing
Labor Forecasting
Mobile Access
Multi-Currency
Online Invoicing
Online Time Clock
Online Time Tracking Software
Overtime Calculation
Payroll Management
Percent-Complete Tracking
Portfolio Management
Progress Tracking
Project Planning/Scheduling
Project Tracking Software
Quotes/Estimates
Real Time Data
Real Time Notifications
Reporting & Statistics
Reporting/Analytics
Reporting/Project Tracking
Resource Allocation & Planning
Resource Management Software
Scheduling Software
Sick Leave Tracking
Task Management Software
Task Progress Tracking
Time & Attendance
Time & Expense Tracking
Time Tracking Software
Timesheet Management
Vacation/Leave Tracking
Visualization
Workflow Management Software
Jerome
Finance Officer in Ghana
Verified LinkedIn User
Accounting Software, 11-50 Employees
Used the Software for: 2+ years
Useful and Completely Functional Timesheet System
Comments: The overall experience with Replicon is refreshing and positive. I rely on it extensively.
Pros:
I use Replicon to keep track of all time spent by most members of the company. It is a great system, easy to learn and it has helped improve most project's perceptibility. Replicon's interface is clean and friendly and ease of scheduling takes less time which is a better choice compared to manual timesheets we used to pass around everyday. The app is exactly what it needs to be as it provides a great deal of flexibility that allows easy matching of time spent on projects against budgeted hours.
Cons:
Replicon does not have a good deployment for mobile devices, its access is slow and has limitations in terms of reporting. Neither does it allow configuration of different scenario analysis nor allows manipulation over time. Its interface is too simple and I think there's more room for more functions so that we can integrate more work into the system, to improve reporting options for that is more versatile and manageable.
Replicon Response
3 years ago
Thank you very much for sharing this review! We are glad you find Replicon's solution user friendly, robust, and flexible. It is something we have worked hard on and we are pleased our efforts resonated with you. Thank you as well for your thoughts on our mobile interface. One of the founding pillars of Replicon is ease of use. As such, Replicon's interface for mobile devices was designed to be simple and straightforward. Please feel free to contact us for any questions or concerns.
Curran
Admin Assistant in US
Public Policy, 11-50 Employees
Used the Software for: 1+ year
Excellent Service
Comments: My experience with Replicon has been great. They worked through transitioning us to their Gen 3 platform and it went great. Their support was able to fix any problems we encountered with implementation. They are extremely patient with getting us set up with a complicated integration project with another service.
Pros:
The support team is excellent and always willing to work through any problem and find a solution to your needs.
Cons:
Setting up users can be a little complicated.
Alternatives Considered: Expensify and QuickBooks Desktop Enterprise
Reasons for Switching to Replicon: We already had excellent customer service with Replicon and think their products suite our needs.
Replicon Response
3 years ago
Thank you for your recommendations and for this amazing review. We couldn't be happier to hear that we were able to provide you with the excellent experience we strive to provide all our customers. Our product is extremely user friendly and we are willing to work with you to create that ease. Please do not hesitate to contact us so that we can address your issue in the most suitable manner.
Verified Reviewer
data analyst in France
Verified LinkedIn User
Accounting Software, 10,000+ Employees
Used the Software for: 1-5 months
Good online project management platfom
Comments: I am okay with what its offers like reporting section that is amazing
Pros:
Replicon stand for online project management that has cool interface. you can manage many projects at the same time and you can as well plan and execute tasks wwith your team
Cons:
Lack of some features to proper manage and makee powerful report
Alternatives Considered: Flowlu
Switched From: Flowlu
Caryn
Quality Project Manager in US
Nonprofit Organization Management, 51-200 Employees
Used the Software for: 2+ years
time and time off tracking made even more painful
Comments: Our organization uses Replicon for time tracking and management of paid time off. Overall, it is clunky software that does not facilitate the process for either.
Pros:
I honestly can't think of any. I guess it's nice that you can see your time off balances. I don't have more to say.
Cons:
My complaints are probably more about the mobile app than the web software, but neither are wonderful. It's just cumbersome software to use. In the mobile app, getting it to retain a new project code seems impossible. Time off is bad in both. It keeps track of balances, but it's never clear whether that balance includes only available hours, pre-scheduled hours, etc. And it doesn't integrate with your Outlook calendar, so after a time off request is approved, you still have to manually update your calendar. And when taking a half day, there's only the option for a "start time." Sometimes I am taking the morning off, or working a chunk of the day, with some time off in the morning, some in the afternoon. The mobile app refuses to let you use a swipe keyboard to put in notes. There is no way to put in earned comp time, so there's no tracking of that bucket, which is aggravating.
John R.
School Business Admin. in US
Verified LinkedIn User
Education Management, 51-200 Employees
Used the Software for: 2+ years
Replicon in public education
Comments: Very positive, and substantial savings over similar products that are designed and marketed specifically to the education market.
Pros:
We have a mix or contracted and hourly employees. Replicon was able to be customized to our environment, making tracking and reporting of attendance and payroll effortless.
Cons:
Nothing immediately comes to mind. It sometimes becomes confusing (at least to me) to correctly set up an employee with the multitude of features available, I almost always lean on tech support for guidance/assistance, which is usually instant.
Alternatives Considered: Sage Timeslips, Quicken and Frontline Insights Platform
Reasons for Switching to Replicon: Price was paramount, then the ease of use for my staff