What Is Corporater Business Management Platform?
Corporater is a software solution that integrates GRC with how customers run their business through measuring, managing, and driving performance. Corporater is a highly flexible solution that can be configured for a wide variety of business models. Corporater helps medium and large enterprise customers tell the whole GRC and performance story, where decisions are supported by analytics, and can be placed into execution through actions and projects. Suitable for medium and large enterprises.
Who Uses Corporater Business Management Platform?
Medium and large organizations
Where can Corporater Business Management Platform be deployed?
Cloud, SaaS, Web-based, Mac (Desktop), Windows (Desktop), Windows (On-Premise), Linux (On-Premise)
About the vendor
Corporater
Located in Dallas, U.S.
Founded in 2000
Languages
English, Norwegian
About the vendor
Corporater
Located in Dallas, U.S.
Founded in 2000
Languages
English, Norwegian
Corporater Business Management Platform videos and images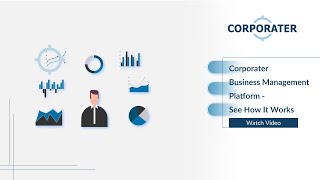 Compare Corporater Business Management Platform pricing with similar products
Features of Corporater Business Management Platform
"What If" Scenarios
Activity Planning
Activity Tracking
Alerts/Notifications
Archiving & Retention
Audit Management
Budgeting/Forecasting
Change Management Software
Compliance Management
Compliance Tracking
Consent Management
Consolidation/Roll-Up
Controls Audit
Dashboard Software
Data Connectors
Data Governance Software
Data Integration
Data Management Software
Data Mapping
Data Visualization Software
Exceptions Management
Financial Management Software
Financial Risk Reporting
Functions/Calculations
Goal Setting / Tracking
Idea Management Software
Incident Management Software
KPI Monitoring
KRI (Key Risk Indicator) Monitoring
Key Performance Indicators
Milestone Tracking
Mobile Access
Modeling & Simulation
PIA / DPIA
Performance Metrics
Policy Management Software
Portfolio Management
Process/Workflow Automation
Project Planning Software
Reporting/Analytics
Resource Management Software
Response Management
Risk Analytics
Risk Assessment
Risk Management Software
Risk Reporting
Risk Scoring
Roadmapping
Scenario Planning
Scorecards
Search/Filter
Self Service Data Preparation
Single Page View
Strategic Planning Software
Task Management Software
Version Control
Widgets
Alternatives to Corporater Business Management Platform
Reviews of Corporater Business Management Platform
Ummu Habibah
Assistant Manager Business Development in Malaysia
Verified LinkedIn User
Telecommunications, 1,001-5,000 Employees
Used the Software for: 1+ year
Flexibility in altering and managing business compliance.
Pros:
Brilliant User Interface and User Experience Responsiveness to demand shifts in a timely and reliable manner. It is convenient for tailoring to specific needs. Tasks and initiatives can be monitored easily. The consumer may establish strategic projects or basic tasks and observations related to time intervals, businesses, and indicators by simply navigating between them.
Cons:
Creating report layouts requires a high level of expertise. The software does not provide any pre-built reports. Constraints in the setup and operation of the software are not directly related to minor limitations in interface style, such as missing page headings and some other things that on the form creation.
Jon
Business Controller Business Intelligence in Norway
Real Estate, 1,001-5,000 Employees
Used the Software for: 2+ years
The missing link (in business intelligence)
Comments: it supports the business needs when it comes to creating and follow up on actions based on business information. It makes the organisation work more efficiently, where actions are initialised based on controlled, correct and relevant information
Pros:
Corporater enables users to manage strategy, forecast, KPI's, and risk mgt together on one platform. More important, Corporater lets the user create strategic initiatives or simple tasks and comments, where such are directly or indirectly connected to abovementioned elements. By this, Corporater supports actionable information (real business intelligence)
Cons:
cumbersome to set up and require an in-house sys.admin. "Out of date" when it comes to graphical interface and user experience, but next version looks promising.
Saravanan
Head - Information Systems in India
Health, Wellness & Fitness, 1,001-5,000 Employees
Used the Software for: 2+ years
This tool is very useful to our Management Team to Monitor the performance of the organisation
Comments: We are able to get all our performance Data in a single application without any errors .
Pros:
We easy to configure and Manage , Lot of Feature like strategy management, analytics, budgeting, dashboarding, scorecarding, key performance indicator (KPI) management, web and document reporting are very useful for us.
Cons:
We are looking for Indian Currency format and Android Device APP , Manuals to refer and Traning or Webinar on New Features . Sharing more Template and Designing options.
Verified Reviewer
Associate Vice President in India
Verified LinkedIn User
Used the Software for: 1+ year
Used strategy execution using Balanced Scorecard . Excellent UI, UX and very fast change management.
Comments: Have already mentioned
Pros:
1. Capability to deploy changes very quickly 2. Ease in customisation and deployment 3. Comprehensiveness in terms of (1) monitoring metrics spread across Organisation (2) Minutes of key performance review meetings and analysis (3) Linking metrics with Initiatives and Projects (4) Ability to bring the 360 degree view of the organisations (5) Navigation through metrics (6) Agile deployment and flexible in design (7) Flexibility to take inputs from multiple sources and/or methods like Transformers, Excel, Form feed etc. 4. Faster implementation and Go Live turn around time 5. Excellent Report generation feature, which has capability to eliminate PPT requirement in the Organisation
Cons:
There should be option for view license only as all users don't need the high cost license. BI tool can be made integral part of the solution to give rich experience to Customer
Raymond
Senior advisor in Norway
Government Administration, 501-1,000 Employees
Used the Software for: 2+ years
Professional and competent firm, with a solid and flexible application
Comments: This software supports and helps us with our business mangement areas.
Pros:
Flexible application with regards to functionality and use on different business areas. Very good functionality for strategy, KPI, strategic initiatives, risk.
Cons:
High competence needed to design reports. Use their own code language. No standard reports available in the application, so you need to buy hours or have