Local product
Windward System Five
Local product
What Is Windward System Five?
Windward System Five is a full business management system for companies that sell, service, or rent inventory. The software includes core functionality of Point of Sale, CRM, Inventory Control, and
Read more
Accounting; fully integrated operating in real-time. The feature set and flexibility of our platform allow a diverse set of vertical markets such as Home Goods, Lighting Showrooms, and Rental Shops to thrive with day-to-day use of Windward System 5, whether a single location shop or a national chain.
Read less
Who Uses Windward System Five?
We help small to medium-sized retail/wholesale companies gain control of their business. Windward System Five is fast and easy to use. We're great for companies that sell, service, or rent inventory.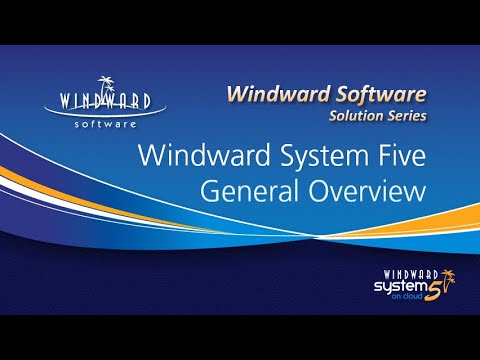 Not sure about Windward System Five? Compare with a popular alternative
Windward System Five
Local product
Alternatives to Windward System Five
Reviews of Windward System Five
Mark
IT Manager in Canada
Verified LinkedIn User
Used the Software for: 2+ years
Highly customizable software that you can really tailor to your business for an affordable price.
Comments: Reduced IT costs, Improved staff experience and greater overall efficiency of our business practices.
Pros:
I give this review after having tried many different software packages over the last 15 years. Some costing x10 the price of Windard, some costing x10 less. What I'm left with over these years is perspective, and that perspective was hard earned. You will not find a more complete point of sale, inventory control, accounting, crm, etc. for this price range. With the ability to fine tune it to your exact business needs, it's easiest to configure, maintain and operate...especially compared to the "enterprise" software world where your eyes will water from pricing. Its got lightning fastest Point of sale with the absolute best part find search tool I can recall using. The special order management is the best complete solution from any I've tried. If your serious about your Business, you should consider Windard. I honestly think that in the long run it has improved our business, staff and bottom dollar.
Cons:
There is no such thing as perfect software. With that being said, there are issues...but then it's technology. You have to considering that it is a highly customizable product that able to serve an amazing range of business types with thousands of options. What Windward has that sets it apart is a fantastic support team with Canadian staff and an out-of-country team that is admittingly fantastic...probably the best off-shore support that I have ever experienced in IT. Tech support is typically same day, commonly instant or within a few hours of placing a call. If you have an urgent problem, they will find someone for you RIGHT NOW. If you have problems using Windward software...you will most probably have problems using another piece of software. The key with any software, especially if you are new to it, is to have patience and use every opportunity to learn.
Windward Software Response
5 years ago
Mark, thank you very much for taking the time to provide your feedback on your experience with Windward System Five. We're thrilled that you are very satisfied with our software! As you identify in your review, Windward Software is committed to continuously improving our business management solutions such that we may continue to offer the most user-friendly, yet comprehensive functionality available.
Building Materials, 2-10 Employees
Used the Software for: 2+ years
Alternatives Considered:
Great system management
Comments: When we first took over this long-time local business, previous owners did most reports or tracking by hand (ie hand-written invoices entered into QB and hand-written price books) WWS5 helps us keep track of items in inventory, current prices and mark-ups for inventory, general price increases from vendors, EOD reports and sales, and AR accounts much more easily. We do not currently use the accounting portion, but hope to move over to the accounting option with the new data set.
Pros:
We currently use Windward for our POS and AR needs. This helps keep us on track for monthly billing to AR clients and keeps up with the daily till. We do very much like the additional features such as inventory management, price checks/updates, but have trouble at time keeping it current due to staffing issues. With more staff, this system would be absolutely amazing.
Cons:
When we first installed Windward, there were issues with understanding the larger picture during set-up. Understanding more about the system prior to set up would have helped. We are currently setting up a new database now that we understand more about the full operation of WWS5.
Michelle
Office Manager in Australia
Retail, 2-10 Employees
Used the Software for: 2+ years
Would like to set up the system again knowing so much more now than was first told.
Pros:
Windward is easy to navigate and manipulate. Inventory items are easy to add and change. Like the way the payroll system integrates with Windward so no need to journal . Love the support I have received when requiring assistance from the team in the Philippines . They are prompt in getting back to you and try to assist at all times.
Cons:
When trying to customise the system to suit our requirements alot of manual hours are required to change simple things like updating prices and modifications. When we needed to collect information from the system we required a special programme be written to fulfil government requirements. This additional reporting is cumbersome to produce. There is also alot of double entry when making a payment and then having to do a journal entry to reflect the same. A journal entry should be automatic. Would like the ability to make ledger numbers inactive Although we have a very confusing payroll and tax system, we experienced many issues with setting up the payroll system with this year being the first year we have successfully produced a payroll summary. Even then it required alot of double/triple checking to ensure the information was correct. Adding a new employee is once again difficult and time consuming. It would be great to be able to copy an existing one.
Windward Software Response
5 years ago
Thank you, Michelle, for taking the time to provide a review of your experience with Windward System Five. It's nice to hear that you are pleased with the support you have received from our Client Services team. In terms of your concerns, we're confident that there are means to make some of the processes you mention more efficient. At your convenience, please contact your Account Manager at +1 (800) 663-5750 and ask to be registered for The Windward Learning Academy. This is a user-friendly yet comprehensive online source of System Five tutorials, which provide step-by-step solutions for all product features and nearly all possible scenarios. Windward Software is continuously evolving and enhancing Windward System Five, and, in developing each product release, we examine client feedback to ensure that we are delivering a solution that meets and exceeds needed functionality.
Jonathan
Sales & Service Manager in Canada
Wholesale, 2-10 Employees
Used the Software for: 2+ years
Great fitting package for our business
Comments: System Five has been very good, and their support team is excellent and helpful
Pros:
Windward fits us great, the cloud system was a very important consideration for remote accessibility. It covers all of our needs in terms of sales, repair work orders, and inventory controls. It is just the right amount of software for us.
Cons:
There are some advance features that could add value for us, such as stock adjustments that post to G/L's, min/max's that make recommendations on PO's
Windward Software Response
4 months ago
Hi Jonathan, Thanks for the review. You may want to look into the advanced features, they really can be a time saver. Professional Services are available to help you get those implemented. Have a convo with your Account Manager if you'd like to consider that option. Thanks again!
Retail, 2-10 Employees
Used the Software for: 2+ years
Alternatives Considered:
Windward Software is an amazing program to help you run your business in every aspect.
Comments: Inventory was a huge issue for us before we started using System Five. We absolutely cannot imagine running our business without Windward System Five at this point.
Pros:
The Support is A1 and the features of everything from Inventory to Sales Invoices, everything is connected and very user friendly. Reports are easy to run, reconciliations, sales and purchase invoicing, ageing, financials are easy to read and all other functions are again, user friendly.
Cons:
No cons at this time. We didn't like that it didn't have a payroll feature when we started with it but now it does.