Local product
What Is Jonas Enterprise?
Jonas Construction Software has been providing industry-leading accounting, construction and service management software for the past 30 years. Our fully-integrated solution provides all of the tools that you need to increase productivity and improve your bottom line. At Jonas, our solution is designed to meet the needs of the construction industry specifically, enabling construction businesses to streamline their operations, enhance efficiencies, and increase growth.
Who Uses Jonas Enterprise?
Jonas serves the electrical, mechanical, HVAC, plumbing, and general contractor sectors. Jonas also works with a variety of other construction trades to deliver integrated and innovative solutions.
Where can Jonas Enterprise be deployed?
Cloud-based
On-premise
---
About the vendor
Jonas Construction Software
Located in Richmond Hill, Canada
Founded in 1990
Jonas Enterprise pricing
Starting Price:
Jonas Enterprise does not have a free version.
About the vendor
Jonas Construction Software
Located in Richmond Hill, Canada
Founded in 1990
Jonas Enterprise videos and images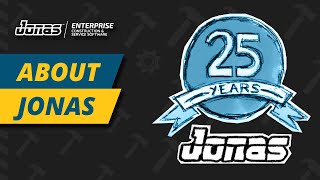 Features of Jonas Enterprise
Accounting Integration
Accounts Payable Software
Accounts Receivable Software
Bid Management
Billing & Invoicing
Budget Management
Budget Tracking/Job Costing
Budgeting/Forecasting
CRM Software
Client Portal
Collaboration Tools
Compliance Management
Contact Database
Contract/License Management
Contractor Database
Contractor Management Software
Cost-to-Completion Tracking
Customer Database
Customer Management
Dispatch Management
Document Management Software
Electronic Signature
Equipment Tracking
Estimating
For AEC Industry
GPS
Gantt/Timeline View
General Ledger
Inventory Management Software
Job Management
Mobile Access
Mobile App
Online Time Clock
Payment Collection in the Field
Payroll Management
Percent-Complete Tracking
Permit Management
Project Planning/Scheduling
Project Tracking Software
Purchase Order Management
Qualification Tracking
Quotes/Estimates
RFI & Submittals
Resource Management Software
Routing
Safety Management Software
Scheduling Software
Service History
Subcontractor Management
Task Management Software
Technician Management
Time & Expense Tracking
Time Tracking Software
Timesheet Management
Work Order Management
Alternatives to Jonas Enterprise
Reviews of Jonas Enterprise
Telecommunications, 11-50 Employees
Used the Software for: 2+ years
Source: SoftwareAdvice
Rocky start with soft landing
Comments: This software was purchased many years before we fully deployed. We faced challenges getting the information from our prior software programs into Jonas. Not that the Jonas software wasn't helpful and user friendly, it was more of a total revamp from our end. Then comes the issue of time. When "business goes on" and you don't have time to fully devote on a project, it gets stopped and started way too often. In addition to making changes on our end regarding how we wanted the information to land in Jonas, it simply became a chore. Finally we opted to hire a summer intern that would help get much of the information needed into the program and get this ball rolling. We were using multiple programs that Jonas would be replacing which was a part of our grief. Now that we have fully launched Jonas it has been a blessing. While we do occasionally find a challenge here and there, all-in-all the program has and does perform as we need it to. Support has been very good to us. I would definitely recommend the person that is the main administrator of the program to attend at least one if not more of the Jonas conferences. Those have been helpful with meeting other users and getting their input.
Pros:
The program is very adaptable. The consistent upgrades and changes as result of customer input is outstanding. Many ideas are suggested and then implemented within a year (if they are truly useful). The customer support is always there and everyone does their best to rectify any issues.
Cons:
There are no roadblock cons. There are items that require a "workaround" on occasion but Jonas is very helpful in assisting with a workaround. The changeover of our entire system (our choice) was our biggest challenge. Along with that changeover it required us to think a bit differently.
Facilities Services, 51-200 Employees
Used the Software for: 2+ years
Source: SoftwareAdvice
Current Mechanical Jonas Review
Comments: We are now doing more with less staff due to the efficiencies that Jonas has brought up related to time entry and document review utilizing Jonas Documents, now our managers can view invoices for jobs and work orders without having to dig thru large files. We also have improved data entry with payroll due to upload capability from Field Time and eMobile.
Pros:
The features that have been the most impactful would be the eMobile and Field Time applications which have allowed us to go paperless in the office and become more efficient at managing our jobs and work orders. The product is easy to use and support is always able to help out when necessary as well as the trainers involved with each system. Integration with our existing business processes has been easy.
Cons:
The only thing we have not liked is the hosted server thru Contegix, but we are moving in early May of 2020 to Jonas Azure and have heard great things about that service offering.
Alternatives Considered: COINS
Reasons for Choosing Jonas Enterprise: We left the LINC franchise group and wanted to find software that met all of our construction and service needs. After talking to other Jonas users and going thru the demo process we made the decision that Jonas was the best choice for us.
Switched From: COINS
Reasons for Switching to Jonas Enterprise: After doing the demos and talking with a few other contractors we made the decision to go with Jonas and their software for life platform.
Jason
Director of Finance in Canada
Accounting Software, 51-200 Employees
Used the Software for: 2+ years
Source: SoftwareAdvice
Bang for your buck
Comments: We have had a very positive 9 years with Jonas and the Jonas team. If we ever have an issue no matter how big or small the Jonas team have taken the time to talk to us and make sure any issue is resolved
Pros:
Jonas Software and the Jonas Team are dedicated to the philosophy that we are in business together! They are constantly improving the software to meet the current needs of the construction industry, partnering with other software companies, welcome input and feed back from the users, all to create a product that is a functional tool for all levels of your organization.
Cons:
When I invoice my customers and the contracts are in the million dollar price range the commas don't print on the invoice forcing me to manually adjust the invoices prior to sending them out
Alternatives Considered: Sage 300 Construction and Real Estate
Reasons for Choosing Jonas Enterprise: Jonas was more directly related to our industry
Switched From: Sage 300 Construction and Real Estate
Reasons for Switching to Jonas Enterprise: Price
Construction, 51-200 Employees
Used the Software for: 2+ years
Source: SoftwareAdvice
Long Time User
Comments: I have been very satisfied and happy with Jonas. Their improvements and new ideas every year are very beneficial to my company. In the beginning of our purchase of Jonas, project management was new, and since then ( almost 10 years ago), it has come such a long way, and has continuous improvements. The changes and the growth that has been made over the last 10 years has made my company more productive, has allowed us to analyze, keep track of certain important items ( job related, and human resource related) and help us grow our company, since we know we can handle any situation internally.
Pros:
There are many things I love about Jonas. Here's just a few 1. The structure of the entire software, for example, how the trial balance ties into the general ledger, which then can tie into your job costing and your work orders. In addition to consolidating financial statements. 2. When a mistake is made, you can not delete it. It's there for good. You can fix it, but not delete it. This actually helps when needing to figure something out months later. 3. Job costing module, especially for gross profit analysis. This is very robust module, and works amazing to analyze on a company basis or at a job level basis. 4. Restrictions or an individual user, or a group of users. There are not only restrictions by module, but by button, by job etc. Security and restrictions for administrators all the way to super intendents is great. There have been many times where we have allowed a project manager to do something, and then we realized they shouldn't have access, and we made the change instantaneously.
Cons:
There isn't much that I dislike about Jonas, but there are a couple of items I believe need improvement: 1. Procedures on how to do a specific task, including tricks and short cuts. There is an online module for all procedures, but doesn't give you everything. 2. Jonas Contacts, not very easy to use. Understanding where to create a contact ( job related or non job related), where the contacts are kept, as well as needing more people in my company to understand how to use it.
Electrical/Electronic Manufacturing, 11-50 Employees
Used the Software for: 1+ year
Source: SoftwareAdvice
Commercial/Residential Electrica Contractor. Jonas was the right fit for us.
Comments: We have been live with Jonas for a little over a year. As with ANY software, it isn't perfect and will not suit every need. It is impossible for a software to please everyone as we all run our businesses differently. We shopped several software options, and for our medium size company with a service department, Jonas fit us best. I agree, the reports are very simplistic in format and do take some getting used to. I had to look beyond pretty pictures and format as what is really important to us is the data. The Pro and Con to Jonas is it is HIGHLY customizable. With that, there needs to be a very thoughtful process to how you set it up in the beginning. Which is a challenge since you won't know how some things work until you are using it. It is a very robust software for the price, in my opinion, and will take patience and time to learn all it can do. I found that the very basics such as entering A/P, work orders, creating jobs are very easy to learn. The complexity comes when you want/expect to rely less on outside software and spreadsheets. Our company borders two states, one with a multi-jurisdiction sales tax schedule. Every payroll or sales tax requirement Jonas has been able to handle. Jonas is able to handle multi-state, multi union payrolls. Something we found not very many programs could throw in a service department and it became very small unless I wanted to buy a program that equated us to driving a bus down the road for 3 people while spending 6 figures. No thank you.
Pros:
My favorite is the Project Control screen. From there, our project managers can drill down and get all the information they need in one quick and easy place. Each person can customize some of the drill down screens to tailor to their individual needs. AIA/progress billing is easy with the step by step menu. It is also easy to go back and adjust if needed. The ability to set controls across the various modules. Your voice is heard. I have always been able to talk thru a challenge with support and management. They listen and if the demand is there they will put it in the next product update.
Cons:
The stock payroll reports haven't fit very well for us. But Jonas is working on that. Cluttered menu items that hang in there because their long-time customers still use them. It is confusing when you are first learning.