ISOvA IMS
What Is ISOvA IMS?
At its core, ISOvA is an easy-to-use but powerful online management system that integrates with Microsoft Teams and is suitable for all business types, sizes, and industries. The ISOvA platform
Read more
reduces the effort and cost of complying with ISO standards, including ISO 9001 Quality, ISO 14001 Environmental, ISO 27001 Information Security, ISO 45001 Health & Safety, ISO 27701 Privacy Information Management, ISO 37001 Anti Bribery by providing a tailored Office 365 Teams and SharePoint system.
Read less
Who Uses ISOvA IMS?
The ISOvA toolbox is suited to all businesses in all industry types.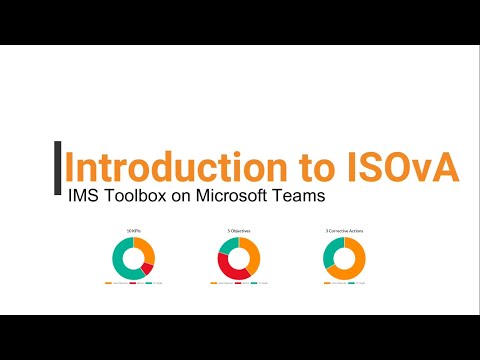 Not sure about ISOvA IMS? Compare with a popular alternative
Not available in your country
Alternatives to ISOvA IMS
Huseyin
Head of Products in UK
Verified LinkedIn User
Information Technology & Services, 51-200 Employees
Used the Software for: 1+ year
Life Saver
Pros:
Time saving and life safer. Everything you need for your ISO is in one place. Great tool for any size of the company to keep you organised and in one place.
Cons:
I cannot think anything. Everything is well thought and designed by ISO Experts.
Mechanical or Industrial Engineering, 11-50 Employees
Used the Software for: 6-12 months
Alternatives Considered:
ISOvA IMS Toolbox
Comments: Exceptional value for a small business from a team who know how to support their clients from day one.
Pros:
RJC (Mechanical) Ltd were developing an Integrated Management System and were looking for an online solution to manage our IMS. It quickly became evident that ISOvA IMS was the perfect solution and has definitely been a major factor in us being recommended for certification to ISO9001, ISO14001 and ISO45001. Easy to use and efficient to manage with fantastic support from [SENSITIVE CONTENT] and his team especially [SENSITIVE CONTENT].
Cons:
No cons that we have identified as yet, I am sure that the team at ISOvA will continue to develop the system where they feel it needs improving.
Elena
Project Control Lead & ISO Manager in Spain
Architecture & Planning, 51-200 Employees
Used the Software for: 1-5 months
Still under development
Comments: I think it's early for me to know my overall experience with the new system
Pros:
It looks very user friendly, but not easy to develop
Cons:
Difficult to give access to other colleagues, doesn't include a documentation record or version control of dashboards
Airlines/Aviation, 11-50 Employees
Used the Software for: 1-5 months
ISO9001 First Certification
Comments: As a growing SaaS start-up I knew we needed some expertise to prepare our business for ISO9001 certification and having worked with AvISO in a previous company it was an easy decision to go to them again. As a young business, having access to the ISOvA Toolbox platform and to [SENSITIVE CONTENT] as consultants made establishing the QMS painless, helping us avoid any missteps and ensuring we got things right first time. The Stag 1 and Stage 2 certification day support was also invaluable. For anybody going applying for certification for the first time or at renewal I could not recommend AvISO highly enough for their professionalism and insight.
Pros:
It's very easy to use and to navigate and allows for version control and multiple users to make and track changes. Visually it also looks good. I don't think our certification would have been as well structured and organised or simplified to walk the certifier through.
Cons:
None, was simple and easy to use.
Chris
Managing Director in UK
Information Technology & Services, 2-10 Employees
Used the Software for: 1+ year
Finally, a tool designed by ISO experts!
Comments: Fantastic - it has saved the whole business time which is so important these days.
Pros:
The time it saves!!! Our teams spent so long using Excel previously and having to sit through external audits. Now there is a tool that auto-updates and we can provide read-only access to the external auditor and get on with the day job! One other key feature that we like is that it has been designed by ISO consultants. Speaking to the ISOvA team, they created the tool from their years of ISO experience and this is also the team maintaining and updating the software. This way, when they update the software, they let us know what they have added and why - usually because there has been a new demand of another client from BSI, etc. and so they have added that as a new feature into the portal.
Cons:
The business functions on Microsoft and so the TEAMS integration has been great - we expected this to be the negative! Nothing found so far - but then we were struggling with Excel before we trialled the software.