Genesys Cloud CX
What Is Genesys Cloud CX?
Genesys Cloud CX™ is a cloud contact center solution that is trusted by thousands of enterprises of all sizes and recognized as an industry leader across the globe. It connects insights across teams,
Read more
tools and interactions so you have the data to solve customer problems easily in any channel - making customers feel understood and agents feel empowered.
Read less
Who Uses Genesys Cloud CX?
Companies of all sizes looking for a radically easy, all-in-one cloud contact center solution.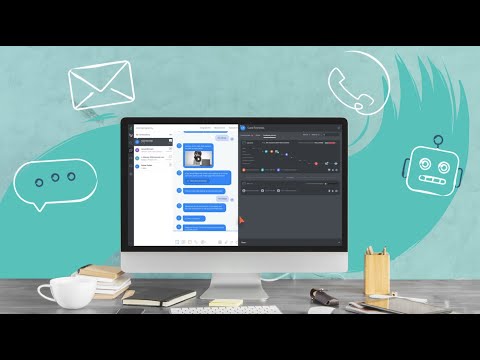 Not sure about Genesys Cloud CX? Compare with a popular alternative
Alternatives to Genesys Cloud CX
Reviews of Genesys Cloud CX
Matthew
Communications Manager in UK
Verified LinkedIn User
Financial Services Software, 51-200 Employees
Used the Software for: 6-12 months
99% Sunny and Hot with the odd occasional downpour
Comments: The overall experience we have had is a great one with a few niggles I would say to describe the downsides. The main experience moving past the building and testing stage into full BAU was another great experience as the support during the early stages was nothing less than exemplary. The issues that abounded with our previous dialler software supplier have now been remedied by our decision to align our business with the Genesys product Purecloud. We are now investing our time and efforts to implement Pureclouds growing functionality to unify our communications Chat, Email, SMS and Social and integrate these with the voice channel to improve the customer journey everytime they wish to communicate with us.
Pros:
The ease of use when building the infrastructure to run all the different brands and departments here at Grove & Dean, the stability of the Platform as we are open 24/7 and have only a small team in support of the system. The ease of use, for the agent with the simple yet full featured agent interface and desktop environment. The roll out of new features or improvement of existing ones, the visionary updates from the Genesys senior team and the ability for the users to influence the shape of the platform through the ideas Lab and the fact that they "LISTEN" to the users. Lastly, which is not really a software benefit, the community of users that are sharing their experiences for the greater good for all.
Cons:
The support post "LIVE" - Processes too long, lack of knowledge and experience in the first line support team, no immediacy, solutions not always valid and some of the Self Service referral techniques support attempt to use to justify their solutions.
Hao
CTI and Reporting Program Manager in US
Information Technology & Services, 1,001-5,000 Employees
Used the Software for: 1-5 months
Alternatives Considered:
Genesys Cloud CX Does Not Disappoint!
Pros:
Our contact center infrastructure is complex. Genesys Cloud CX integrates with existing legacy applications and is used by agents in several divisions within our organization.
Cons:
Chat bot was not easy to develop and deploy as we would like. Also, Genesys Cloud CX out-of-box reporting and dashboard is robust, but reports are limited to a certain number of rows.
Consumer Services, 2-10 Employees
Used the Software for: 6-12 months
unpredictable
Comments: have used it for over a year within that year multiple times it went down and sometimes took a whole work day to come back up
Pros:
then ease of use for the average agent to operate
Cons:
The malfunctions and the length of time for recovery afterwards
Terry
Business Analyst in UK
Financial Services Software, 51-200 Employees
Used the Software for: 1+ year
Alternatives Considered:
Breath of fresh air vs historical telephony systems
Comments: The software uptime is an industry leader, with no consistent downtime problems since starting with the service. Which is worlds away from our previous experiences with downtime being seen at least once a month with a large agent / customer detriment because of this.
Pros:
Ease of use. The GUI is clear and concise on both and agent and Administrator level.
Cons:
The workforce management side of the software still requires a lot of work. There is too many interweaving layers to be able to produce an easy to use schedule for our agents.
Murat
System Analyst in Turkey
Verified LinkedIn User
Banking, 10,000+ Employees
Used the Software for: 2+ years
Alternatives Considered:
Genesys Pure Cloud
Pros:
It is easy to use this product it is like a rock
Cons:
Price policies are not flexible and scalable.