What Is HiPeople?
HiPeople keeps your hiring data-driven, on point, and on time. Unlock your team's best hiring capabilities and improve your quality of hire with rich talent insights on your candidates. Know who to hire before you hire, discover how they work, and build the foundations for long-term success. With a focus on assessments, reference checks, candidate experience, and quality of hire, HiPeople makes it fast and delightful for teams to make better hiring decisions.
Who Uses HiPeople?
Talent acquisition teams looking for a better way to find the right candidates. With a focus on assessments, reference checks, candidate experience & quality of hire.
Where can HiPeople be deployed?
Cloud-based
On-premise
---
Languages
English, German
HiPeople pricing
Starting Price:
Yes, has free trial
No free version
HiPeople does not have a free version but does offer a free trial.
Pricing plans
get a free trial
Languages
English, German
HiPeople videos and images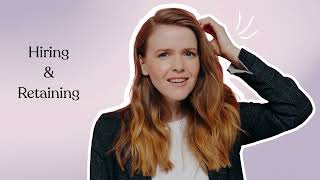 Features of HiPeople
Alerts/Notifications
Background Screening
Bulk Reference Request
Email/Online
Fraud Detection
Reference Checking
Reference Request Automation
Reminders
Reporting & Statistics
Reporting/Analytics
Scoring
Status Tracking
Survey Builder
Survey Library
Test/Quiz Creation
Philipp
General Manager in Germany
Verified LinkedIn User
Venture Capital & Private Equity, 51-200 Employees
Used the Software for: 1-5 months
Great automated and asynchronous way to collect references
Comments: The product was setup within less than 20mins and since then very low maintenance but very engaging in a positive way. It keeps reference, referee and recruiter informed about the status quo and allows to gather additional critical information without much extra effort. The team behind HiPeople is great to work with - we received competent consultancy from their inhouse-experts and the customer service was super responsive.
Pros:
An automated & asynchronous way to collect references that enables our talent team to not run behind references calls but can rely on the hipeople process to remind and inform the candidates. The software has a dynamic component that explores if a reference is ambiguous or strong enough and asks the referee to clarify with followup questions.
Cons:
References are usually positive and there is quite some competence in decrypt good from great references.
Anouk
Global Talent Enablement Lead in Germany
Computer Software, 1,001-5,000 Employees
Used the Software for: 6-12 months
Couldn't be more satisfied
Comments: I am super happy that Celonis is one of the very early adapters of this tool. HiPeople helps us to improve our hiring quality in an efficient way by automating the whole reference check process. As mentioned before, I can't wait to see what comes next. This company really helps us to create our infinite loop of insights.
Pros:
HiPeople is a real gamechanger, several references can not only be collected at lightspeed but due to this amazing product you get insights to candidates you did not have access to before. I really believe in this approach since Day1 and the guys from HiPeople are definitely not done yet. I am more than curious to see how this product will evolve.
Cons:
Honestly there is not much I can share. Even if there is a small bug in the system from time to time (this happens rarely), the support team is literally available 24/7 and always super supportive to solve the issue.
Nonprofit Organization Management, 51-200 Employees
Used the Software for: 1+ year
Jim's Review
Comments: The folks that work at HiPeople are professional, responsive, and a delight to work with. They truly listen to customer feedback and are highly motivated to make their product even better.
Pros:
The ease of use. The automation of the entire process makes the whole thing very hands off. HiPeople makes reference checks a breeze and also has many more features that allow you to truly understand your candidate pool.
Cons:
Perhaps an email log would be good so an admin can review which emails went out and when. Comparison of scores among an entire pool of candidates would be useful as well.
Lia
Global Head of Talent Acquisition in Netherlands
Computer Software, 501-1,000 Employees
Used the Software for: 1+ year
HiPeople, automated reference check when focussed on hiring high quality talent
Comments: Overall we have a great experience with HiPeople. They truly appreciate our feedback on the tool/features and are always keen on improving where ever they can. They respond quickly on our (support) questions. Collaboration with the team of HiPeople is overall very good and always respectful with a bit of personal touch in their approach which i appreciate.
Pros:
HiPeople is easy to use and innovative. To tailor make the reference check so its aligned with the job requirements is easy to set up. And the Reference Check overview (outcome of the references) delivers us an additional assessment in our selection process of our applicants. The overview provided by the tool gives us insights on applicant behaviours, skills and performance and helps us to take a decision to compare this assessment report with the other steps in our selection process. Focus is on hiring qualitative talent.
Cons:
The Reference check report isnt visible in our ATS Greenhouse, although via the link in Greenhouse you are immediately directed to the report of the applicant. I know HiPeople is working on this feature to improve and make the report also visible in Greenhouse.
Verified Reviewer
Lead Software Engineer in Germany
Verified LinkedIn User
Automotive, 5,001-10,000 Employees
Used the Software for: Free Trial
Great way to get information about references
Pros:
I used the software recently to give a personal reference, it is a great idea to give such feedback in an interactive way and it gives good ideas how to rate the candidate.
Cons:
I was missing some visual cue about how far I was through the reference process. It said it would take 26 - 34 mins from memory, but it was shorter.