What Is Vector LMS & Training?
Vector Solutions offers industry-specific, cost-effective eLearning solutions that help our clients alleviate the challenges of onboarding, upskilling, and retaining their workforce. Whether seeking to fulfill continuing education requirements, manage license requirements, or provide career pathing for your workforce, Vector Solutions has world-class and award-winning content and LMS to help you get the job done. Choose from our large selection of modern, interactive, mobile-ready courses that m
Who Uses Vector LMS & Training?
Vector Solutions has an LMS platform and skills-based, accredited courses tailored to serve 35 industries including Manufacturing, Facility Management, Construction, AEC, Public Safety, and More.
Where can Vector LMS & Training be deployed?
Cloud-based
On-premise
---
About the vendor
Vector Solutions
Located in Philadelphia, US
Founded in 1999
Vector LMS & Training support
Phone Support
24/7 (Live rep)
Chat
Countries available
Canada, United States
Vector LMS & Training pricing
Starting Price:
Vector LMS & Training does not have a free version.
About the vendor
Vector Solutions
Located in Philadelphia, US
Founded in 1999
Vector LMS & Training support
Phone Support
24/7 (Live rep)
Chat
Countries available
Canada, United States
Vector LMS & Training videos and images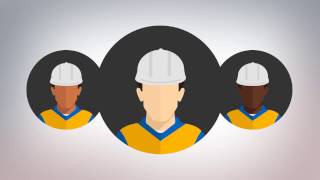 Features of Vector LMS & Training
Activity Dashboard
Assessment Management
Assignment Management
Asynchronous Learning
Blended Learning
Built-in Course Authoring
Certification & Licensing
Compliance Tracking
Content Library
Course Authoring Software
Course Management
Course Tracking
Customizable Branding
Learner Portal
Learning Management
Learning Paths/Tracks
Mobile Learning Software
Progress Reports
Progress Tracking
Reporting/Analytics
SCORM Compliance
Self-Learning
Synchronous Learning
Tests/Assessments
Third Party Integrations
Training Administration
Training Management
User Management
eCommerce Management
Alternatives to Vector LMS & Training
Reviews of Vector LMS & Training
Amanda
Training Administrator in US
Machinery, 1,001-5,000 Employees
Used the Software for: 1+ year
The year after launch
Comments: We have found a way to link all of our branches with the same training. We seldom have to send an instructor to a different state to try to teach them the exact training we rolled out in a corporate facility. It has stream lined training, career paths for our employees and safety. We are even able to send out company videos of the CFO to the masses and everyone feel like they were apart of it, rather than being weeks behind.
Pros:
The people behind the product, is the best part. The support line can't be touched by any other in the industry. Answers are at your finger tips or even a quick zoom meeting away. You never feel rushed or as if you are burdening them for help. And the best part is that they listen. You may not say you need something like a filter added in for use but, they really understand what would make it better for the users. I get excited when I see a new feature they have added, it shows they have valued the input their customers have given and made an update.
Cons:
The part about the software that I like least is that there are so many directions our company can go with it and I don't have the patience to wait. We like what we see and use and want it all in line for us, now.
Cindy
Technical Writer and Training Manager in US
Verified LinkedIn User
Oil & Energy, 201-500 Employees
Used the Software for: 2+ years
When I took over as LMS administrator, I had no one to train me. Your awesome support team helped!
Comments: I can make bulk assignments to large teams in less than a minute (with proper set-up).
Pros:
I like how easy it is to upload content, pull reports, send reminders, track who's been naught and who's been nice in doing their assignments. Convergence provides a huge variety of training to help us stay current on safety training requirements. But what I REALLY like most about this software is the people; the support team has the patience of Job and are incredibly helpful. They've even created special software modifications to help me with my special requests.
Cons:
I wish it would link quizzes to content I upload so I don't have to look for the quiz that goes with each assignment. I also wish there were fewer steps (example: check an item, move it over to a box, check it again, hit select)
Convergence Training Response
5 years ago
We appreciate your feedback our content upload and tracking features. And we definitely like hearing that our support team has created a positive experience for you. Our software team has reviewed your comments and is always working toward improved usability.
Curt
Training Supervisor in US
Food Production, 5,001-10,000 Employees
Used the Software for: 1+ year
Food Production Manufacturer in Grand Rapids
Comments: overall, Convergence has been very easy to use, and very effective in its ability to track self-paced training, and generate reports as requested. It's been everything we've needed in an LMS.
Pros:
The biggest advantage Convergence has, in my opinion, is their customer attention and responsiveness. When we first engaged this software, we received very helpful instruction and guidance from the trainer, especially, and then ongoing support from the helpline. Even though there is a 3 hour time difference, the staff was very responsive and available, as needed. We never felt 'left in the dust' to fend for ourselves.
Cons:
There are 2 relatively minor items, (which might already be in the works to be improved, based on past experience!). When entering large quantities of items to be selected, the system starts to bog down after about 15 entries - which is easily enough solved by hitting the 'select' button - so this is a minor irritant. The other item which would be helpful would be, when adding records in Credit Wizard, if the selected Activity would 'stick', instead of having to re-search for the activity. Again, these are minor inconveniences - NOT biggies.
Jim
Chief Administrative Officer in US
Paper & Forest Products, 51-200 Employees
Used the Software for: 1-5 months
Convergence Training for Rand Whitney Containerboard
Comments: Rand-Whitney Containerboard (RWCB) partnered with Convergence LMS in the spring of 2016. Our mission was to improve employee training by adding a computer based LMS to compliment our current "on the job" training. RWCB staff (IT, Prod. Mgmt., C.A.O.) went through a two-day, on-site training with a Convergence staff member to build a database, generate ideas on implementation, what training modules should be required for each production position and a time frame in which these assigned modules should be completed. Kickoff meetings for production crews (4) were held at the end of June where an overview of the training was presented, why RWCB was implementing a computer based LMS an explanation of expectations and time frame on which required modules were to be completed. The training was launched on July 1, 2016, with a date of December 31, 2016, for required modules to be completed. Approximately 60 employees were assigned required training modules. Based on the job position in the mill, required modules ranged from 7 (current entry level employees to 45 (Shift Supervisors (4), Senior Operators (8)). By the end of July about 1/3 of the employees completed their required modules. As of December 1, only two employees have completed their required modules. With a total of 45 modules selected by RWCB, each employee is offered the balance of modules, if not required to be taken, as Electives. RWCB is also implementing a process in which an employee is up for a promotion, one of the considerations will be completing the modules required for the position that open. I believe that not only the Convergence Training program has been very beneficial to RWCB employees that have been here for five years or less but also to employees that have been with RWCB since the mill started up in 1994. I found the experience to be better than I expected.
Convergence Training Response
6 years ago
Thanks for the great info Jim. Sounds like everything is going smoothly for you. We're pleased to hear that you're happy you chose to go with Convergence.
Steven
Training Analyst in US
Automotive, 501-1,000 Employees
Used the Software for: 2+ years
Very user friendly and intuitive ...
Pros:
The ability to assign courses from the Convergence Training Library and also the ability to create site specific content and upload it into our company's training page. Reports are easy to create and run automatically. Reports can be printed on-demand to satisfy proof of training requirements for internal and external auditors.
Cons:
Would like the ability to tailor a few of the reports .
Convergence Training Response
5 years ago
Thank you for your kind words about our course assignment and reporting features. We are definitely working toward increased customization of reports. In the meantime, we'll make sure our support team is aware of your interest in added reporting flexibility.