6clicks
What Is 6clicks?
6clicks is an easy way to implement your risk and compliance program with ISO 27001, SOC 2, PCI-DSS, HIPAA, NIST, FedRamp and many other standards. Hundreds of businesses trust 6clicks to set up and
Read more
automate their risk and compliance programs and streamline audit, vendor risk assessment, incident and risk management and policy implementation.
Read less
Who Uses 6clicks?
Businesses; Consultancies and Advisories; Government Departments and Agencies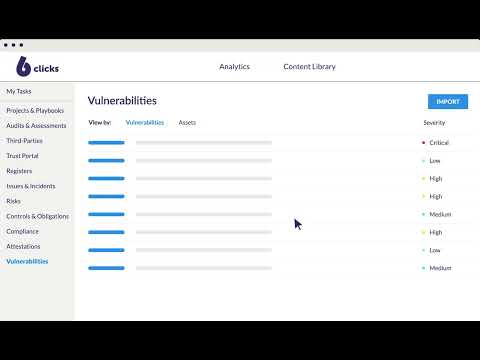 Not sure about 6clicks? Compare with a popular alternative
Kim
Risk & Compliance Manager in Australia
Health, Wellness & Fitness, 51-200 Employees
Used the Software for: 1+ year
Alternatives Considered:
Very cool software that's easy to use and quick to get up and running
Comments: Great support, team, vision and technology - I'm a happy customer.
Pros:
Easy of use and the integrated content library
Cons:
They move so fast! Need to keep on your toes with new stuff being added
William
President in US
Verified LinkedIn User
Information Technology & Services, 2-10 Employees
Used the Software for: 6-12 months
Alternatives Considered:
Excellent Platform for Assessors and Risk Management Professionals
Comments: Overall, a great product and excellent support. I look forward to their future.
Pros:
6Clicks is easy to use and very customizable. The marketplace lets me create content that can be easily rolled into each of my customer's environments. Being able to handle most aspects of my business including: risk management, incident response, asset management, compliance tracking, policy governance, and third party assessment is a game changer.
Cons:
Cross compliance reporting could be better compared to products that I have used in the past.
Computer Software, 201-500 Employees
Used the Software for: 1+ year
Alternatives Considered:
All the hallmarks of great software in 2022
Comments: - great team and support overall
Pros:
- open approach to integration - integration content library - modules and capability cover 85% of what i need
Cons:
- knowledgebase sometimes a little out of date - new capabilities need great documentation
Alexander
Director of Information Security Consulting in US
Information Technology & Services, 1,001-5,000 Employees
Used the Software for: 1-5 months
Great product for streamlining advisory/audit/assessment operations.
Comments: The product has been a great fit for our assessment and compliance teams, and we are beginning to explore applicability for other advisory-oriented lines of business as well. In this regard, we're able to extend the functionality across multiple teams and increase ROI. The team behind the product has been great to work with and they're very adept at translating specific business requirements to platform functionality and limitations.
Pros:
After implementation we were able to quickly start realizing value from the product in terms of reduced process friction between client stakeholders and the assessment teams, more efficient evidence collection, and reduced direct labor requirements for analysis and reporting. The build in standards and control frameworks are providing us with ample support for service development as well.
Cons:
There are a few features that are currently in development and not released to the platform as of yet that would support operational efficiency initiatives further. These include centralized document repository for all attachments related to a single client or assessment, and the ability to import custom assessments vs. build out manually in the portal. These deficiencies are not a barrier to using the system, they just create more manual effort in some areas of the assessment process - looking forward to implementation of these features.
Eric
Transformation Manager in Australia
Legal Services, 1,001-5,000 Employees
Used the Software for: 1+ year
Review
Pros:
Audits & Assessments module is fantastic and is an easy quick win to implement in the business and with our clients. Obligations/Control Set module is also a fantastic way to digitise static documents.
Cons:
UI/UX could be improved as button clicks are not intuitive for new users. Would be great to get Hailey trained in other domains. Having the real-time mapping to a live authority source like Thomson Reuters for automatic alerts would be a game changer for the risk and compliance and legal industry.