Microsoft Whiteboard
What Is Microsoft Whiteboard?
Simple, free, and easy to use whiteboard collaboration solution.
Read less
Who Uses Microsoft Whiteboard?
Teams looking to collaborate remotely over a whiteboard.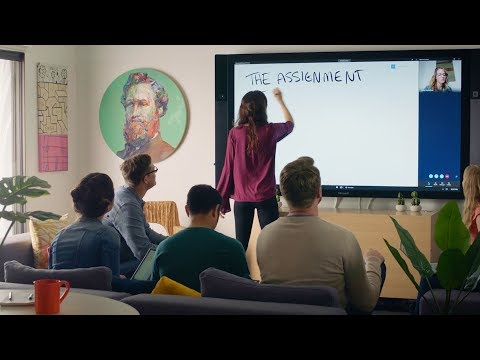 Not sure about Microsoft Whiteboard? Compare with a popular alternative
Alternatives to Microsoft Whiteboard
Reviews of Microsoft Whiteboard
Abid
Manager Operations in Pakistan
Verified LinkedIn User
Banking, 5,001-10,000 Employees
Used the Software for: 2+ years
Microsoft Whiteboard is an Incredible Collaboration Tool
Comments: My overall experience with Microsoft Whiteboard is very amazing and i am using this software from last 2 years for conducting online sessions, trainings and teaching classes. With the help of Microsoft Whiteboard we can interact with large audience and easily communicate and share ideas with them.
Pros:
I always prefer using Microsoft Whiteboard for online meetings and seminars because it is very easy to use and very helpful software. The software easily integrate with other software and provide excellent support in online trainings. We can also share diagram, equations and express your point of views by choosing different colours and styles.
Cons:
Microsoft Whiteboard needs to add more tools and features which will make this software more powerful and helpful for users. Other than that Microsoft Whiteboard is heading towards a good direction and everything in this amazing software works very well.
Maisarah
Brand Manager in Malaysia
Verified LinkedIn User
Telecommunications, 1,001-5,000 Employees
Used the Software for: 2+ years
Best to pair with remote software
Comments: We are very happy to use it at the first, but after a while we start to see there are some lacking with all the feature that are offered by this software. I have opted to switch to other digital whiteboard software that can fit our work needs better.
Pros:
Microsoft Whiteboard is best to be paired when me and my colleague are having an online weekly meeting or online ideas sharing. Sketching ideas and project process and idea map is very easy to do with this whiteboard and help us to interpreted our ideas into visual.
Cons:
Microsoft Whiteboard is lacks of details in the feature and the tools. Like the shape option, they only has basic shape and if i need any other shape, it has to be drawn manually and it is very time consuming to do it all from the start.
Patricia
Office Manager in US
Verified LinkedIn User
Construction, 2-10 Employees
Used the Software for: 2+ years
A Remote Worker's GoTo App
Comments: When it first came out, I started using it. I love the way I can remotely communicate but also move items on the whiteboard between computers on the network even if I'm not logged on to my workplace desktop.
Pros:
Being able to access it from anywhere I can sign in and to have it update in real time makes this app really great. It eliminates emailing while collaborating because you are "with" everyone.
Cons:
When Microsoft changes the functions, you have no choice but to adapt. It's cloud based so you have to live with that to get the other benefits.
Ryan
Assistant Professor of Instruction in US
Verified LinkedIn User
Higher Education Software, 1,001-5,000 Employees
Used the Software for: 6-12 months
Half-baked and feature-free
Comments: For a product that is ostensibly part of the Office 365 suite, Microsoft Whiteboard is probably the weakest and least useful product that I've worked with so far. Yes, it's easy to create a new whiteboard; yes, you can even create a (long, ugly, hard-to-read) URL to share your whiteboard; and yes, you can even export your whiteboard as a PNG. But those aren't features--those are basic requirements--and Whiteboard barely manages to pull even those off.
Pros:
The core features are competently executed--it's mind-numbingly easy to create a new whiteboard, and there is no confusion possible as to what the (very few) available tools in the toolbar do.
Cons:
The list of missing features is extraordinarily long, so I'll focus on the most glaring omissions and limitations. The tool palette is quite limited; while at first glance it appears there are four different "pens," they are in fact just four copies of the same pen, all of which can be configured only minimally (width, from "1" to "6," and your choice of 15 colors). There is a highlighter tool which has similar configuration limitations and doesn't even include opacity adjustment. The eraser tool is overzealous; one errant click and giant portions of your diagram vanish. The text tool has one pre-set "handwriting" type font that I find to be practically illegible; this can't be changed. There is also a redundant "note" tool that mimics Post-It notes, but it is unclear what the purpose of these notes is intended to be, since there is no visibility control toggle, etc. The drawing experience is awful as well; the interface automatically attempts to "smooth" your drawings (you can't disable this either!), meaning that any fine details that you draw that Whiteboard interprets as errors are obliterated.
Verified Reviewer
Digital Support Products Officer in UK
Verified LinkedIn User
Nonprofit Organization Management, 501-1,000 Employees
Used the Software for: 1-5 months
Collaboration within Teams
Comments: It is easy to share and collaborate on ideas with colleagues during a Teams meeting.
Pros:
I especially like that, during a Teams meeting, you know that everyone is looking at and using the same board. Although other whiteboard tools are a bit more polished, the full integration of Microsoft Whiteboard as part of the M365 world is really useful.
Cons:
As I said, it does lack a little bit of the polish of some other dedicated whiteboarding tools, but it has come on quite a lot in the last few months. I can see this improving to their level within a year or two.