Local product
What Is Certn?
Certn's fast, easy and reliable background checks make screening effortless and efficient. Get check reports in minutes from anywhere in the world. Our competitive pricing, build your-own-packages and best-in-class customer support have made us the leading background check company. White-label your account or seamlessly integrate with your ATS. Certn provides global criminal background checks, credit reports, reference checks, education verification, driving records, id verification etc.
Who Uses Certn?
We serve recruiting and staffing teams across different industries including retail, hospitality, transportation, banking, technology, gig economy and more.
Where can Certn be deployed?
Cloud, SaaS, Web-based, Mac (Desktop), Windows (Desktop), Linux (Desktop), Android (Mobile), iPhone (Mobile), iPad (Mobile)
About the vendor
by Certn
Located in Victoria, Canada
Founded in 2015
24/7 (Live rep)
Chat
Countries available
Canada, United States
Languages
Not provided by vendor
Certn pricing
Starting Price:
Not provided by vendor
Certn does not have a free version.
About the vendor
by Certn
Located in Victoria, Canada
Founded in 2015
24/7 (Live rep)
Chat
Countries available
Canada, United States
Languages
Not provided by vendor
Certn videos and images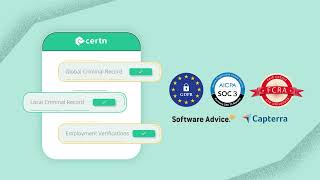 Features of Certn
API
Activity Dashboard
Alerts/Notifications
Applicant Tracking Software
Assessment Management
Background Screening
Batch Processing
Candidate Profiles
Compliance Management
Criminal History Verification
Customizable Reports
Data Verification
Drug & Health Screenings
Education Verification
Employee Onboarding
Employment Eligibility Verification
Employment Screening
Feedback Management
Fraud Detection
Historical Reporting
Identity Verification
Instant Check
Job Application Management
Online Applications
Real Time Monitoring
Real Time Reporting
Records Management Software
Recruitment Management
Reference Checking
Reminders
Reporting & Statistics
Reporting/Analytics
SSL Security
Screening Services Integration
Search/Filter
Secure Data Storage
Self Service Portal
Status Tracking
Summary Reports
Tenant Screening
Third Party Integrations
Visual Analytics
Workflow Management Software
API
Activity Dashboard
Ad hoc Reporting
Alerts/Notifications
Applicant Tracking Software
Approval Process Control
Assessment Management
Audio References
Background Screening
Bulk Reference Request
Candidate Scoring
Compliance Management
Customizable Branding
Customizable Forms
Customizable Questions
Customizable Reports
Customizable Templates
Data Capture and Transfer
Data Import/Export
Email Alerts
Email Management Software
Email Reminders
Email/Online
Feedback Management
Fraud Detection
Mobile Access
Question Library
Real Time Analytics
Real Time Notifications
Real Time Reporting
Recruitment Management
Reference Checking
Reference Request Automation
Referral Tracking
Reminders
Reporting & Statistics
Reporting/Analytics
Resume Database
SMS Messaging
Self Service Portal
Status Tracking
Summary Reports
Survey Builder
Survey Library
Survey/Poll Management
Talent Acquisition
Template Management
Third Party Integrations
Video References
Workflow Management Software
Sharla R.
Branch Administrator in Canada
Verified LinkedIn User
Management Consulting, 51-200 Employees
Used the Software for: 1+ year
Ease of Use and Fast
Comments: We use this for some candidate background and criminal recorded checks. It's very easy as the administrator to send out, and our customers seem to be able to follow directions with ease. It's a great system.
Pros:
This program is easy, fast, inexpensive, and has great customer service. If the receiver of the request follows the instructions, it's easy and fast for them to complete as well.
Cons:
I have not had any issues. This program is easy to follow.
Bruce D.
Talent Acquisition Manager in Canada
Building Materials, 1,001-5,000 Employees
Used the Software for: 6-12 months
Value is certain with Certn
Comments: As of last fall 2020 we competely switched over to Certn after our organization was using another major service provider for years. Really liked the easy of access of the tool and how quickly results were been provided to us (within 15 minutes in many cases). What's even more amusing is that many months after going 100% with Certn, our Owner emailed my boss and myself an article highlighting Certn's growth and funding announcement. Our Owner is very keen for us to using industry leading services and technologies to support our business. When I advised we had already incorporated Certn fully into our recruitment procedures, definitely made my boss look good that we had the best in the business already integrated. And there have been no regrets. I would highly recommend Certn for your processes if you are looking for a super quick, effective service.
Pros:
I like that it was easy to access online, offered a branded self-serve portal, costing was very competitive, speed of service is outstanding, and super easy to integrate with our ATS (API code readily available). Finally, the folks at Certn were super easy to deal with - support was in the country not in India.
Cons:
I would like to see more on options on Credit reporting built in.
Alternatives Considered: Checkr and Sterling
Reasons for Choosing Certn: Cost, speed of service, self-service portal, local support, variety of available background check services to choose from
Reasons for Switching to Certn: Although we also use Checkr in our US operations, we will be moving those requirements over to Certn this year. Sterling's service was brutally slow as well as expensive. While Checkr has been good, consolidating all our requirements under one service is more cost effective.
Mathew M.
Manager, Recruiting Operations in Canada
Media Production, 10,000+ Employees
Used the Software for: 1+ year
Certn is amazing!
Comments: Amazing! I've been working with them for almost 2-years and we've saved time and money since switching to Certn in 2019.
Pros:
The system is extremely easy to use for both HR professionals and the candidate. The candidate experience is positive and I've only heard positive things from our candidates that use the platform.
Cons:
Nothing comes to mind. I only have positive things to say about the Certn platform.
Cristina M.
Human Resources Coordinator in U.S.
Civil Engineering, 201-500 Employees
Used the Software for: 6-12 months
Good for International Background Checks
Comments: Overall it works well enough for what we need and though it can take a bit of back and forth, customer service is always nice, helpful and does their best to resolve the problem. However, given that our primary background check service syncs with our HRIS (very important to us), and is a great service in itself we won't be fully switching over anytime soon.
Pros:
I like that we are able to run international background checks, we use Certn for background checks for candidates who are moving from other countries or who have recently moved from another country to the US.
Cons:
It takes a very long time for the background checks to be completed, it's not always clear why something takes long or a portion was unable to be completed. I have received information that Certn was unable to verify that I was easily able to verify afterward. And I don't love that we don't know the cost until after the background check is run.
Derrick A.
Co-founder in Canada
Computer Software, 11-50 Employees
Used the Software for: 1-5 months
Increase price without notice
Comments: It is good because I like the fact that they don't take my money I prepaid if I don't use their service for a while . Onfindo and [SENSITIVE CONTENT HIDDEN] take your money if you don't use your prepayment . So in a long term certn is good if you loaded a lot of prepayment to use as needed
Pros:
Easy to send a resend user request to verify and the simplicity of soft check . Prepayment of my funds don't get taken like Jumio and Onfido
Cons:
Not mobile friendly on mobile app, verifying email can be added multiple time without validation that the email has already been verified. You loose money doing double verification if you don't track on your own
Alternatives Considered: Netverify
Reasons for Choosing Certn: Their terms and conditions were not favorable to start up . Thé collect $10,000 from you and if in one year you used only $2,000 they take the rest of the money .
Switched From: Onfido
Reasons for Switching to Certn: They do the same as Onfido . You loose your money after 1 year