Oncord
What Is Oncord?
Oncord is the complete website and digital marketing platform. Simple, secure and connected. Take control of your website pages and publish blog articles with an intuitive drag-and-drop page editor.
Read more
Use web forms to grow an accurate contact database. Get better results from your digital marketing efforts by sending targeted email and SMS messages. Improve your campaigns with insightful statistics. Sell online, and integrate with popular accounting and CRM solutions.
Read less
Who Uses Oncord?
Oncord is ideal for established small and medium businesses looking for a secure, integrated, easy-to-use solution for running a successful website.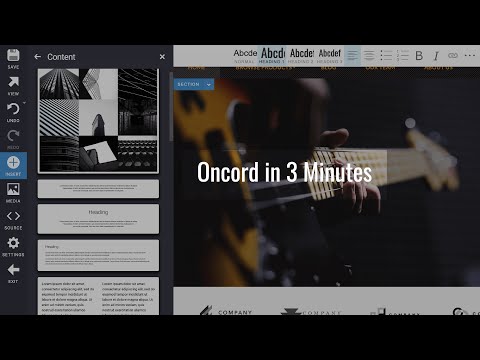 Not sure about Oncord? Compare with a popular alternative
Reviews of Oncord
Reviews by company size (employees)
<50
51-200
201-1,000
>1,001
Jason
Director in New Zealand
Marketing & Advertising, 2-10 Employees
Used the Software for: 2+ years
A breath of fresh air!
Comments: Very flexible, all-in-one is a game-changer, the support is excellent and the SEO has been incredible.
Pros:
The support is the best we have ever experienced, the CMS is feature-rich and the usability is excellent. The system not only comes with CMS + CRM, but it also has 'modules' which can easily be enabled to add powerful built-in e-commerce, and even built-in marketing & automation (i.e. not just an integration). The system is extremely flexible, and having everything in one place is a complete game-changer for both the development team and for clients wanting to grow their businesses. Also comes with integrations and API access with no additional charge. The system is SAAS (cloud based), but also has the ability to use custom scripting PHP - giving you the best of BOTH worlds.
Cons:
Bandwidth constraints (but you can easily add more for a small cost).
Ben
Director + Brand Designer in Australia
Verified LinkedIn User
Design, 2-10 Employees
Used the Software for: 2+ years
Great solution for our business and our clients' businesses
Comments: From quality of the hosting and programming, to the extremely friendly and helpful Australian team, we've not once regretted the move to working on and with Oncord. It's been amazing to build and maintain our own website, and has allowed us to expand our brand design business by offering website design to our branding clients ... without needing to become an on-call IT business for the back-end stuff. We've also not had outages, security breaches, slow hosting issues, or any of the stuff we used to battle with using products like self-hosted WordPress.
Pros:
Being able to get a staging site up and running very quickly for new clients, not having to worry about hosting or security, plus the flexibility of having drag and drop while still having an intuitive code editor allows us to create pixel-perfect designs without needing to know too much about the back-end.
Cons:
SVGs don't render properly in the edit screen, so you have to save and preview the page to check it's sitting correctly. Not a deal-breaker, just adds an extra step when editing with SVGs.
Oncord Response
5 months ago
Thanks Ben! Glad to hear the move from WordPress was so beneficial. It's been fantastic to watch your journey from building your own site, to helping clients build great looking websites too. We just deployed an update with a fix for the SVG issue that you mentioned here. Should be sorted now. Thanks again!
Haydn
Creative Director in Australia
Design, 2-10 Employees
Used the Software for: 2+ years
Our go to platform!
Comments: The support has been second to none. The system has been flawless. The communication and knowledge has been absolutely on point. We are 100% confident when offering this product to our clients and feel what we are providing is fast, reliable and perfect for their use and easy for them to manage if required.
Pros:
We love the pain free interface, the reliability and the speed of the sites. The fast and helpful support.
Cons:
They are always building and adding more features, so if they keep doing this it eliminates any cons.
Oncord Response
5 months ago
Thanks so much for the review and your advocacy Haydn. We feel lucky to have you!
Simon
Operations Manager in US
Verified LinkedIn User
Marketing & Advertising, 2-10 Employees
Used the Software for: 1+ year
Alternatives Considered:
Oncord is my go to CMS
Comments: Outstanding, I haven't used a better CMS in the nearly 15 years I've been building websites.
Pros:
Very easy to use for both users who know how to code and those that don't. All our clients that use it love it!
Cons:
In code view it's not as easy to select long strings of code as I would like.
Management Consulting, Self Employed
Used the Software for: 1-5 months
Great for the smaller businesses
Pros:
Oncord is truly all in one with a ton of functionality included that most CMSs make you pay for. Very easy to use for a non-technical user.
Cons:
I wish that there was a little bit more robustness in the analytics that it provides.
Oncord Response
2 years ago
Thanks for the kind words Nick. I'd be keen to hear your Analytics wishlist sometime. Web analytics are super accessible with Oncord, but I agree we don't cover quite as much detail as Google Analytics. I've emailed to hear your thoughts on improvements.