What Is Guider?
Guider is making mentoring accessible, simple, and scalable.
We help large organisations run mentoring and coaching programmes which they can measure and scale, no matter where their employees are across the world.
Quick set up, minimal admin, and impactful results make Guider the top choice for enterprise mentoring. We're working with some of the world's best known brands, including EY, M&S, Deloitte, and IMI.
** 2021 WINNER ** The LEARNING AWARDS ** Start Up Provider of the Year
Who Uses Guider?
Enterprise organisations looking to scale and measure their mentoring and coaching initiatives.
Where can Guider be deployed?
Cloud, SaaS, Web-based, Mac (Desktop), Windows (Desktop), Linux (Desktop), Chromebook (Desktop), Android (Mobile), iPhone (Mobile), iPad (Mobile)
About the vendor
Guider Global
Founded in 2017
Phone Support
Chat
Languages
Not provided by vendor
About the vendor
Guider Global
Founded in 2017
Phone Support
Chat
Languages
Not provided by vendor
Guider videos and images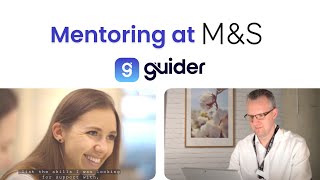 Compare Guider pricing with similar products
Features of Guider
Action Item Tracking
Appointment Scheduling Software
Content Library
Enrollments/Onboarding
Goal Management
Mentor/Coach Matching
Mentoring Program Management
Participant Profiles
Program Evaluation
Progress Tracking
Stefania C.
Employment services associate in Canada
Verified LinkedIn User
Human Resources, 10,000+ Employees
Used the Software for: 1-5 months
Mentorship done right
Comments: The entire program was easy to use and the feedback was outstan4
Pros:
The entire experience was wonderful. It aided me with running my mentorship program, the interface and UX design allowed for the program to be accessible to all applicants. It saved me time on having to do all the background admin work to set up and maintain.
Cons:
No cons! The product is outstanding and I highly recommend it
Max B.
Chief of Staff in Spain
Verified LinkedIn User
Information Services, 51-200 Employees
Used the Software for: 1-5 months
Huge thanks to the Guider Team
Comments: The Guider team were fantastic to work with: helpful, friendly and knowledgeable about their product. They set up our programme rapidly, were always available to receive feedback and provide guidance, and I have no doubt they'll see major success in the future.
Pros:
The matchmaking element of the software was incredibly helpful in automating our mentoring programme; with 80+ mentors and 70+ mentees, facilitating the matchmaking manually would have been a real pain point, and the automated nature of Guider freed up time to focus on engaging with mentors and mentees and gathering feedback.
Cons:
The lack of back end was frustrating – the Guider team were helpful in setting up a Google Data Studio, but this was limited by the data displayed, and at times it felt we had limited visibility into the programme on an ongoing basis.
Sanam P.
Online boutique owner in U.S.
Verified LinkedIn User
Retail, Self Employed
Used the Software for: 1-5 months
Guider is interesting in the new world of mentoring software
Pros:
I like the originality of this software. A few years back I never would've thought that a software could help in the mentoring process but it actually is beneficial, especially to the mentor.
Cons:
I feel as if there could be more guidance as well as suggestions based on specific needs of each user
Events Services, 2-10 Employees
Used the Software for: 1+ year
Guider is fantastic
Comments: Cannot recommend Guider enough.
Pros:
We have used Guider for over a year to run our mentoring programme and it has been fantastic - the mentors and mentees love it. It's easy for us to use and the metrics they provide are so helpful.
Cons:
I have nothing negative to say - Guider is brilliant.
Naomi B.
Sr Digital Learning & Platforms Advisor in U.K.
Law Practice, 1,001-5,000 Employees
Used the Software for: 6-12 months
Fantastic platform and amazing team at Guider
Comments: Overall it has been a great experience working with the Guider team and starting to see the platform in action! I would highly recommend Guider to any organisation. It is a great product that is continually being improved and the team are very friendly, helpful and great to work with.
Pros:
It is an absolutely brilliant way to connect people across a global firm for mentoring. The AI behind the matching is really great - people are often surprised but really pleased about who they get matched with, especially as it tends to be someone you probably never would have met otherwise and get to see a different perspective of the firm. Creates more of an inclusive mentoring opportunity with everyone in the firm having equal access to a mentor, not based upon who you know in your cicles. The team and support with Guider are amazing and really work alongside us to continually improve the experience! The guidance and resources built into the flow of the platform and the mentoring relationship It is really easy to use, clean design and very user-friendly
Cons:
If you don't have Outlook and Teams integration the experience isn't the greatest for as the mentors have to do so much more manually, especially when working with people with very low tech skills. I wish we had a bit more behind the scenes admin access to help people when they are struggling with setting up their profiles or logging a connection (this is to help the small population, sometimes very senior, who are quite challenged with technology, as in general it is actually quite intuitive)
Guider Global Response
11 months ago
Thank you Naomi! So excited to see mentoring growing at the firm with Guider