Microsoft Project
What Is Microsoft Project?
Microsoft Project helps you keep track of everything you need to run successful projects, even when working remotely. Collaborate and work with remote teams anywhere, streamline processes, optimize
Read more
tasks and resources, engage across different functional teams, keep track of all associated costs, and customize visual reports for actionable insights. Familiar Office tools and pre-built templates allow you to kick off projects quickly to get more done while saving your business time and money.
Read less
Who Uses Microsoft Project?
Microsoft Project is a simple, yet powerful tool to manage work from quick projects to more complex initiatives. With Project, anyone can get started quickly and collaborate with remote teams anywhere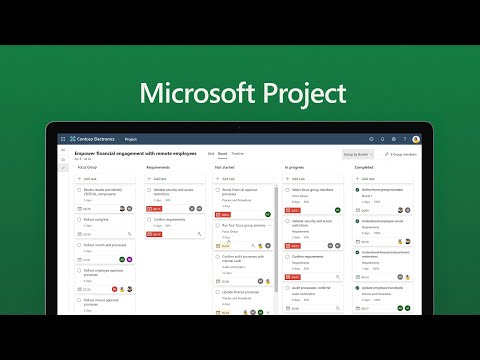 Not sure about Microsoft Project? Compare with a popular alternative
Alternatives to Microsoft Project
Reviews of Microsoft Project
Jacqueline
Project Coordinator in Canada
Verified LinkedIn User
Commercial Real Estate Software, 201-500 Employees
Used the Software for: 2+ years
All a PM needs
Comments: I continue to enjoy using this software for my project planning and tracking needs.
Pros:
Having been a PM for quite a while, I have dabbled in various softwares for managing my projects. For scheduling and tracking….it's easy to navigate and easy to see results. I can use it for reporting and share it also.
Cons:
There are no perfect softwares but this softwares does satisfies its core intention for a project personel.
Nadeem
IT Manager in United Arab Emirates
Verified LinkedIn User
Computer & Network Security, 51-200 Employees
Used the Software for: 2+ years
Alternatives Considered:
Project Planning Made Easy
Comments: It is a beautiful Planning and Scheduling Tool that helps all size of organizations in carrying out/managing their day 2 day and long term projects.
Pros:
If one knows the Planning and Scheduling Concepts, it is extremely easy to use this software to carry out planning/scheduling.
Cons:
It has its own proprietary format. Though can be saved as PDF and shared but it would be better if it can be opened directly in different formats.
Rahmat
Project Planner in Indonesia
Verified LinkedIn User
Construction, 11-50 Employees
Used the Software for: 2+ years
Ms Project Is A Top Legendary Project Planning Tool
Comments: I have utilized Ms Project in managing $100M-$1B EPC projects and succesful of $10K-$27.5M claims.
Pros:
It is the most easiest and lite project planning software. It's direct to the point to start a project plan without complicated initial setup like its competitor.
Cons:
Ms Project removed its PERT feature for scheduling risk, less cost control features, progress tracker sometimes unclear, no built in S Curves feature.
Alexia
Marketing coordinator in Canada
Verified LinkedIn User
Business Supplies & Equipment, 2-10 Employees
Used the Software for: 6-12 months
Alternatives Considered:
Good for learning project management, but there is better design elsewehere
Comments: I used Microsoft Project to track the milestones and durations of a small marketing project.
Pros:
I like how it is easy to connect with obviously other Microsoft products. Especially with Excel.
Cons:
I feel the design of the platform is more complicated than other cloud-based platforms I have tried such as Monday.com. There are fewer colours and much less contrast.
Anurup
Senior Engineer Cost Control in Jordan
Construction, 501-1,000 Employees
Used the Software for: 2+ years
best tool for design work schedules, monitor project % completion, and maintain control.
Comments: Microsoft Project helped us develop and approve a base schedule, and link it to later versions to compare the actual and expected progress of all project work, and it protects the team, especially when preparing claims and calculating delays.
Pros:
Microsoft Project has the capabilities to create an integrated project schedule so we can track project expenses, manage human resources, calculate delays, and manage time claims. The development of Microsoft Project and the addition of cloud storage capabilities set it apart from similar applications, simplified the process of sharing updates and engaging additional members to collaborate on setting and tracking schedules. I like the fact how powerful the calculations that Microsoft Project does, especially with regard to Total Float and Free Float, which are great tools to help understand the behavior of different activities, as well as calculations of actual progress against planned progress and other tools that always help in decision-making the appropriate. Because it is integrated with MS Excel, it saves a lot of time and enables us to export and import data easily. I enjoy how easy it is to present resources, costs, and activities, and how the most recent dates appear automatically.
Cons:
With proper training and practice, I believe users will be able to easily develop and update software and extract achievement percentages. It's worth noting, that sometimes when you make updates in Microsoft Project with tampering with base table activities, it can be difficult to notice these changes due to the limited capabilities that Microsoft Project provides. To unravel that process, which produces biased analyzes. Microsoft Project reports are, in my opinion, too simplistic and require more improvements to be added.