Simplain Vendor Portal
by Simplain Software Solutions
Who Uses Simplain Vendor Portal?
Retail Chains, Grocery Retails, Convenience Stores, Food & Beverages Chains, Pharmacy Chains, Restaurant Chains, Bakery Chains, Farmers Markets
What Is Simplain Vendor Portal?
Simplain Vendor Portal Modules- Item Management, New Item Intro, New Vendor Intro, Cost/ Deal/ Invoice Management, Data-driven Vendor KPI Management, & Reporting. Simplain Vendor Portal provides separate, customizable/ automated approval workflows & self-service portal for vendors & retail buyer users. Users can upload bulk spreadsheets and automate email/manual/spreadsheet processes. Vendor Portal can be fully customized & integrated with any supply chain ERP. Sold on Cloud and/or on-Premise.
Simplain Vendor Portal Details
Simplain Software Solutions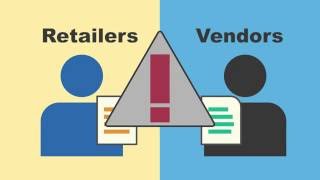 Play
Simplain Vendor Portal pricing overview
Simplain Vendor Portal does not have a free version.
---
Simplain Vendor Portal deployment and support
Deployment
Cloud, SaaS, Web-based
Mac (Desktop)
Windows (Desktop)
Windows (On-Premise)
Linux (On-Premise)
Training Software
In Person
Live Online
Webinars
Documentation
Simplain Vendor Portal Features
API
Accounting Integration
Activity Dashboard
Barcode / Ticket Scanning
CRM Software
Commission Management
Credit Card Processing
Customer Database
Customer History
Customizable Reports
Data Synchronization
Discount Management
Electronic Payments
Email Marketing Software
Employee Management
For Retail
Forecasting
Gift Card Management
Inventory Management Software
Inventory Optimization Software
Inventory Replenishment
Inventory Tracking
Loyalty Program
Mail Order
Merchandise Management
Multi-Currency
Multi-Location
Offline Access
Order Management Software
Point of Sale (POS)
Promotions Management
Purchase Order Management
Real Time Analytics
Real Time Data
Real Time Monitoring
Real Time Reporting
Real-time Updates
Receipt Management
Reporting & Statistics
Reporting/Analytics
Retail Inventory Management Software
Returns Management
Sales Orders
Sales Reports
Sales Trend Analysis
Shipping Management
Stock Management
Third Party Integrations
Warehouse Management Software
eCommerce Management
API
Access Controls/Permissions
Activity Dashboard
Activity Tracking
Alerts/Notifications
Approval Process Control
Assessment Management
Audit Management
Audit Trail
Billing & Invoicing
Collaboration Tools
Compliance Management
Configurable Workflow
Contract/License Management
Customizable Reports
Customizable Templates
Data Import/Export
Data Visualization Software
Document Management Software
Document Storage
Incident Management Software
Invoice Management
Invoice Processing
Monitoring
Offboarding
Onboarding Software
Performance Metrics
Procurement Management
Project Management Software
Purchase Order Management
Real Time Data
Real Time Reporting
Reminders
Reporting & Statistics
Risk Alerts
Risk Assessment
Search/Filter
Self Service Portal
Single Sign On Software
Sourcing Management
Summary Reports
Supplier Management
Task Management Software
Third Party Integrations
Transaction History
User Management
Vendor Management Software
Vendor Master Data Management
Vendor Payment
Workflow Management Software
---
Average score
Customer Service Software
5
---
Review software
Share your experiences with other software buyers.
Write a Review!
Albano G.
Chief Financial Officer
Information Technology & Services, 11-50 Employees
Used the Software for: 2+ years
Overall Rating

Ease of Use

Features & Functionality

Customer Support Software

Value for Money

Likelihood to Recommend
Reviewer Source

Reviewed on 2020-09-01
"Great tool for managing Item Catalogs and Assortments"
Pros: Simplain's Vendor Portal was a key tool for empowering DSD vendor's to manage their Item Catalog and Assortments while I worked as a consultant for Dollar General. The Vendor Portal application offered a simple and intuitive interface for the user to enter item and store data in the form of Models, Catalogs and Assortments that later integrated with the GOLD database.
Cons: I only used a relatively limited portion of the overall capability of Simplain's Vendor portal on a daily basis but all the features I used were spot on. I big part of my interaction with the Vendor Portal was related to analyzing and reporting on assortment data. Vendor Portal allowed this by enabling the user to download item/ assortment data in the form of a spreadsheet. Depending on the data set, this could take more or less time. Anything that can be done to decrease download time on large data sets would be great.
Reviewer Source

Reviewed on 2020-09-01
Ghouse S.
Manager, Supply Chain & Master Data
Retail, 5,001-10,000 Employees
Used the Software for: 2+ years
Overall Rating

Ease of Use

Features & Functionality

Customer Support Software

Value for Money

Likelihood to Recommend
Reviewer Source

Reviewed on 2021-04-17
"Great experience"
Comments: Great value for the money and aligns well with our stringent business processes. Embraced very well by our vendor partners as well as downstream users. Professional approach in the need analysis, implementation, and the need for very little training and support. Highly secure and scalable system, whether on-premise or on the cloud.
Pros: Efficient and effective Supplier Management, Product Management, Cost and Rebate Maintenance, Purchase Order/Invoice and Vendor Performance modules. Captures business-specific product data including ingredients, nutrition, allergen, marketing claims and other attributes. Simple mass uploads and simple third-party integrations.
Cons: Suggest additional dashboards. But this is a question of development based on customer need and we hope to do so soon.
Reviewer Source

Reviewed on 2021-04-17