What Is Firm360?
Streamline your accounting practice and increase your firm's productivity. Save your staff an average of 10 hours a week in wasted non-billable time in 30 days. Firm360 creates client management, project management, billing, reporting, and time management transparency.
Save your firm time and money by replacing your current 5+ software solutions with one seamless experience.
This all-in-one cloud-based platform is everything you need to get the job done!
Who Uses Firm360?
Small to mid-size accounting firms with teams of 3 or more looking to stay organized and efficient without duplication of effort. Save money, work from anywhere, and communicate effectively.
Where can Firm360 be deployed?
Cloud-based
On-premise
---
About the vendor
Firm Software
Founded in 2019
Firm360 pricing
Starting Price:
US$49.00/month
Firm360 does not have a free version. Firm360 paid version starts at US$49.00/month.
About the vendor
Firm Software
Founded in 2019
Firm360 videos and images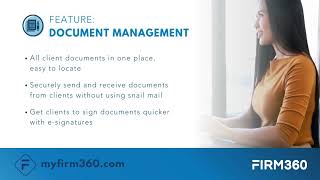 Features of Firm360
ACH Payment Processing
Access Controls/Permissions
Accounting Integration
Accounting Software
Activity Dashboard
Activity Tracking
Alerts/Notifications
Approval Process Control
Approval Workflow
Assignment Management
Audit Trail
Billable & Non-Billable Hours
Billing & Invoicing
Business Process Automation
Calendar Management
Client Management
Client Portal
Collaboration Tools
Commenting/Notes
Contact Database
Cost-to-Completion Tracking
Customizable Invoices
Customizable Templates
Data Import/Export
Document Management Software
Due Date Tracking
Employee Database
File Sharing Software
For Accountants
Invoice Creation
Invoice History
Mobile Access
Mobile Payments
Online Invoicing
Online Payments
Online Time Tracking Software
Payment Processing Software
Percent-Complete Tracking
Prioritization
Progress Tracking
Project Management Software
Project Planning/Scheduling
Project Tracking Software
Recurring Tasks
Reporting & Statistics
Reporting/Analytics
Reporting/Project Tracking
Resource Management Software
Search/Filter
Status Tracking
Task Editing/Updating
Task Management Software
Task Progress Tracking
Task Scheduling
Task Tagging
Third Party Integrations
Time & Expense Tracking
Time Tracking Software
Timesheet Management
Workflow Configuration
Workflow Management Software
Nani
Bookkeeping/Office Manager in US
Accounting Software, 2-10 Employees
Used the Software for: 1-5 months
McManus Tax Review
Comments: Easy to use. Easy to work with. All around grateful for this product.
Pros:
I enjoy how user friendly it is. It's relatively easy to jump in and use it without having to have a background in programming.
Cons:
I wish invoices could sync into QuickBooks desktop. I understand how the founder does his bookkeeping and sales tracking, but we enjoy having both recourses and do not typically put all our eggs in one basket... or data in this case.
Alternatives Considered: Canopy and Canopy Software
Reasons for Choosing Firm360: They were extremely inconsistent, always having cloud issues and not having access to the site. The invoices weren't actually sending to our clients which we were unaware of. They offer sync agent into QuickBooks Desktop but that also didn't ever work fully. Their ACH payment system was always failing, and clients would constantly have to contact us to let us know. But more than anything, they would never ever respond. I would try and schedule follow up phone calls, or meetings or even just emails and they totally ghosted us. To this day, they never followed through with a resolution and literally don't even know we don't' use their product.
Switched From: Mango Practice Management
Reasons for Switching to Firm360: I think that Canopy had a better portal system. We didn't have to have a social security number in there or put all "1s" so a client could access. The set up for clients was really easy and the payment system was also easy. Didn't' require a test deposit or anything like that. Simple click to pay. Also they have extended hours during tax season for customer service and tech support. And wow oh wow their customer support is super nice. Extremely patient, able to hear what we want in a system and be able to make it work with out trying to talk us out of what it is we want. Which is awesome.
Accounting Software, 2-10 Employees
Used the Software for: 6-12 months
Best Accounting/Tax Firm Management Software
Comments: If you are looking for a practice management solution for your bookkeeping, payroll, tax, and consulting practice, look no further! Firm360 is the answer.
Pros:
Firm360 is by far the best solution for accounting and tax practice management. The application is outstanding. It includes everything we could want in project management, document management, and even CRM. The staff is friendly and highly knowledgeable. Improvements are being made all the time. Good ideas from customers get the attention and action they deserve.
Cons:
There is nothing I like least about this software.
Alternatives Considered: Canopy, BigTime and monday.com
Reasons for Choosing Firm360: Smartsheet's notification system went haywire right in the middle of tax season. Tech support admitted there was a problem but would do anything to fix it. Our administrator was suddenly receiving hundreds of unnecessary email notifications daily from Smartsheet.
Switched From: Smartsheet
Reasons for Switching to Firm360: Firm360 is explicitly geared toward accounting/tax firms. The company understands the accountant's terminology and firm structure. Predesigned project templates are relevant and applicable to our workflows.
Firm Software Response
2 months ago
Kevin - thanks for the feedback and kind words! We appreciate the feedback you have provided as you got used to the product, which helps us improve things for everyone.
Accounting Software, 2-10 Employees
Used the Software for: 6-12 months
It's as close to one size fits all as you can get
Comments: Overall, I am very happy in Firm360. I was able to ditch what I felt was antiquated software (Thomson CS) and streamline processes. It is rich with functionality and can handle a firm that doesn't do JUST tax returns. I think a lot of firm management software focuses too much on just the tax work. Firm360 is much more than that and continues to improve constantly. I will be able to easily scale my business thanks to them.
Pros:
Easy to implement, easy to use. It has many features, and they are making consistent improvements every month. The clients like it and have had no trouble accessing the client portal and using the document upload. I also like that you can merge documents into one PDF.
Cons:
I wish there were a mobile app for clients and my firm. Sometimes I'm on the go and would like to take a quick note on a client with my phone. I also wish that you could structure things by folder, and send automated tasks for clients. Organizers (customizable) would be nice too.
Alternatives Considered: TaxDome, Karbon and Ignition
Reasons for Choosing Firm360: I had various software subscriptions because there wasn't one solution that could do mostly everything until I found Firm360.
Switched From: DocuSign, Canopy Software, CS Professional Suite and Jetpack Workflow
Firm Software Response
6 months ago
Crystal - thanks for the input! FYI we are currently working on most of the items you mentioned on your "wish list" below so keep that feedback coming!
Accounting Software, 11-50 Employees
Used the Software for: 6-12 months
Love Firm 360!
Comments: Fantastic and amazing. Couldn't ask for a better software or support team. Would recommend this software to anyone.
Pros:
This software is so easy to use. But before that even, if was even easier to implement and roll out to our team. We looked at many other similar products but they were either very costly or a lot of work to load data/ roll out/ learn. Firm 360 is the perfect solution! And their customer support team is amazing. We ask for tweaks or adjustments, and the same day we get a response. Frequently even, we get those requests met the same day or the day following. Can't speak highly enough of [SENSITIVE CONTENT HIDDEN] and their Firm 360 product!
Cons:
Having to pay! ha! The only thing that would make this better is if it were free. But nothing worth having is free, so we are happy to pay for the service. We don't see ever making a change from Firm 360 at this point.
Alternatives Considered: Aero Workflow, CS Professional Suite, Jetpack Workflow and Microsoft Excel
Reasons for Choosing Firm360: Excel wasn't enough. We were growing and couldn't keep all the data (uncorrupted) in Excel any longer.
Switched From: Microsoft Excel
Reasons for Switching to Firm360: The ease in implementation and on-going maintenance was a major factor in choosing Firm 360 over these other Company software. Excel was what we were using before, but we outgrew it. We tried to implement Aero last year and it was so complex, we weren't successful in getting the data loaded or the employees understanding how best to use the software. We made the right choice by far!
Accounting Software, 11-50 Employees
Used the Software for: 1-5 months
Firm 360 Goes Above & Beyond
Comments: So far our experience with Firm 360 has been great. This software is helping our employees know what they need to do and to stay on track and meet deadlines. It is helping our client data stay up to date and easily accessible to the whole firm. Also, which is a huge bonus, the [SENSITIVE CONTENT HIDDEN] are wonderful to work with and strive to incorporate new ideas all the time. If you even think something would be nice to have, even if it's just a time saving feature, you let them know and they put it into action as quickly as possible. I see the software getting better all the time.
Pros:
The sync to QBO feature makes Firm 360 very easy to use for updating client data, adding new clients, and most especially billing. Once you get used to having Firm 360 be the "driver" for client data having the sync to QBO automatic, you find that your firm's QBO file gets cleaned up pretty quickly and stays that way. The sync feature also makes billing out of Firm 360 so easy. You can create the invoice in Firm 360 and it flows right into QBO so that your A/R stays up to date.
Cons:
The one feature I don't especially like about Firm 360 is that all clients must have a client number and that is how your client list is displayed. We have never used client numbers and having used QBO since our inception, we are used to having our clients listed in alphabetical order. Having the list displayed in alpha order helps when adding a new client to be slotted in automatically in it's correct placement. With the client numbering system, the clients are in no particular order so it makes my OCD go nuts when looking at the client list.
Firm Software Response
last year
Cyndi - Thanks for the feedback! As a note to anyone that reads this, Firm360 values user feedback and implemented the option to disable "client numbers" shortly after receiving this review. Thank you. Firm360 Team