What Is Bravo?
Bravo is a comprehensive employee recognition and rewards platform that provides employees with a means to acknowledge and recognise their peers.
A competitive leaderboard, automated celebration of new hires, work anniversaries and birthdays encourages participation. Goal management, employee engagement surveys and a peer feedback system are some of the features in BRAVO along with a large international reward catalog for employees to enjoy.
Who Uses Bravo?
All sort of organizations from small to enterprise-level
Bravo Details
Coeus Solutions
Founded in 2018
Bravo Details
Coeus Solutions
Founded in 2018
Bravo videos and images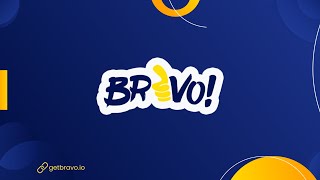 Compare Bravo pricing with similar products
Starting price
US$1.00/month
N/A
N/A
US$300.00/year
Bravo deployment and support
Support
Email/Help Desk
FAQs/Forum
Knowledge Base Software
Phone Support
24/7 (Live rep)
Chat
Training Software
Live Online
Webinars
Documentation
Haider ali R.
Territory manager in Pakistan
Verified LinkedIn User
Pharmaceuticals, 501-1,000 Employees
Used the Software for: 6-12 months
Peers recognition had never been easy, interactive and full of fun.
Comments: Bravo is straightforward to use, which makes peer recognition in public easy and fun. It is an excellent platform for giving and receiving feedback. Its reward system is impressive that allows giving reward points to peers according to their efforts; it helps to increaseģ employee motivation.
Pros:
An amazing software that creates interaction across all facets of the company and creates such an impressive network of interdependent employees, where everyone acknowledges others.
Cons:
Bravo needs to improve the bonus points redemption network and variation of gifs.
Zameer ul A.
Cardiologist in Pakistan
Verified LinkedIn User
Hospital & Health Care, 51-200 Employees
Used the Software for: 6-12 months
An employee-centric tool to improve motivation, dedication, and engagement.
Comments: Employee engagement is one of the most desired goals for any organization; it is even more challenging in health care organizations. In our institution, all employees remain busy, indulge in their responsibilities, and find less time for many necessary tasks like employee recognition. Bravo is a "blessing" for our organization that provides a quick and easy way to acknowledge other employees' cooperation, dedication, help, and hard work.
Pros:
It is an excellent, easy-to-use, and economical software, ideal for busy employees.
Cons:
Overall, it is good software, but its analytics need improvement for easy managerial decisions.
Maryam P.
Communications Adviser in Pakistan
Management Consulting, 51-200 Employees
Used the Software for: 1-5 months
Bravo: A deceptively powerful internal communication tool
Comments: Bravo's a great tool to encourage internal communication, both among peer colleagues and managers, but also as a tool for organizational communication, with a few tweaks.
Pros:
I loved setting tasks and tagging other colleagues and of course the feedback/appreciation features are great!
Cons:
I think integrating this with Teams and Slack could up Bravo's game, especially when it comes to managing tasks for oneself and peers, with constant reminders popping up on both platforms.
Coeus Solutions Response
5 months ago
Thank you for your feedback. We now have the tool integrated with Slack and MS Teams.
Faseeh U.
Creative Head in Pakistan
Verified LinkedIn User
Real Estate, 201-500 Employees
Used the Software for: 6-12 months
A miraculous software to improve employee engagement.
Comments: Bravo has helped our organization in improving the productivity of the employees. It has made a tremendous change in our organization; employees turnover and absenteeism are decreased dramatically. Employees' motivation is increased, and the culture of the company is also improved. Only one software has improved a lot of things in our company. We recommend this software to all of those who want to improve employee engagement and motivation.
Pros:
Bravo is a comprehensive and easy-to-use employee engagement software that provides an easy and fun way to recognize employees' efforts.
Cons:
Nothing in particular; this is such fantastic software for everyone in our company.
Wasim S.
Manager Commercial in Pakistan
Verified LinkedIn User
Telecommunications, 51-200 Employees
Used the Software for: 6-12 months
A perfect and easy-to-use software for customer reviews.
Comments: Recording high-quality video reviews are essential for our business. Vidmonials has made this job easy and cost-effective for us; this software is impressive. With Vidmonials, recording customer testimonials is now a piece of cake for us.
Pros:
It is the best and economical solution for recording customer testimonials. Now, we can ask any customer to record testimonials for us but simply sending a weblink.
Cons:
It's working fine, but it will be great if this software will provide integration with Facebook.