What Is Project.co?
A project management tool your customers will LOVE to use! Project.co connects your team with your clients team so you can chat, share files, manage tasks, make notes, take payments and get work done! Other tools make working with clients feel like an afterthought. With Project.co working with clients and managing projects effectively is our core focus. All communication is kept in one place on every project so you have a single source of truth. Project management simplified!
Who Uses Project.co?
Project.co is ideally suited for service business who work with clients. Each project brings your team and your clients team together to chat & collaborate.
Where can Project.co be deployed?
Cloud-based
On-premise
---
About the vendor
4040 Media
Located in Southport, UK
Founded in 2019
Countries available
Canada, United Kingdom, United States
Project.co pricing
Starting Price:
US$10.00/month
Yes, has free trial
Yes, has free version
Project.co has a free version and offers a free trial. Project.co paid version starts at US$10.00/month.
Pricing plans
get a free trial
About the vendor
4040 Media
Located in Southport, UK
Founded in 2019
Countries available
Canada, United Kingdom, United States
Project.co videos and images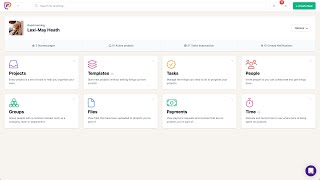 Features of Project.co
Access Controls/Permissions
Activity Dashboard
Activity Tracking
Agile Methodologies
Alerts/Notifications
Billing & Invoicing
Calendar Management
Client Portal
Collaboration Tools
Commenting/Notes
Customizable Templates
Document Management Software
Drag & Drop
File Management
File Sharing Software
Gantt/Timeline View
Idea Management Software
Kanban Board
Milestone Tracking
Prioritization
Progress Tracking
Project Management Software
Project Planning Software
Project Planning/Scheduling
Project Tracking Software
Real Time Notifications
Reporting & Statistics
Reporting/Project Tracking
Resource Management Software
Sprint Planning
Status Tracking
Tagging
Task Management Software
Task Progress Tracking
Task Scheduling
Template Management
Third Party Integrations
Time & Expense Tracking
Visualization
Alternatives to Project.co
Professional Training & Coaching, 2-10 Employees
Used the Software for: 1-5 months
PROJECT.CO Simplifies Project Management
Comments: It simplify the project management process with my team members and clients. It also allows them as well as myself to feel a sense of security.
Pros:
[SENSITIVE CONTENT] said "The definition of genius is taking the complex and making it simple." This is exactly what Project.Co does! I've tried other project management tools and they frustrated me to the point I regret investing in them. That is NOT the case with Project.Co. It's a project management tool that allows me to collaborate with members on my team or clients without the headache of trying to figure out the software. It helps me to stay organized and it doesn't intimidate people when they get an invite to join my Project.Co page because the process is very simple and does not ask for a ton of information. They put their Email, First and Last Name, a password and they are good to go! It provides people with a feeling of security that is really essential in this digital age with so many online scams in existence. I HIGHLY RECOMMEND Project.Co if you are someone who wants a software that is Simple, Efficient, and will NOT put you on BLOOD PRESSURE PILLS!!!!!!
Cons:
I would like the templates to be inside of the main dashboard of the site. I have to click on a link and open it in another browser and then sign in again. I prefer not to have to do extra steps to get a template.
Alternatives Considered: monday.com
Reasons for Choosing Project.co: Too complex!
Switched From: Agiled
Reasons for Switching to Project.co: The positive reviews and the constant mention of its simplicity!
Media Production, 2-10 Employees
Used the Software for: 1-5 months
Exactly what I was looking for
Comments: So far, this is the best project management software I've used including typical ones like Asana.The workflow is so clear and easy, which is exactly what I've been looking for. Plus, the ability to embed other tools in order to unify my current software stack is pretty amazing and a huge bonus that I didn't even know I needed.
Pros:
Ease of use, simple onboarding and setup, integrations and embed options for other apps.
Cons:
I'd love a little more customization with view sizing.
Alternatives Considered: ClickUp
Reasons for Choosing Project.co: Ease of use for myself, my team, and clients.
Switched From: Plutio
Jessica
CEO in US
Verified LinkedIn User
Financial Services Software, 2-10 Employees
Used the Software for: 1-5 months
I think I'm in Love
Comments: I've been exploring Project.co for ten days now and find myself incredibly impressed! Not only are there a ton of features I haven't even had time to explore (which will work best for my thinking processes? the kanban (trello-like) view? the calendar view? the list view? and what about sorting?), but the ones that I HAVE explored are pretty awesome.Last night I was playing with inviting a client into their project. I LOVE this. The client can only see their project and only the parts that matter to them. (My internal notes, time count, and detailed task lists are hidden.) The client can invite their spouse themselves to the project if they want to. The areas that the client can access are limited and the functions for the client are limited so it means my client can't mess up the accounts! And, even though we just have the one project for the client (so far), we can use all kinds of ways to help them track what's going on: bulleted lists, checkmark lists, lists that expand and contract, ways to highlight or change the bold/italic/strikethrough and typesize to emphasize things,.... just tons of features.I could go on, but I have to get back to my Projects! Thanks Project.co! I'm really excited to keep exploring!
Pros:
Simple enough to learn quickly and get around easily, complicated enough to get really organized and track a lot of info. Love the visually simple design. And love the collaboration possible with clients that restricts them enough that it's even easier to use for them and they can't mess anything up.
Cons:
It's loading slowly sometimes. Might want another level of organization, for instance having individual clients organized into a larger client group or having the various projects organized into themes (admin, clients, marketing, etc.)
Paul B
Chief Online Strategist in US
Verified LinkedIn User
Marketing & Advertising, 2-10 Employees
Used the Software for: 1-5 months
Project.co looks very promising
Comments: I like the fact that several project examples are already incorporated in the subscription to help show examples of how one can work with it. I jumped immediately into trying to mimic our current tool (one that Works for our Team - that is a hint of the tool we use ;-) and started to create a project. I quickly searched for a way to import tasks instead of manually adding 100+ recurring tasks.Finding this feature was not apparent to me so I reached out with the online help tool. Knowing it was a national holiday, it was still nice to see an acknowledgment saying someone would get back to me. Nice enough :-)To my surprise, I got a live response within minutes telling me where to click so that I could import a csv file."Finding this area" allowed me to see a whole new section and the additional possibilities and features of the platform - all really good!I like the layout and design. The features are rich and at the onset looks like this will be the tool we are going to be using.Some features are missing that I would like to see. While it is possible to import tasks, there is no way to import recurring tasks. As a result, each task needs to be manually edited and set to recurring. Another feature not yet available is the ability to Bulk edit items all at once rather than individually.As I have been playing through, support has been top-notch! I was also surprised at the responsiveness when I asked a question the next day.
Pros:
Simplicity, design & being feature rich.
Cons:
I would like to have the ability to bulk edit tasks. Also, while you can import tasks, there is no way to import recurring tasks.
Alternatives Considered: Basecamp and monday.com
Reasons for Choosing Project.co: Looking for a cost-effective tool.
Switched From: Teamwork
Reasons for Switching to Project.co: The features and the price. SUpport is top-notch
Will
Business Coach in UK
E-Learning, Self Employed
Used the Software for: 1-5 months
Project and Task Tracking is a Breeze with Project.co
Comments: My experience with Project.co has been very positive and I have yet to fully utilise its full range of benefits. It is very easy to use and I highly recommend it for many reasons.
Pros:
I have found Project .co to be a terrific and very easy to use project management and collaboration tool which I'm using every day in my business. Since I started using it, I've been able to declutter my desk considerably and have greatly improved my productivity.There are sample Projects and Tasks within the system, so learning and getting started with these key productivity tools is a breeze. There is even a project for Lead Tracking, which has saved me time having to set this up.Apart from the Project and Task management tools, I'm also provided with a whole range of supporting features which allow me to engage with customers and keep all pertinent information together in one place, all nicely at hand for working across a range of projects. The support features include tools to add Notes, Files, Discussion Comments, Time and Payment records, etc. Also, I can add Customised Fields specific to my business, which is also most useful.I also like the integration features so I can connect Project .co with other apps to synchronise data. This includes Stripe integration for billing purposes.The live support Chat facility on the website is also excellent with confirmation of resolution received by email at the conclusion of each discussion.
Cons:
There is nothing I have to criticise about Project.co
Alternatives Considered: Asana
Reasons for Choosing Project.co: I still use Trello for certain features but for daily operations the switch to Project.co has been beneficial owing to its ease of operation and flexibility afforded to data management.
Switched From: Trello
Reasons for Switching to Project.co: Price/Benefit analysis in my case weighed favourably towards Project.co