What Is PushFar?
PushFar is a world-leading mentoring and career progression platform, helping a wide-range of organisations to provide a highly effective, efficient and easily customisable mentoring scheme to their employees. With our data-driven matching algorithms, integration with existing LMS and single sign-on solutions, administrator panels and our iOS and Android apps, PushFar is a game changing mentoring solution.
Who Uses PushFar?
PushFar's world-leading mentoring platform is used by a wide-range of organisations across every sector, with clients from 20 employees, through to those with tens of thousands of employees, globally.
Where can PushFar be deployed?
Cloud-based
On-premise
---
About the vendor
PushFar
Located in Childrey, U.K.
Founded in 2018
PushFar support
Phone Support
24/7 (Live rep)
Chat
Languages
English, French, German, Italian, Spanish
PushFar pricing
Starting Price:
PushFar has a free version.
About the vendor
PushFar
Located in Childrey, U.K.
Founded in 2018
PushFar support
Phone Support
24/7 (Live rep)
Chat
Languages
English, French, German, Italian, Spanish
PushFar videos and images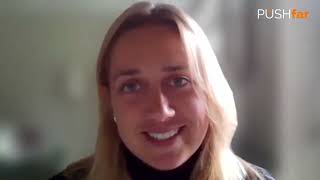 Features of PushFar
Action Item Tracking
Appointment Scheduling Software
Content Library
Enrollments/Onboarding
Goal Management
Mentor/Coach Matching
Mentoring Program Management
Participant Profiles
Program Evaluation
Progress Tracking
Reviews of PushFar
Reviews by company size (employees)
<50
51-200
201-1,000
>1,001
Stephen
Project Management Student in Trinidad and Tobago
Verified LinkedIn User
Professional Training & Coaching, Self Employed
Used the Software for: 1-5 months
Pushfar Review
Comments: I have solved issues in finding potential mentors and networking with like-minded people.
Pros:
Ease of use and simplicity. It follows a core model without the addition of fluff features that bring little to no value. The networking process is much easier in comparison to other platforms like LinkedIn. It also has an international presence so it is easy to seek out individuals from all over the world
Cons:
Lack of particular features that would enhance the overall site. Examples more badges to encourage user participation, a feature for group mentoring, and an online suggestion box instead of having to go to the creator directly. Last but not least, many users do not use the site as it is intended.
Megan
Senior HR Administrator in U.K.
Events Services, 201-500 Employees
Used the Software for: 1-5 months
Clarion Events - 5* Review
Comments: We introduced the platform to track our mentoring across the business and encourage networking, skill sharing and a culture of learning within Clarion.
Pros:
The software is extremely user friendly an not overcomplicated. It has all the features needed to instigate and maintain a mentoring relationship. We are still in the process of integrating teams/outlook calendars with the platform which I think will be highly beneficial for users.
Cons:
Only con is people not being able to reinstate an expired pairing request, which often happens.
Alternatives Considered: Mentorink
Reasons for Switching to PushFar: Customer service and attentiveness was far better. The products and pricing were not too dissimilar, but it was the level of service received from PushFar that won us over.
Music, 501-1,000 Employees
Used the Software for: 6-12 months
PushFar
Comments: It's helped us with our mentoring relationships and we've also found it useful as a networking platform for new staff who can 'shop' for specialisms and get in touch with people across the business to chat more
Pros:
It's simple and easy to use. Clear and well structured web page, easy to search for mentors and group 'skills and behaviours'
Cons:
I'm not a fan of using the scheduling software but that's about it
Sarah
Head of Professional Learning in Germany
Education Management, 2-10 Employees
Used the Software for: 1+ year
PushFar. Excellent Mentoring platform.
Comments: The benefits have been that educators around the world have begun to meet in this professional context, leading to rich conversations about their careers as well as strategies for improving student learning. It allows for equity in opportunities for professional educators to learn from one another. This is what we were looking for and this is what PushFar provides - along with an excellent, personal customer service and support.
Pros:
The product is extremely user-friendly and when we have questions about extending the use of the platform, or suggestions about potential useful features, the PushFar team is exceptional in customer service. The [SENSITIVE CONTENT] really knows his stuff and is accomplished at explaining to others in a motivating and supportive way.
Cons:
Uploading articles to the Thread. This is apparently in the pipline though. PushFar is always one step ahead of the game!
Sophie
Events Manager – Digital in U.K.
Construction, 51-200 Employees
Used the Software for: 6-12 months
Great platform!
Comments: It has been great to work with Ed and the team to create a product that is personalised to our companies needs. The team have been very helpful and are always on hand to offer IT and general support. From an administrator side the platform is easy to use and great for us to review how our members use the platform.
Pros:
It allows our members to network and connect freely without internal support. The programme allows members to be very specific in what they are looking for and the support they need. The ability to track all progress, goals and outcome.
Cons:
Currently there isn't a con to the programme. Would be great to look to expand and progress with our members.