QuickBooks Online Advanced
What Is QuickBooks Online Advanced?
QuickBooks Online Advanced (Save 50%) is a cloud-based, all-in-one, accounting and business hub solution, designed for growing, small to mid-sized businesses. Get performance reporting with highly
Read more
customizable tracking tools, automated workflows, and real-time revenue and cash flow management dashboards. Seamlessly integrate best-in-class Premium Apps like Salesforce and HubSpot (CRM), Bill.com (accounts payable), DocuSign, LeanLaw & more to expand your capabilities as your business needs grow.
Read less
Who Uses QuickBooks Online Advanced?
The #1 Accounting and Financials software for Small Business.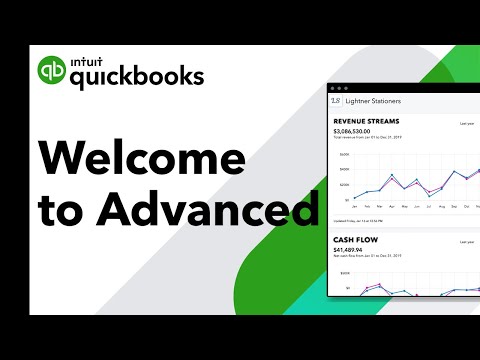 Not sure about QuickBooks Online Advanced? Compare with a popular alternative
QuickBooks Online Advanced
Not available in your country
Alternatives to QuickBooks Online Advanced
Reviews of QuickBooks Online Advanced
Bob
Online Radio Expert/Host; Podcast Host; Ordained Minister/Award Winning Author/Prof. Public Speaker in US
Verified LinkedIn User
Nonprofit Organization Management, Self Employed
Used the Software for: 2+ years
Over 10 years of complete satisfaction!
Comments: 100 percent satisfied. I have been approached with offers to switch. I turn every single one of them down. QuickBooks has proven to be to be the absolute best software for me to use in this area.
Pros:
I love QuickBooks for Non-Profits! I have used this software exclusively for the past 10 years with no problems at all. I have received numerous compliments from Board Members of the accuracy and detail I provide when it comes to our financial reports. I have been told I provide the best reports they have seen (many are members of other non-profit boards). It is all accomplished with just a few clicks and the reports printed out!
Cons:
It does take a bit of getting used to. Especially when you are first setting up the system. Once it is set up, it runs along fine. One thing to make sure of is the category of the items you are entering. Otherwise, your reports will contain mis-categorized information. Be sure to check over your reports for accuracy in that area. If identified, it is a simple fix - but you must check it over.
Intuit Response
3 years ago
Hearing that you've enjoyed using QuickBooks for so many years makes our day, Bob! We're thrilled to know that you're able to confidently present accurate data with the reports you've created without breaking a sweat. You can continue rely on us to have your back for years to come. It sounds like you're a pro, but if you ever need any assistance, we recommend checking out the Community. Here, you'll find detailed articles and advice from fellow users and QuickBooks Team members: https://community.intuit.com/ Thanks for an awesome review! Morgan, The QuickBooks Team
Ross
Office Manager in US
Consumer Services, 11-50 Employees
Used the Software for: 2+ years
Alternatives Considered:
Excellent Software
Comments: Overall my experience has been good, a few times either myself or another user has made a mistake but with the help of online and phone support we got the issue fixed in a timely manner.
Pros:
Overall the software is easy to use and robust New features have a learning curve as with most things, the online help with this is good.
Cons:
The price can be daunting for smaller businesses or even individuals
Accounting Software, Self Employed
Used the Software for: 2+ years
Questioning the value of QuickBooks Online Advanced
Comments: I kkep books on clients and myself. I do not really like it, but what else is there to use?
Pros:
The bank feeds and rules make day to day entries easier and I love the bank reconciliation product. I think it makes cients more efficient.
Cons:
The ability for cients to delete anything without questions and the fact that you are constantly changing the way we enter transactions. The apps for inventory and POS usually do not work well leading to double postings.
Fund-Raising, Self Employed
Used the Software for: 2+ years
Nice program - room for improvement but gets job done
Pros:
I appreciate all the integrations with our bank and donor software - I don't have a lot of QuickBooks training but am able to manage everything on my own.
Cons:
Customer service is terrible - call and chat features all give the run around and say a different department has to help and you end up on hold and never getting answers to important business questions. Best to have a network of other users to help you work through some problems as they come up.
Laura
Digital Strategist in US
Verified LinkedIn User
Marketing & Advertising, Self Employed
Used the Software for: 1-5 months
Alternatives Considered:
Quickbooks Online is Sleek, Professional, Easy, but Lacks Some Custom Reporting Features
Comments: Overall, Quickbooks Online can replace the accounting software of most small-to-medium businesses. It's easy to use and fast. You can use Quickbooks Online from anywhere, any device, at any time. That's a big deal. I love having the ability to browse it on my computer and then, when I need to, bring it up on my phone when I'm at the coffee shop or with a client. Intuit hit it out of the park with this app.
Pros:
The best feature is easily the sales tracking. It's easy to create quotes, turn them into sales orders, and then onto invoices. The process is easily linkable with many POS and ecommerce solutions.
Cons:
QBO lacks some of the most robust reporting features that I'm used to. This is the biggest issue with the online software.