What Is Hospitable.com?
Hospitable (formerly Smartbnb) is the property management solution that centralizes all your properties in one convenient dashboard and automates communication with guests, yet sounds totally human. Trusted by the owners and managers of 300,000+ properties in 140+ countries.
Who Uses Hospitable.com?
For rental property owners and managers using Airbnb, Booking.com, and Vrbo, who want to be more efficient and win back their time from routine tasks.
Where can Hospitable.com be deployed?
Cloud-based
On-premise
---
About the vendor
Hospitable.com
Located in Tallinn, Estonia
Founded in 2016
Hospitable.com pricing
Starting Price:
US$40.00/month
Yes, has free trial
No free version
Hospitable.com does not have a free version but does offer a free trial. Hospitable.com paid version starts at US$40.00/month.
Pricing plans
get a free trial
About the vendor
Hospitable.com
Located in Tallinn, Estonia
Founded in 2016
Hospitable.com videos and images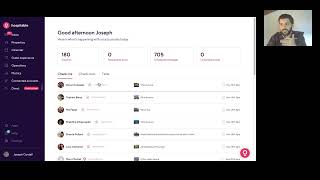 Features of Hospitable.com
CRM Software
Channel Management Software
Contact Management Software
For Vacation Rentals
Front Desk Management
Guest Communications
Guest Experience Management
Housekeeping Management
Lead Management Software
Online Booking
Rate Management
Reporting/Analytics
Reservations Management
Alternatives to Hospitable.com
Reviews of Hospitable.com
Jonathan
Founder in U.S.
Verified LinkedIn User
Computer Software, 2-10 Employees
Used the Software for: Free Trial
Phenomenal - I have tried it all - finally a company that deserves 5 stars in so many ways
Comments: This company solved most of my problems I was looking to solve by looking for a channel manager. I had created 150k/year of sales from just airbnb in just a year and new I needed to scale my biz, but I also knew I would not be able to handle more administrative work without finding a way to delegate and automate more fully. I knew I needed to scale to different marketplaces, VRBO, then flipkey, then booking.com... but knew I needed an integrative software to manage that process. I hunted and hunted, I reviewed 50 or 60 tools, pricing structures, features, claims, I tried 20 free trials, I actually set up 8 different tools, until I finally tried this one. While every other tool had a fundamental problem - profoundly over charging, taking a % of your company ( % of sales ), broken essential features like chat features ( tokeet ), broken import/export/linked listing features ( guesty )... this one didnt. Superhost tools was an exception - solid little tool for what it does, but SmartBNB does the same stuff - BETTER... specifically superhost tools automates communication - which is sometimes profoundly out of context but better then nothing, and smartBNB enables review of scheduled messages, which lets you edit them to fit to context. It literally does almost EVERYTHING I could have wanted, but BETTER. While the calendar feature needs a simple fix ( scrolling is the only workable means for that for ease of use like Airbnb ) - THIS is the app to set up and follow.
Pros:
- $7/listing - No setup costs - Enabled automation of 90% of my communications - I can review communications that are scheduled automatically BEFORE they go out - They don't want a percentage of my COMPANY to provide a killer service ( no % of sales model ) - They are under priced and over deliver - They under sell and overdeliver I have tried SO many tools!! Guesty and Tokeet were so glitchy they cost me money to try to setup. Guesty wanted $1000 just to set me up AND a PERCENTAGE OF MY COMPANY ( % of gross sales ) STAY AWAY from any company like that! Wheelhouse automated my prices, for a PERCENTAGE OF MY COMPANY - meh. Guesty promised to scale my ads and failed miserably. Tokeet's chat feature was garbage, but import/export listing feature was awesome. In the end, you can only hook up one channel manager to your airbnb account, so if your like me, you have got to decide on one at a time. I have tried 8 and reviewed 50-60... and Im done looking. SmartBNB delivered in almost every way I could have wanted. - Dirt cheap for what you get - Perfect communications channel w guests ( I am super picky ) - Seamless automated messages WITH THE ABILITY TO REVIEW THEM BEFORE THEY GO OUT - Bad Review strategies and are automated, rational, and effective - Almost instant, and intelligent customer service - Killer Documentation that actually trains you and almost never confuses you - Phenomenal - like off the charts phenomenal customer service tools.
Cons:
- The calendar viewing is weak. Its fine because you can just use Airbnbs... but to improve it guys: clicking to go to the next month? Really? You cant scroll to Jan 15th to feb 15th? Fix that. Make it scroll like airbnbs please immediately. I don't touch that, but again, its not really a point against the company because you don't actually need to use it, I can get everything from the airbnb cal with info imported via Ical from the other sites.
Colin
Owner and Co-Founder in U.S.
Hospitality, 2-10 Employees
Used the Software for: 2+ years
I couldn't have scaled from $200,000 to $2 million without Hospitable
Pros:
When I first started scaling and became a 3-home operation nearly overnight, I was really struggling to keep up with effective communication to my guests. I had dozens of note documents for each property on my iPhone for things like; Check-in instructions, the first morning follow up message, Check-out instructions, etc. I would have to copy/paste these into the messaging apps and found myself making frequent, detrimental errors such as sending check-in instructions for the wrong house to a guest. Another major challenge I was running into before Hospitable was that I couldn't travel easily or do anything that wouldn't have strong cell phone service because I always had to be available to send check-in/out messages to my guests. Hospitable solved all of this and more. After a few weeks using the platform I went from thinking I hit my ceiling at owning and operating 3 homes, to believing I could effectively manage 15 or more. Fast forward to today and my company, Good Life has grown to 8 (soon to be 9) independently owned and managed homes that are all top 10 revenue producers in their respective zip codes, all maintain a 4.9+ overall review, and gets tons of repeat renters. This simply would not be possible without the automated communication SmartBnB enables to our guests and team.
Cons:
I honestly don't have any cons to list about Hospitable. I signed up for Hospitable and had the automated messages firing to guests and my cleaning team within a few hours thanks to the smooth onboarding flow and pre-built messages that were already populated. I've been using Hospitable for a few years now and have never had issues with it not performing. The few times I've had to contact support about questions, they were lightning quick to respond. It's amazing they don't charge more for this platform, honestly.
Alternatives Considered: Hostify and Guesty
Reasons for Switching to Hospitable.com: Some of the other software takes a percentage of your gross revenue and SmartBnB charges an extremely reasonable flat-rate monthly fee. I've actually converted 3 friends from some of the other software out there after showing them Hospitable.
Andonis
Owner / Manager in Greece
Hospitality, 2-10 Employees
Used the Software for: 6-12 months
Good enough for basic needs of running a hospitality business/es
Comments: Good enough to, maybe, one day go back to it if they improved their product with at least a full booking engine for websites.
Pros:
Straight-forward (especially if you're already experienced with other similar products). It took half hour to have my first property up and running! Support is good enough (at times it can be better)!
Cons:
Lack of booking engine integration, Lack of a proper App that you can at least see availability without rotating your phone dozens of times to get a good view of the availability calendar. In fact this was one of the reasons I decided to move on..!
Alternatives Considered: Kross Booking
Reasons for Switching to Hospitable.com: It was before I had the chance to fully use and try Kross booking - Hospitable was simpler and quicker to set up!
Billie
Software Developer in U.S.
Writing & Editing, 10,000+ Employees
Used the Software for: 1-5 months
Do NOT Trust Smartbnb
Comments: Overall, it would be okay software that I would be willing to keep if I could trust the company. If I re-open my Airbnb ever, I will probably choose a different company in the future.
Pros:
This software automatically sent messages to my guests before they checked in and before they left. (Check-in and Check-out emails).
Cons:
The worst part is once you sign up, you can't automatically cancel. When you try to cancel it sends you to a customer service representative for them to try to talk you out of cancelling. If you try to just pause your subscription they try to bargain with you to make a great review, and require a screenshot of the review before agreeing to pause the subscription. This is B.S. in my eyes and makes this a VERY SHADY company. Basically the only things this software was really good for was responding immediately to inquiries. It sometimes made conversations awkward, because when potential guests asked questions, it pretends you are really answering and ignoring their questions.
smartbnb Response
2 years ago
Hi Billie, I am happy that you were a happy Smartbnb customer until you were offered a discount. We have temporarily removed the ability to cancel in self-service so that we can advise our customers on the best move forward, either pausing or cancelling their subscription, or benefitting from a discount. This is a decision we have taken so as to be able to support each of our customers throughout this crisis. Under no circumstances would the review be a requirement for a discount to be granted, or a subscription paused or cancelled. After receiving your feedback, I have made sure this was clear to the entire team. Your subscription was therefore cancelled within minutes of you reaching out. Lastly, listening to our user's feedback is an important part of our job, and feedback about the part our product does miss is something that we listen to just as well. Your critical feedback is very valuable to us because it helps us get better. Pierre-Camille Founder & CEO
Barry
Directot in New Zealand
Verified LinkedIn User
Hospitality, 2-10 Employees
Used the Software for: 1+ year
The best software out there with the easiest of setup
Comments: The support team is just amazing. Bubbly happy and just can do attitude, with personal responses, not just templated garbage that other software operators just try and fob customers off. The transparency of their roadmap and features, and allowing customers to vote for a feature or change is amazing, allowing hosts to drive the features that are needed, rather than some product manager that doesnt know what actual hosts want.
Pros:
Ease of install, nothing complicated to do and doesnt mess with you logging into the actual AirBnb if you needed to. The automation of messages and bookings has meant I can go from 2 properties to 5 with very littler additional overhead or work. I plan to get to maybe 15-20 properties before I look to hire someone, but then still be able to enjoy my own personal time
Cons:
The direct booking website was lacking, however in the last couple of months it has become par with other booking sites including AirBnb; so I cant provide a negative on this anymore
Alternatives Considered: Guesty and Lodgify
Switched From: Guesty