15 years helping Canadian businesses
choose better software
Local product
What Is Soluno?
Soluno is a cloud-based accounting and billing software designed to accelerate law firms. With a full, easy-to-use suite of time/expense entry, billing, accounting, trust, and reporting features, law firms get everything they need to master their business.
Work more efficiently and maximize productivity with Soluno's best-in-class trust accounting, billing, usability, value, and 5-star customer support.
Who Uses Soluno?
1 - 100+ users. Soluno is a scalable solution that can satisfy the needs of law firms of all sizes.
Where can Soluno be deployed?
Cloud-based
On-premise
---
About the vendor
Devlos Software
Located in Mississauga, Canada
Founded in 2014
Countries available
British Virgin Islands, Canada, Jamaica, US Virgin Islands, United States
Soluno pricing
Starting Price:
US$79.00/month
No free trial
No free version
Soluno does not have a free version and does not offer a free trial. Soluno paid version starts at US$79.00/month.
About the vendor
Devlos Software
Located in Mississauga, Canada
Founded in 2014
Countries available
British Virgin Islands, Canada, Jamaica, US Virgin Islands, United States
Soluno videos and images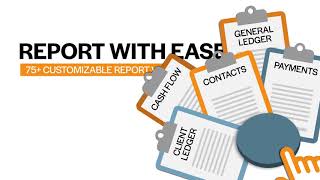 Features of Soluno
Access Controls/Permissions
Accounting Software
Accounts Payable Software
Accounts Receivable Software
Activity Dashboard
Alerts/Notifications
Approval Process Control
Archiving & Retention
Asset Accounting
Audit Trail
Bank Reconciliation
Billing & Invoicing
Budgeting/Forecasting
Calendar Sync
Case Management Software
Case Notes
Check Writing
Client Management
Client Portal
Compliance Management
Compliance Tracking
Contact Database
Contact Management Software
Core Accounting
Cross Ledger Posting
Customizable Fields
Customizable Reports
Data Import/Export
Document Classification
Document Management Software
Email Management Software
Expense Tracking
Fee Calculation & Posting
Financial Management Software
Financial Reporting Software
For Lawyers
For Legal Professionals
For Small Businesses
General Ledger
Income & Balance Sheet
Invoice Creation
Invoice Management
Invoice Processing
Legal Case Management Software
Mobile App
Multi-Location
Payroll Management
Purchase Order Management
Real Time Data
Real Time Reporting
Receipt Management
Remote Access/Control
Reporting & Statistics
Secure Data Storage
Tax Management Software
Third Party Integrations
Time & Expense Tracking
Time Tracking Software
Transaction Management
Trust Accounting Software
Workflow Management Software
Barry
Lawyer in US
Verified LinkedIn User
Law Practice, 2–10 Employees
Used the Software for: 1-5 months
Reviewer Source
Soluno has revolutionized our firm management and accounting
Comments: Everything in our experience has been top-notch and a dramatic difference from Thomson Reuters, a massively larger company than Devlos. From our first interaction with their sales force, to onboarding and importation of data, to making feature requests that are actually acted upon, the experience has been 100% positive.
Pros:
Soluno has the best of both worlds – the law firm business intelligence of a mature product like PCLaw with the freedom and convenience of a browser-based solution. I love everything about it. Here are the top reasons you should switch to Soluno too: 1) it has a well-designed user interface that is intuitive but powerful; 2) it is a sophisticated platform with billing and accounting made for attorneys, not something generic like QuickBooks that is a poor fit for lawyers; 3) incredible, fine-grained reporting on every metric you could imagine for timekeepers, firm performance and accounting; 4) surprisingly snappy performance that will convince you the server is in your office; 5) wonderful, attentive customer service, including listening to feature requests and acting on them quickly; and 6) free (depending on firm size) importation of data from our previous system. In our previous system (Firm Central + QuickBooks Online), posting a payment required five manual steps in two systems. In Soluno, it's one step that's lightning quick and will save us considerable time and hassle.
Cons:
The only thing I've noticed is that there isn't much of an online help utility, but there is a customer support widget in the corner for live chat support that is quite responsive.
Devlos Software Response
3 years ago
Hi Barry - we are so grateful for these kind words! Our team values making sure our clients feel heard and supported and we're so happy to read that our efforts have had an impact. We're excited to continue working alongside your firm and keep the revolution going!
Nicole
Office Manager in Canada
Law Practice, 11–50 Employees
Used the Software for: 1-5 months
Reviewer Source
Easy Implementation and Great Support Team
Pros:
The conversion and implementation was easy and faster than expected. Overall the software works great and our lawyers find it simple to use, including when working remotely. We had a smooth transition from our old system to Soluno without missing a beat, all of our files and their settings and history carried over so there was only a short "downtime" during the conversion. But most of all, the support team have been amazing both for the initial setup and in providing continuing support, answering questions, and finding custom solutions to meet our unique needs.
Cons:
There is some online documentation for the bigger features but there are also a lot of settings that are not covered in the how-to documents. It would be better if more documentation were available. Also, it might just be my computer but some features (payables, reports) don't work quite right in Firefox although they work fine in the Edge browser. Reports generate their totals/summaries at the bottom, so often you have to scroll a long way down to get to the totals you want to see - it's missing a "totals only" setting to prevent that.
Alternatives Considered: GhostPractice, LEAP, Clio and ESILAW 360
Reasons for Choosing Soluno: We were unhappy with our previous accounting software, because (among other reasons) it was not friendly when working remotely.
Switched From: PCLaw
Reasons for Switching to Soluno: The biggest deciding factor vs the other options was that Soluno allowed us to bring over our entire full docket history, including previously invoiced dockets, so that the entire billing history for each file is viewable in Soluno. This means we don't have to go back and consult our old accounting system to locate dockets and invoices from years ago. It was also important that Soluno handles all our accounting without needing an additional QuickBooks integration. The fact that many features, functions and reports in PCLaw are analogous to PCLaw also made the learning curve easy.
Legal Services, 11–50 Employees
Used the Software for: 1+ year
Reviewer Source
I wish I could recommend this product
Comments: Unfortunately, despite the pain of the transition from PCLaw only a year ago, I am looking for other options.
Pros:
It is an an adequate replacement for PCLaw, and functions more or less the same way. No big improvement, no big loss, but cloud based instead of client-server.
Cons:
We struggle with their support, and in particular with our needs which are higher volume, high number of matters per client, and multiple currency. None of these are particularly well supported by Soluno. We have no visibility into the product roadmap, and have recently been blindsided by changes that significant degraded the user experience for us (receiving payments before invoices generated).
Kelsey
Paralegal in Canada
Law Practice, 2–10 Employees
Used the Software for: 1+ year
Reviewer Source
Great, straightforward legal accounting software
Comments: Soluno is definitely more efficient than our previous software and is much more intuitive. Billing is a lot faster and setting up new billing templates is very easy. We mostly use it for accounting purposes so we haven't used the case or document management features. I love that it is cloud based as we do not have to complete a long install process for each new user and our remote employees can always access it with no problems.
Pros:
Really easy to use Lots of things are customizable and the support team is very open to suggestions
Cons:
Would love if there was a closed file feature so that we could remove files or have them destruct after a set period of time.
Alternatives Considered: PCLaw
Reasons for Choosing Soluno: We had been looking at switching from PC Law because they were changing their pricing structure anyways, and then we had a cyber attack that helped push us to starting fresh with better software.
Switched From: PCLaw
Reasons for Switching to Soluno: Better pricing, and we did the demo and found Soluno just a lot more user friendly.
Law Practice, 2–10 Employees
Used the Software for: 6-12 months
Reviewer Source
Exceptional product
Comments: We are finally running our back office and front office software in a piece that is intuitive and easy to learn. This saves us a lot of time and effort in operating it compared with what we used to have to do. We no longer have to pull our hair to try to do get some necessary report or run some necessary function in the software and everything is straightforward. I am really glad that we ended up with this product.
Pros:
This product is exceptional in that (i) it is very easy to use and (ii) it combines the back-office accounting and the front office so it is comprehensive and fulsome. This is why this product stands out above all others. The ease of use and the fact that it contains all back office accounting, plus the exceptional customer support from the provider, simply make this product exceptional. I should also note that the support in migrating our data from the previous software has been exceptional as well.
Cons:
There are always features that can be added and I noticed that they improved the User Interface recently.