What Is Centercode?
Centercode is the leading Customer Validation solution for gathering and prioritizing customer insights so teams can deliver market-dominating products. Enterprise and high-growth tech companies use the platform's centralized community, project, feedback, and reporting features to scale their customer testing efforts and make informed product decisions.
Who Uses Centercode?
Centercode is for businesses who are looking to bring the Voice of the Customer into every phase of product development.
Centercode Details
Centercode
Founded in 2001
Centercode pricing
Starting Price:
Not provided by vendor
Yes, has free trial
No free version
Centercode does not have a free version but does offer a free trial.
Centercode Details
Centercode
Founded in 2001
Centercode videos and images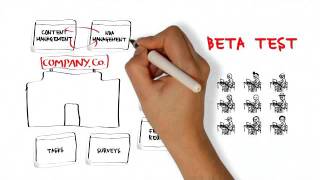 Centercode deployment and support
Support
Email/Help Desk
Knowledge Base Software
Phone Support
24/7 (Live rep)
Chat
Deployment
Cloud, SaaS, Web-based
Android (Mobile)
iPhone (Mobile)
iPad (Mobile)
Training Software
In Person
Live Online
Webinars
Documentation
Videos
T ryan A.
sr research analyst in U.S.
Verified LinkedIn User
Construction, 201-500 Employees
Used the Software for: 2+ years
Product Review
Comments: Overall I am very happy with Centercode and would recommend them to any customer research group looking to conduct Alpha, Beta, or Field testing.
Pros:
Centercode is an excellent tool that helps Bluebeam organize test participants and run multiple simultaneous customer validation projects. Being able to use data science to turn the "voice of the customer" into actionable business intelligence has made our products better and helped foster a sense of cooperation and trust between Bluebeam and our Customers.
Cons:
The administrative interface takes a while to get used to. I was a DBA for several years so the "data model" and filtering make sense to me, but for some of our design and product users the ability to review feedback has been a struggle.
Kathy D.
Senior UX/UI Designer in U.S.
Construction, 10,000+ Employees
Used the Software for: 1-5 months
Single Platform to Manage Alpha/Beta Programs
Comments: I think the positives definitely outweigh the negatives - so glad to have a single platform where I can manage, collect, and review alpha and beta feedback. Not sure how I lived without it!
Pros:
Centercode is a fantastic solution for any org wanting to run an efficient alpha or beta program - it allows you to manage the entire end-to-end process in one platform. Onboarding users is a breeze - the platform allows for surfacing of appropriate NDA's, the builds that you want the users to access, and all of the tasks that you want your users to tackle. We leverage the forums to encourage feedback and discussion from our testers, and to promote discussion between testers. Their online guides + educational materials available online a superb and super helpful.
Cons:
The overhead of setting up a project is not always intuitive - you sometimes end up digging through the various Project Tools to determine where things need to be setup. The way Centercode has determined you should gather feedback is okay 90% of the time - on the odd occasion that you need to run an alpha with a little less overhead for gathering feedback, it can be a little rigid.
Jocelyn P.
Sr. Director, Audience Research in U.S.
Computer Software, 201-500 Employees
Used the Software for: 1-5 months
Initial pilot feedback
Comments: The Centercode team was great to work with and I believe we have started to create a great foundation for our partnership moving forward. The program we piloted was challenging and we ran into some unforeseen challenges but the team remained positive, creative and committed to getting the best possible results.
Pros:
Ease of use and ability to quickly communicate to testing community to encourage engagement and gather feedback.
Cons:
For our purposes, the weekly reports seemed like a little bit of overkill but I can see where the level of detailed information would be valuable in a more 'typical' program. It would be nice if the output could be more tailored based on the program but that may be because we purchased the 'off the shelf' program initially.
Alternatives Considered: UserTesting
Reasons for Switching to Centercode: Felt it was a more comprehensive product/program with team available to ensure success. Centercode is a market leader and has great customers so this made us feel confident with our decision.
Tillmann R.
User Researcher in Germany
Music, 201-500 Employees
Used the Software for: 2+ years
Music technology is a long-term experience
Comments: Centercode is an one-stop-solution for private beta testing. There are great things about it and things that could be improved. At any time the Centercode Team will be there for you, to train or explain to you how things work. So overall it's a pretty good experience.
Pros:
Centercode helps with getting long-term feedback from a dedicated community of (private) beta participants. It's an all encompassing tool supporting our needs for: - hosting and communicating with our UR & QA communities - collecting unsolicited feedback (forums, suggestions) - collecting focused, solicited feedback (surveys, emails)
Cons:
Workflows are abstract and usually there is one, abstract way to setting something up. The IA is mostly centered around artefacts not workflows, which doesn't help. If you don't use or set up workflows all the time, you need to constantly relearn a lot. This can lead to fewer users (internal users, like designers or developers) engaging with the software. The whole user experience definitely leads to a bias in external user participation, only technically inclined people will participate actively on this platform.
Le' darien D.
Sr. Customer Experience Analyst in U.S.
Computer Software, 1,001-5,000 Employees
Used the Software for: 1+ year
A great product with even greater support
Comments: When I first began using Centercode, I had not built a relationship with their support and relied solely on the suggested methods of the people in my role before me. At that time, I was not a fan of Centercode and felt the platform was cumbersome; however, once I reached out to Centercode I learned that many of the things I was taught internally were not the right way of doing things and the support TRULY retrained me into how to work with the product. Once I removed my learned bad habits, it changed everything and I am in love with this tool and what it can do. Using this product correctly (which is a loose term, because once you know what it can do, there are so many ways you can use it) has saved me time and my company money and has improved customer engagement in testing.
Pros:
The greatest feature of the platform is the customization and custom automation. If you put in the work to seek what can be done, you will find plenty of ways to automate or simplify so many things. The support is very helpful in getting you on the right path, as well.
Cons:
My only real complaint about the platform is the process of implementing complex filters. At the time of this writing, creating a complex filter requires cycling through filtering, implementing the filter, then filtering again, etc. In speaking with Centercode, they are already in works of improving this process to be more streamlined and I am confident that will improve this.