What Is HelpDesk?
HelpDesk is an online ticketing system that simplifies your teams work. Its full of features that foster collaboration within your team. You can use tagging, add private notes, assign tickets to specific team members and create canned responses. To ensure the highest level of security, the system encrypts your data with 256bit SSL protocol. HelpDesk is designed to save your agents time and enable them to provide the highest level of customer service. Effortlessly.
Who Uses HelpDesk?
From bootstrapped startups to global enterprises, HelpDesk is suitable for all companies, regardless of their size or industry.
Where can HelpDesk be deployed?
Cloud-based
On-premise
---
About the vendor
LiveChat Software
Located in Boston, US
Founded in 2002
HelpDesk support
Phone Support
24/7 (Live rep)
Chat
HelpDesk pricing
Starting Price:
US$29.00/month
Yes, has free trial
No free version
HelpDesk does not have a free version but does offer a free trial. HelpDesk paid version starts at US$29.00/month.
Pricing plans
get a free trial
About the vendor
LiveChat Software
Located in Boston, US
Founded in 2002
HelpDesk support
Phone Support
24/7 (Live rep)
Chat
HelpDesk videos and images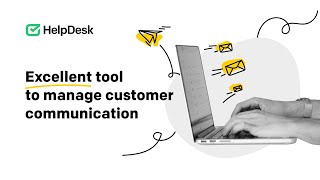 Features of HelpDesk
Activity Dashboard
Alerts / Escalation
Assignment Management
Chat/Messaging
Collaboration Tools
Complaint Monitoring
Content Management System (CMS) Software
Customer Complaint Tracking
Customer Database
Customer History
Dashboard Software
Email Management Software
Feedback Management
Interaction Tracking
Issue Auditing
Issue Tracking Software
Live Chat Software
Macros/Templated Responses
Multi-Channel Communication
Performance Metrics
Personalization Software
Reporting & Statistics
Reporting/Analytics
Routing
Self Service Portal
Support Ticket Management
Survey/Poll Management
Task Management Software
Template Management
Third Party Integrations
Ticket Management
Visual Analytics
Workflow Configuration
Workflow Management Software
Nicholas
Developer / Technical Support in US
Information Technology & Services, 2-10 Employees
Used the Software for: 6-12 months
Easy to use!
Pros:
HelpDesk is very easy to set up and start using. I find it especially helpful for some of our non-technical co-workers, compared to other support software we've used which required some extensive instructions to help onboarding coworkers.
Cons:
Certain actions can only be done using the multiple select checkbox, for example closing a single ticket either requires you to go into the ticket and update the status, or use the multiple select checkbox to close a ticket. The spam filter is also quite annoying, while it does block a lot of spam emails, we've missed quite a few non-spam tickets, resulting in upset clients.
Stephen
I.T. Assistant in US
Religious Institutions, 11-50 Employees
Used the Software for: 1-5 months
Very Useful to start a Helpdesk experience
Comments: Overall Helpdesk has been great for me to begin using a ticket system. Before we where using Helpdesk it was difficult for my team to keep track of which problems were solved and who was responsible for them, but now my agents always know what they are responsible for and they are able to see each ticket though to completion.
Pros:
Helpdesk is very easy to get started with and is extremely affordable compared to other options. It was very easy for me to already use our existing Helpdesk email address and give my agents a way to track their tickets. The software is very easy for my agents to understand and it is great that they can access it online anywhere.
Cons:
I would like to see an option for omnichannel so we can respond to customers in the medium they use to first reach out rather than always have to redirect to our support email.
Alternatives Considered: Zendesk Suite
Reasons for Switching to HelpDesk: Zendesk was way too expensive for us as a small business. They have much better features than Helpdesk, but since we are not a large scale company yet we do not need all of the features Zendesk offers and we can not afford to pay for them.
Danielle
Non-Profit Manager in US
Libraries, 2-10 Employees
Used the Software for: 1+ year
So easy you can't pass it up!
Comments: It's been a pleasure to use and has made my job so much easier!
Pros:
There is really no learning curve for using this software. From the first day you are ready to go, helping your clients, and getting feedback for your services. They are very receptive to feedback and are constantly improving the software. Love it!
Cons:
I love it!! This software is so easy to use I don't have any complaints.
Alternatives Considered: Freshdesk
Reasons for Choosing HelpDesk: The price was great and the software was much more user friendly compared to what we were using.
Reasons for Switching to HelpDesk: Price and ease of use.
Wayne
President/CEO in US
Verified LinkedIn User
Retail, Self Employed
Used the Software for: 1+ year
Source: GetApp
The best HelpDesk for small business website owners
Comments: Customer Support was hard to get a hold of through Shopify App and took over a week to get help and then was told I cannot use my HelpDesk on Shopify I would have to start over with a new account.
Pros:
Features, layout, tags, spam blocking, email signature in outgoing emails, domain verification for outgoing emails so it has our email address
Cons:
You can not integrate with Shopify unless you start a whole new account with a different domain and email then you have to start all over from scratch. Very disappointed as I have an integration with LiveChat but HelpDesk is separate for some reason in Shopify and they are the same company.
Lianne
Virtual Assistant in US
Professional Training & Coaching, 2-10 Employees
Used the Software for: 1-5 months
Helpdesk
Comments: We purchased this program to help us with ticket management, as we were handling our customer service tickets through regular email. This system does allow us to do that. However, the system is not customizable, and it is very cumbersome and clunky. I would definitely not recommend this system to anyone else.
Pros:
-- Provides an easier way to manage requests that come into our business than through regular email. -- Gives an option for writing internal notes so that agents can make private comments to one another inside tickets for background -- Keeps all our support requests in one location so they are easier to find and manage than regular email
Cons:
-- Templates / emails cannot be customized without knowledge of HTML -- Poor customer service -- we have submitted tickets as well as chatted with CS on issues that required further investigation on their end. They have told us each time they would get back to us, but they never have. If they can't resolve the issue right at that moment, we never hear from them again. -- Our automated responses that we have set up to trigger when someone submits a ticket go our to every agent, every single time someone submits a ticket. Very annoying. The automated responses also become part of the ticket thread, which makes the threads long and cumbersome. We have asked them to please shut this off, and have been told they cannot do that.
LiveChat Software Response
2 years ago
Hi Lianne, Here's Weronika from HelpDesk. Thank you for your honest review. I've read it carefully and would like you to know that it's crucial to make HelpDesk usable and meet your needs. Email templates indeed require HTML knowledge, but luckily you can always use our default template. It's ready to implement and will make your messages look professional. I'm sorry we left your message unanswered. We didn't do this on purpose. Our support heroes do their best 24/7 to answer your doubts. I'll see what happened with your ticket to make sure this never happens again. Now, the issue with automated workflows. They're designed to make your job easier, so I deeply regret that it didn't work out as expected. I'd appreciate knowing exactly how you've set them up so we can make them run in your favor. Email us directly at [email protected] to discuss the matter and reactivate your account for a month for free. I'll do my best to make your experience with HelpDesk enjoyable.