What Is Host Tools?
Host Tools is an easy-to-use full-featured channel manager with automated messaging, pricing availability syncing for Short Term Rental hosts. Improve your guest's experience and increase your 5-star reviews. Try it out for free with our 14-day free trial.
Who Uses Host Tools?
Short term rental hosts from all over the world
Where can Host Tools be deployed?
Cloud-based
On-premise
---
About the vendor
Host Tools
Located in Austin, U.S.
Founded in 2016
Countries available
United States
About the vendor
Host Tools
Located in Austin, U.S.
Founded in 2016
Countries available
United States
Host Tools videos and images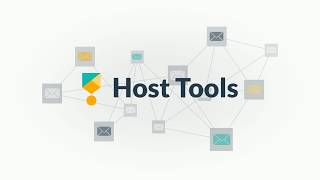 Compare Host Tools pricing with similar products
Features of Host Tools
Contact Management Software
For Vacation Rentals
Guest Communications
Guest Experience Management
Reservations Management
Alternatives to Host Tools
Kevin
Owner in U.S.
Verified LinkedIn User
Hospitality, 2-10 Employees
Used the Software for: 6-12 months
I love Host Tools!
Comments: My overall experience has been fantastic and I really appreciate how much time/effort it has saved me!
Pros:
I have multiple properties listed with both Airbnb and VRBO, Host Tools makes it very easy to sync calendars and view messages all in one site. The automation of messages was icing on the cake for me. [SENSITIVE CONTENT HIDDEN] is super responsive to any support issues/needs as well. There are always new features coming available and I look forward to taking advantage of things like lock automation.
Cons:
Sometimes there is a little bit of a lag between the Host Tools calendar synching with the Airbnb/VRBO feeds.
Ged
Property manager in U.S.
Management Consulting, 2-10 Employees
Used the Software for: 1+ year
Alternatives Considered:
Great tool for AirBnb Hosts
Comments: We think has tools is a wonderful product and are very pleased with its level of functionality in relation to the budget friendly price.
Pros:
This product has made our AirBnb hosting so much easier. We create custom messages which send at different intervals, we set up reminders for ourselves to get certain things done (such as set up door codes) based up check -in dates, we have the system send text message reminders to our cleaners on the day of check-out, and the automated reviews are fantastic. Host Tools has reduced the amount of time I spend managing these details by at least 80% and has actually made us far more organized than we would've bern otherwise
Cons:
I wish it would remote set our Yale with Nest locks and I wish I could just share my calendars with my cleaners without having to have them texted every time there's a change
Daryoosh
Professor in U.S.
Professional Training & Coaching, 2-10 Employees
Used the Software for: 2+ years
Source: SoftwareAdvice
Unreliable with poor customer support
Comments: The [SENSITIVE CONTENT] used to be very responsive through the chat window, but it's about a year or so that they either do not reply or reply with a long delay. Quite often, the response isn't helpful either. There is no phone number to call either. They increased their process for better customer service, but it worsen in practice. We're looking to move our business to a different platform.
Pros:
The pricing rules cover many combinations and flexibility, allowing one to define custom pricing based on dates and other conditions.
Cons:
Hosttools still has many bugs and occasionally causes accounts to disconnect, syncing issues, etc. For example, we have received many double bookings due to sync problems. I reposted many of the bugs to the owners over the years, but even after a few years, many haven't been fixed.
Hospitality, 2-10 Employees
Used the Software for: 1-5 months
Excellent functionality; great value!
Pros:
After trying several different programs to help automate our small boutique hotel operations, we knew after a short time with Host Tools that this was the program for us. It was clearly created by a fellow property owner and addresses our biggest concerns without unnecessary fluff. The price is fair, and we feel fortunate to have found it.
Cons:
The pricing tools are a little intimidating, and there is a bit of a learning curve all around. Not quite as intuitive as one might hope, but once you get started and learn the lingo, it's pretty user-friendly.
Hospitality, 2-10 Employees
Used the Software for: 1-5 months
Alternatives Considered:
Host Tools ⭐⭐⭐⭐⭐
Comments: Host tools makes everything continue to run perfectly, especially when I happen to not be available.
Whenever I have a question it is answered immediately! You can not beat the price point for this product.
Pros:
Automated messaging is the feature I can't live without. Works perfectly and makes everything run smooth.
Cons:
Not very mobile friendly. I run about 95% off my phone.