What Is HubSpot Service Hub?
HubSpot Service Hub is a suite of tools for growing businesses. It's easy to use and built on top of HubSpot's leading CRM. It includes everything your service team needs to support customers and grow through their success. It's free to get started and will grow with you.
HubSpot is a leading growth platform. Since 2006, we have been on a mission to make the world more inbound. Today, over 100,000 customers in more than 120 countries use HubSpot's award-winning software, services, and support.
Who Uses HubSpot Service Hub?
HubSpot Service Hub helps growing businesses build their ideal customers experience, create self service solutions, and grow through customer feedback and advocacy.
Where can HubSpot Service Hub be deployed?
Cloud-based
On-premise
---
About the vendor
HubSpot
Located in Cambridge, US
Founded in 2012
HubSpot Service Hub support
Phone Support
24/7 (Live rep)
Chat
HubSpot Service Hub pricing
Starting Price:
US$50.00/month
Yes, has free trial
Yes, has free version
HubSpot Service Hub has a free version and offers a free trial. HubSpot Service Hub paid version starts at US$50.00/month.
Pricing plans
About the vendor
HubSpot
Located in Cambridge, US
Founded in 2012
HubSpot Service Hub support
Phone Support
24/7 (Live rep)
Chat
HubSpot Service Hub videos and images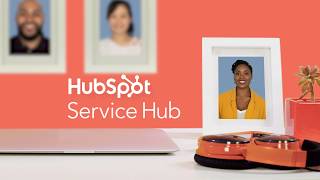 Features of HubSpot Service Hub
Access Controls/Permissions
Account Alerts
Account Management Software
Activity Dashboard
Alerts / Escalation
Alerts/Notifications
Appointment Management
Auto-Responders
Automated Routing
CRM Software
Calendar Management
Client Management
Collaboration Tools
Contact Database
Contact Management Software
Customer Database
Customer Engagement Software
Customizable Branding
Customizable Reports
Customizable Templates
Data Import/Export
Document Storage
Email Management Software
Feedback Management
Geotargeting
Health Score
Interaction Tracking
Knowledge Base Management
Knowledge Management Software
Live Chat Software
Macros/Templated Responses
Mobile Access
Multi-Channel Communication
Multi-Language
NPS of Customers
Offline Form
Onboarding Software
Performance Metrics
Pipeline Management
Prioritization
Proactive Chat
Queue Management
Real-time Consumer-facing Chat
Reporting/Analytics
Self Service Portal
Service Level Agreement (SLA) Management
Social Media Integration
Support Ticket Management
Task Management Software
Third Party Integrations
Ticket Management
Transcripts/Chat History
Transfers/Routing
Usage Tracking/Analytics
Website Visitor Tracking
Workflow Configuration
Workflow Management Software
Alternatives to HubSpot Service Hub
Reviews of HubSpot Service Hub
Sergio
Founder in Portugal
Events Services, 11-50 Employees
Used the Software for: 2+ years
Good product for HubSpot users
Pros:
Integrated with all HubSpot environment.
Cons:
Missing some funcionalities and high price.
Thierno Ousmane
Loans manager in Guinea
Banking, 501-1,000 Employees
Used the Software for: 1-5 months
HubSpot Service Hub, a good tool for a high-quality customer support.
Comments: Overall, HubSpot Service Hub is a good tool to take care of our clients and keep them. We combine taking charge of their queries and asking what could be improved in our business through the Feedback surveys function. Beyond the small and medium businesses (which once again are the most to use it), more and more big companies are using this product such as BBC, Suziki, or Airstream. So, it is a very promising product to watch. If the required update is done over time, it has the all chances to thrive in the market.
Pros:
To start, It is important to know what is HubSpot Service Hub. It is an all-in-one software kind of type, that gives companies (mostly small and medium ones) the ability to run good and fast customer service. The ergonomy of the website is well-done giving us good and fluid navigation pleasure. The things that I like the most about this software are : - The Tickets function transmits all the queries of our customers concerning issues that they may face. Each ticket opened by a customer contains a number, the customer's name, the date of its emission, the last time that the customer has been replied to, and the priority given to the case rated from low to high. This is to prioritize the cases; - The Feedback surveys function is a survey tool to enable our customers to rate us by giving their feedback. This helps us to improve our services. - The one-support inbox ability is a very efficient system when it to comes to gathering all the messages coming from different platforms; it can be from Facebook, Twitter, or emails. It is a message channeling system. - The automation system is a point that anyone should notice when using this product: From sending surveys to customers automatically once a ticket is closed, to guiding the same customers through the Chatflows function, with chat automation without us having to be online. This automation (like any other one for that matter) needs to be set in advance though.
Cons:
- The ticket system still needs some improvements. It would be better to add a time tracking, from a ticket being opened till it closed. It would give the sum up of the time used to close a case. This would help us for internal metrics purposes. - Updates must be done to better optimize the search bar and fix some small bugs.
Joshua
Director of WIX in US
Marketing & Advertising, 11-50 Employees
Used the Software for: 6-12 months
A great way to manage support tickets!
Comments: Overall, once we got past set up, it has really streamlined our support processes! Would recommend.
Pros:
I love how easy it is to manage tickets. Tickets come in through our website and our support team is automatically notified, the tickets are assigned a team member and populated on a nice workflow so no request falls through the cracks. Roping in team members is easy for behind the scenes communication and the analytics are really cool how they track monthly tickets closed, tickets closed by team members, how long it takes to close tickets on avg, etc.
Cons:
Set up can really tricky. We had to hire a 3rd party team that met with our team and walked us through set up. With the potential for all the hubspot offers, there is some complexity.
Alternatives Considered: Zendesk Suite
Reasons for Choosing HubSpot Service Hub: We still use monday.com for task tracking but for service related tickets, hubspot is just much more powerful.
Switched From: monday.com
Reasons for Switching to HubSpot Service Hub: Hubspot seemed more powerful and trusted.
Consie
Business Development Executive and Sales Coordinator in Australia
Building Materials, 11-50 Employees
Used the Software for: 2+ years
Ticketing
Comments: Overall, the ticketing in the service hub is what i would like to acknowledge. This is very time savvy, and helps coordinate the workload of the team. It is viewable by everyone and each team player is held accountable for the turn around of their work. In our business we have a response time of 24-48 hours, and the tickets just show you the details you need to know and the whereabouts of that response. This is essential for the front of house team to be able to relay to the client at any given moment and any team member can do this.
Pros:
I use this software daily and the most part of my job i am using the service hub. This mainly consists of the use of tickets that enable team members to have a solid view of the workload as well as the general outer team can see. I like most about this software that every move can be held accountable, someone is responsible for everything that goes in there and it makes everyone work as a team.
Cons:
Some more automation would be good, i guess it is somewhat hard given the details it pulls. But when it automatically pulls information that you know you have changed, this can sometimes be very frustrating and also can cause contacts/ companies to associate more 10,000 engagements very fast and overfill the CRM very fast.
Brigitte
Operations Coordinator in US
E-Learning, 11-50 Employees
Used the Software for: 1-5 months
Great choice for scaling up your Support Teams
Comments: I have really appreciated the Customer Support provided by HubSpot; they are quick to find resolutions to problems, and their support team is courteous and friendly. The ease of use of the product, despite some shortcomings, will allow our Support team to automate more and scale up faster and more effectively.
Pros:
I love how convenient it is to make filters to see your tickets, change the status or update ticket fields, add "Snippets" for responses frequently used, and how easily conversations are looped together without creating duplicate tickets. Even duplicate tickets can be merged together seamlessly! I also love how easy it was to create and edit a "Contact Us" form, along with creating the workflow for the response email. It really gives us the power to do more with fewer technical skills needed.
Cons:
I would like for them to improve how companies are added to inbound customers who may not already be in the CRM; it is harder to automate/add to pipelines, as we are a B2B company, and the users of our product are most often not already in the CRM. I would also love to be able to edit the email content previous to my responses; oftentimes our Client Success Managers will send emails forwarding a request from a customer, and I have to copy the previous email sent to exclude the instructions from the CSM. It takes a little extra time. The other item I would like to be able to do is to paste small excel tables into the body of an email; I've had to switch to attaching the excel documents or reformatting the content to be in the style of bullets.
Alternatives Considered: JIRA Service Management and Zendesk Suite
Reasons for Choosing HubSpot Service Hub: Salesforce was limited in its ability to merge duplicate tickets, use shortcuts with variable tags for easy responses, and did not provide any timers (the only one they have is created by an unsupported 3rd party developer) in order to report on Support efficiency. It took forever to update fields, and it was absolutely not scalable.
Switched From: Salesforce Service Cloud
Reasons for Switching to HubSpot Service Hub: We chose HubSpot for the features available that Zendesk and Jira did not provide. Jira especially was convoluted and not easily set up; I felt like I needed a skilled developer in order to set up Jira to its fullest capacity, and I have not felt that way with HubSpot for sure!