15 years helping Canadian businesses
choose better software
Local product
What Is uxpertise LMS?
uxpertise LMS provides an intuitive experience for all. Easily manage and automate training. Customize the platform to your image and benefit from flexible parameters. Streamline registration, notifications, invoicing and certification. Create asynchronous, synchronous and blended learning activities effortlessly. Control visibility by offering public, restricted or private training. Monitor and track everything in real-time from one hub. Easily connect to other systems with our API or Zapier.
Who Uses uxpertise LMS?
uxpertise LMS is ideal for employee training, training centers and professional associations.
Where can uxpertise LMS be deployed?
Cloud-based
On-premise
---
About the vendor
uxpertise
Located in Longueuil, Canada
Founded in 2016
Languages
English, French
uxpertise LMS pricing
Starting Price:
uxpertise LMS does not have a free version.
Pricing plans
About the vendor
uxpertise
Located in Longueuil, Canada
Founded in 2016
Languages
English, French
uxpertise LMS videos and images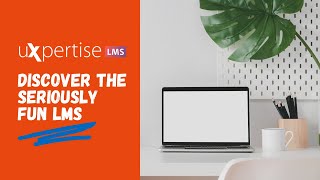 Features of uxpertise LMS
Activity Dashboard
Alerts/Notifications
Asynchronous Learning
Blended Learning
Built-in Course Authoring
Certification & Licensing
Certification Expiry Tracking
Certification Management
Compliance Management
Content Library
Course Management
Course Tracking
Customizable Branding
Feedback Management
Gamification Software
Goal Setting/Tracking
Interactive Content
Leaderboards
Learner Portal
Learning Management
Learning Paths/Tracks
Mobile Learning Software
Performance Metrics
Progress Tracking
Reminders
Reporting & Statistics
Reporting/Analytics
Rewards Management
SCORM Compliance
Self-Learning
Synchronous Learning
Tests/Assessments
Training Management
User Management
Alternatives to uxpertise LMS
Matthieu
Interactive Designer in Canada
Verified LinkedIn User
E-Learning, 11–50 Employees
Used the Software for: 6-12 months
Reviewer Source
Solid and easy to use
Pros:
I used the platform as someone who attended a course as well as an administrator for a course. It's easy to use for the vast majority of the time. Anyone that uses Uxpertise as a learner will easily find his/her class and can pick it back up from where he/she left it if the class wasn't finished in one session. As an administrator, the platform lets you have a lot of control over what parameters you want to set for your project and allows you to receive a solid amount of information about who did the course and how they performed.
Cons:
Although easy to use, on the administrator side, there is a lot of stuff to know. It takes a little while to know everything functionality that is available to you, but I feel like it's worth it.
Karol
Talent Development in Canada
Logistics & Supply Chain, 1,001–5,000 Employees
Used the Software for: 1+ year
Reviewer Source
Good LMS overall + small improvements would make it great
Comments: Good experience overall but more simplicity & ergonomy with user management would be appreciated.
- delete a course from a user profile even if it's already opened
- download our main report easily (1000+ users) without asking customer service
- upload list of new user directly
- opportunity to send reminders emails to groups
- not having to switch from enrollment management to user management all the time to create and manage accounts
Pros:
I like that the system tells me if I am creating duplicates.
Cons:
To switch a user to another group, you have to create the account in the new group and then get back to the other group to delete the account from it.
uxpertise Response
2 years ago
Happy to know that you enjoy using uxpertise LMS :) We appreciate your feedback, and we will be bringing updates to groups management in the year to come. However, a user who already exists in the system does not have to be deleted, you can add the user to the new group by searching your list of current users in the platform. If you remove a user from a group, it won't delete it in the platform, so no worries. If you have any questions, please contact our support team. Thank you for your continued support, we are delighted to have you as a client!
Sanya
Administrative assistant in Canada
Security & Investigations, 11–50 Employees
Used the Software for: 1-5 months
Reviewer Source
Hi
Pros:
Easy to navigate in the software, lots of guides to help you understand with lots of picture of the software
Cons:
If you don't use it weekly, at least, some part of the software are easy to forget
uxpertise Response
2 years ago
Hi Sanya, Thank you for taking the time to leave your review. We are happy that you find the guides useful and the platform easy to navigate. We would love to know more about which part of the platform are easy to forget in your opinion. Please send email with your feedback to our support team.
François
Director in Canada
Government Administration, 201–500 Employees
Used the Software for: 2+ years
Reviewer Source
True all in one business solution
Pros:
uxpertise is a true all in one business solution for our institute. This LMS allows us to promote more than 60 online and in class training and manage more than 80 trainers. We have all we need to receive payments, register people or employees and promote any activities. Using uxpertise we can build tests, exams, surveys and rewards learners with badges and certificates.
Cons:
Few minor and temporary problems occurred while uxpertise pushed new useful features. Support is very efficient.
uxpertise Response
2 years ago
We are glad that you appreciate your experience with uxpertise LMS and our team. We have put in place a thorough process to ensure new features are released without any bugs. Of course, if there are issues, it is our priority to quickly and efficiently fix it.
Eddy
Chargé de la logistique de formations in Canada
Civic & Social Organization, 11–50 Employees
Used the Software for: 1+ year
Reviewer Source
Uxpertise reviews
Comments: Overall, I enjoy using Uxpertise LMS
Pros:
The course design The registration process
Cons:
The billing process The reporting features
uxpertise Response
2 years ago
Thank you for taking the time to leave your feedback. We are happy that your overall experience with uxpertise LMS and the team is good. uxpertise LMS has several advanced reports along with a dashboard with several metrics. We also strive to provide a simple and easy billing process. Our team would like to make sure you have a great experience on all aspects of the service. We will be in touch to clarify certain features and processes.