NCR Silver
What Is NCR Silver?
NCR Silver delivers value beyond the point of sale to help businesses of all sizes drive success. Along with an easy-to-use tablet point of sale, the NCR Silver suite of cloud-based tools delivers
Read more
actionable insights, multi-site capabilities, customer engagement tools and business management resources, all available at your fingertips.
Read less
Who Uses NCR Silver?
We serve entrepreneurs and growing enterprises in over 130 different business verticals such as retail, restaurants, pubs, frozen treats, and more.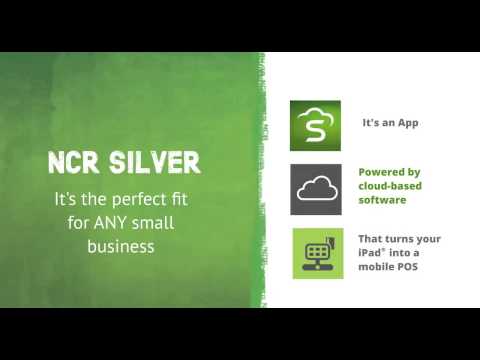 Not sure about NCR Silver? Compare with a popular alternative
Not available in your country
Alternatives to NCR Silver
Verified Reviewer
Director of Marketing & Events in US
Verified LinkedIn User
Retail, 11-50 Employees
Used the Software for: 2+ years
iPad POS that includes marketing tools!
Pros:
Having email templates included was huge for us. Customer data integrates with emails, allowing us to segment our customers and send personalized deals.
Cons:
Email templates are not as attractive as something like MailChimp, so a working knowledge of html coding can help make them more appealing
Wendy
General Manager in US
Retail, 11-50 Employees
Used the Software for: 2+ years
NCR Silver meets our multi store needs
Pros:
This cloud based system met the majority of our needs when I began searching for a new POS system when our retail store was adding a second location. I was looking for a system that could be accessed remotely, share information between the locations and could grow as our store grows. The 24/7 Customer Service is reliable and accessible. Most times, a single phone call is all it takes to resolve a problem.
Cons:
The biggest drawback was discovered shortly after we began installation. We were told during the sales pitch that our system of alpha numeric sku numbers would easily transfer to NCR silver. The use of the bar code scanners and ticketing system would be simple process. This was not the case. We have to manually key in the alpha numeric sku numbers which is much more time consuming the scanning. Four years later, we have of course adapted.
Retail, 2-10 Employees
Used the Software for: 1+ year
Some very good pros, and some pretty frustrating cons
Comments: Overall I would still use this system even if we weren't required to by the franchise. Partly because I wouldn't want to have to deal with switching over to a new system, but also because every system has its own issues and I don't think there are any other solutions out there that are better than this, at least in the price range of a small business. I believe NCR is working to fix the issues, at least, and I like the feel of the system. I would appreciate a little more transparency about issues that could affect reporting of sales data or processing of credit card transactions.
Pros:
The software is easy to use and relatively intuitive; new employees pick up the POS system quickly. The developers have been gradually adding desired functions that have been great improvements, and I imagine they will continue to do so. While some of the other stores in our franchise have complained about not being able to reach customer support in a timely manner, I myself have always been able to get through to them quickly and they are always helpful in working through issues.
Cons:
When the software has an issue, it tends to not be a small one. Also, it seems like NCR will work on fixing the issue but not let everyone know that there WAS an issue, even when it may affect your reporting of sales. For example, there have been software glitches where the over/short number for the registers was not getting recorded by NCR. We only discovered this because another store in our franchise figured it out and reported it. I never saw any communication from NCR letting people know about it, the issue was just resolved quietly a while later. Plus, almost every time there is an update, there are usually major issues with functionality for about the next week that can affect the ability to process transactions. The software/hardware interface has some issues as well.
Retail, 2-10 Employees
Used the Software for: 2+ years
Payment reporting inhancement
Comments: Our overall experience with Silver has been great. We have recommended this product to several colleagues.
Pros:
This software is very easy to use and set-up. There are a lot of helpful reports you can run. I like that you can view your business activity remotely from your smart phone.
Cons:
When there is a problem it is sometimes difficult for customer support to fix the problem until the next update. This is frustrating because you are left to wait up to three months or more.
Restaurants, 2-10 Employees
Used the Software for: 2+ years
Alternatives Considered:
Originally a great product, now not so much
Comments: I do not utilize ALL the functionalities because I am a bakery not a restaurant so I would like to be able to get a "cheaper" version so I am able to get the most for my money. In the last few months customer service is almost impossible to get answers from and they no longer have the concierge system where I have a specific customer service agent that helps. Its very frustrating to wait on hold and then get told that I am calling the wrong numbers when the website for help clearly states to call certain numbers for assistance. Overall, customer service needs help.
Pros:
I liked the ease of set up of this product as well as the ability to run categorical reports. I also like the ability to use this as a time clock system too!
Cons:
I would like to see a way to customize each category more, I sell cupcakes, I would like an option for more specific categories and options.