Local product
What Is Weever?
Weever is a comprehensive Workflow Management Platform that enables digital transformation towards the ultimate goal of Operational Excellence.
Starting at $199/month for unlimited users per site, Weever has a tailored solution to suit all unique requirements.
Weever's highly intuitive platform dramatically improves visibility, accountability, engagement and efficiency through enhanced digital data capture, accelerated workflow & project management, and insightful, real-time reporting.
Who Uses Weever?
We work with organizations of all shapes and sizes who are frustrated with paper forms and spreadsheets. They want to save money, become more efficient, and spend their time more wisely.
Where can Weever be deployed?
Cloud-based
On-premise
---
About the vendor
Weever
Located in Hamilton, Canada
Founded in 2011
Weever pricing
Starting Price:
US$199.00/month
Yes, has free trial
No free version
Weever does not have a free version but does offer a free trial. Weever paid version starts at US$199.00/month.
Pricing plans
get a free trial
About the vendor
Weever
Located in Hamilton, Canada
Founded in 2011
Weever videos and images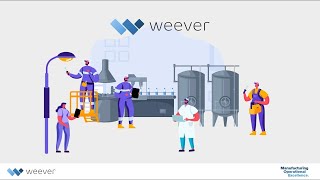 Features of Weever
Access Controls/Permissions
Accident Investigation
Accounting Integration
Approval Process Control
Archiving & Retention
Audit Management
Autofill
Barcode / Ticket Scanning
Business Process Automation
Calendar Management
Change Management Software
Collaboration Tools
Communications Management
Complaint Management Software
Compliance Management
Compliance Tracking
Corrective and Preventive Actions (CAPA)
Cost-to-Completion Tracking
Course Management
Customizable Templates
Document Coding & Control
Document Management Software
Drag & Drop
Electronic Signature
Equipment Management
File Sharing Software
File Storage
Forms Creation & Design
Forms Management
Graphical Workflow Editor
Image Capture
Incident Management Software
Incident Reporting
Inspection Management
Maintenance Management Software
Mobile Access
Mobile Learning Software
OSHA Recordkeeping
Occupational Health Management
Order Management Software
Percent-Complete Tracking
Process/Workflow Automation
Project Planning/Scheduling
Quality Management Software
Quotes/Estimates
Report Templates
Reporting/Analytics
Reporting/Project Tracking
Resource Management Software
Risk Assessment
Risk Management Software
Task Management Software
Third Party Integrations
Traceability
Training Administration
Training Management
Version Control
Workflow Configuration
Verified Reviewer
Manager Infection Prevention and Outpatients in Canada
Verified LinkedIn User
Hospital & Health Care, 1,001-5,000 Employees
Used the Software for: 2+ years
Auditing App
Comments: We use the tool all of the time and is an effective way for us to communicate any issues with clinical managers. It works for outbreak prevention and management when an outbreak occurs.
Pros:
This software has allowed my team to complete audits and send professional reports with pictures and comments in a timely manner. The reports are so much more professional looking then a paper tool
Cons:
It relies on a wifi connection which can sometimes be spotty
Weever Apps Response
4 years ago
Thank you very much for your review. We are glad you are enjoying Inspections Manager.
Food Production, 10,000+ Employees
Used the Software for: 6-12 months
Simple and effective
Comments: This is a great product that has streamlined our work systems and has been a huge success at all levels of operation.
Pros:
This software is extremely easy and simple from the users standpoint. It makes conducting checks, submitting forms, and annotating abnormalities extremely easy for operators. The ease of use made it easy to transition and immediately integrate in our plant.
Cons:
Overall the software is great. What few issues we've had have been addressed quickly. They have also taken several of our Improvement requests and created the function we've asked for.
Lays
Physiotherapist in Brazil
Verified LinkedIn User
Hospital & Health Care, 2-10 Employees
Used the Software for: 1-5 months
Quality in evolution
Pros:
Helped to improve employee engagement in the aspects of agility in the delivery of reports, accurate forms, action projects, and development in the company's billing.
Cons:
The functionality and scope of the software were compromised by limiting use only to the web system, thus increasing the investment cost.
Weever Response
5 months ago
Hi Lays - Are you sure that Weever is the product you want to review? Is this review an error? We do not currently have any customers who are physiotherapists.
Verified Reviewer
Supply Excellence Manager in US
Verified LinkedIn User
Food Production, 10,000+ Employees
Used the Software for: 1+ year
Weever Forms Has Simplified Data Capture
Comments: Positive receptiveness of the Factory, quick adoption, integrated into our daily management systems.
Pros:
Prior to Weever, we collected the majority of our information through physical paper. This was cumbersome, slow, and often difficult to read. The administrative task of capturing this information in an actionable format (often through manual conversion to MSFT Excel) was incredibly time consuming. Due to this barrier, we often not do anything with the paper forms. Because we could not easily action against this information, it would often disengage our Team Members. After transitioning the vast majority of our paper forms to Weever Forms, our ability to digest this data has increased immensely. We no long lose time on administrative tasks such a transcribing paper forms. Due to this, we can easily action against data that is being inputted through Weever Forms. Lastly, the ability to connect to Weever via PowerBI has opened up a whole new avenue for drilling into data.
Cons:
Nothing immediately comes to mind. I've only had to contact Weever support once due to a service outage and the response was immediate and the fix occurred quickly during "off hours".
Michael
Training Coordinator in Mexico
Food Production, 201-500 Employees
Used the Software for: 2+ years
How Weever helped us manage our factory in the COVID 19 crisis.
Comments: We have been able categorize waste more efficiently through a waste report generated each shift. We have developed more rigorous Cleaning and Inspection logs for our operators and managers. This has helped to significantly reduce the amount of contaminated product due to improper cleaning. There are so many avenues where Weever can have a significant impact on the efficiency of our business.
Pros:
It was a no-brainer to use Weever for COVID-19 factory inspections. We were able to delineate where and what needed to be sanitized. All areas of the plant could be put on one form to be reviewed by management for compliance. I cannot imagine how we would have accomplished this using paper forms. It was a great fit!
Cons:
Complex forms can be slow to download. And, slow does promote use of the product. I wish that there was a shared knowledge base that would detail how different industries created different forms. I am sure that I have been guilty of reinventing the wheel many times. This is not a fault in the software. I just would like to see a better sharing platform.