What Is CloudTalk?
CloudTalk is a VoIP phone system built for modern companies. Over 2,500 businesses — including DHL, Yves Rocher and Glovo — rely on CloudTalk for its superior call quality and unparalleled range of features. Make things easier for your sales and customer support teams with 70+ advanced calling features and easy-to-setup integrations with your existing Helpdesk, CRM and eCommerce systems. It's the perfect phone system for mid-sized companies looking to grow. Try a 14-day trial, absolutely FREE.
Who Uses CloudTalk?
CloudTalk is the perfect phone system for mid-sized companies looking to grow. Typically, it's used in sales for outbound calls and in customer service for inbound calls.
Where can CloudTalk be deployed?
Cloud-based
On-premise
---
About the vendor
CloudTalk
Located in New York City, U.S.
Founded in 2016
CloudTalk support
Phone Support
24/7 (Live rep)
Chat
About the vendor
CloudTalk
Located in New York City, U.S.
Founded in 2016
CloudTalk support
Phone Support
24/7 (Live rep)
Chat
CloudTalk videos and images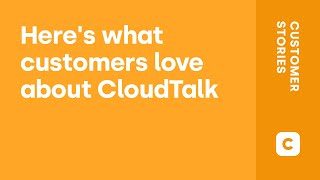 Compare CloudTalk pricing with similar products
Features of CloudTalk
API
Activity Dashboard
Agent Interface
Alerts/Notifications
Archiving & Retention
Audio / Video Conferencing
Auto-Dialer
Automated Attendant
Automated Routing
Automatic Call Distribution
By-Extension Reporting
CRM Software
Call Center Management
Call Conferencing
Call Disposition
Call Duration
Call List Management
Call Logging
Call Monitoring
Call Recording Software
Call Reporting
Call Routing
Call Screening
Call Scripting
Call Tracking Metrics
Call Tracking Software
Call Transcription
Call Transfer
Callback Scheduling
Caller ID
Caller Profiles
Campaign Management Software
Collaboration Tools
Communication Management
Computer Telephony Integration
Conferencing
Contact Management Software
Conversion Tracking
Customer Experience Management
Customizable Reports
Employee Coaching Tools
Feedback Management
File Transfer
For Cloud Phone Systems
For Small Businesses
IVR / Voice Recognition
Inbound Reporting
Interaction Tracking
KPI Monitoring
Keyword Tracking
List Management
Mobile Access
Multi-Channel Communication
Multiple Scripts
On-Demand Recording
Online Voice Transmission
Outbound Reporting
PBX
Phone Key Input
Power Dialer
Predictive Dialer Software
Process/Workflow Automation
Quality Management Software
Queue Management
Real Time Analytics
Real Time Monitoring
Real Time Reporting
Recording
Reporting/Analytics
Ring Groups
Role-Based Permissions
SIP Trunking
SMS Messaging
Survey/Poll Management
Text to Speech
Third Party Integrations
Unattended Call Management
Unified Communications Software
Virtual Extensions
VoIP Connection
Voice Customization
Voice Mail
Voicemail Transcription
Who Answered Log
Alternatives to CloudTalk
Eyituoyo
Linux System Admin in Nigeria
Verified LinkedIn User
Information Technology & Services, 2-10 Employees
Used the Software for: Free Trial
intruitive for Both Admins and Users
Comments: There are few companies that earn our respect in both terms of service and after-sales support and Cloudtalk has really impressed us. We see ourselves doing business with them for the foreseeable future.
Pros:
One of the most difficult issues with adapting to new software is not just getting the administrators to like and accept the software but to also get the final users of the solutions (support team) to use it with minimal setup and a short learning cycle. It was so easy for staff to make use of it right out of the box that we were running literally within minutes. Also as a Systems Administrator, nothing is better than having a clean interface to work with, you get a quick summary right on your dashboard and any function or feature you need is within easy reach. Plus with the support staff helping to iron out any and all issues that pop up, which was very few (was mostly our fault - a bad internet), we were more than happy having it as our default solution moving forward.
Cons:
For now, I don't think there is anything negative I have to say about Cloudtalk. Would love to pick a number from a selection but that's not a con.
Victor
Customer service developer in Finland
Accounting Software, 2-10 Employees
Used the Software for: 1-5 months
Alternatives Considered:
Well functioning and good integration with HubSpot
Comments: We are able to better document our communication with customers in HubSpot. We are able to get more data on our communication
Pros:
Integration with HubSpot allows for all of the information to be documented in HubSpot. This allows for recording calls on tickets and getting call analytics for the reports dashboard in Hubspot
Cons:
The customer service was sometimes slow to respond or did not have answers for my questions. We have encountered some bugs with the service but they have not been critical and were fixed very quickly after giving information.
Verified Reviewer
customer service, sales in Jamaica
Verified LinkedIn User
Consumer Services, 201-500 Employees
Used the Software for: 1+ year
Fairly good dialer
Comments: was fairly good
Pros:
have great call recording feature which makes it easy to find a previous call
Cons:
glitches at times , does not show you who you miss a call from just tells you that you have missed a call.
Entertainment, 2-10 Employees
Used the Software for: 6-12 months
Looks good from a distance, but they're a mess internally
Pros:
The idea of the software being able to tie remote-access cell phones together is wonderful, but not fully fleshed out. Their IVR interface seems great on the webpage, but it often glitches, and calls just get dumped to a voicemail void with no message.
Cons:
CloudTalk is a young system that promises more than it can deliver. They offer apps for all sorts of connection points, and integrated systems for automation... but once you get signed up, you learn that most of it is beta software and it's SUPER glitchy. The marketing team is propping up a half-built software system. The iPhone and Desktop apps do not work reliably (if-at-all). The Phone app cannot transfer calls or take SMS messages properly. It often just quits in the background on your phone so you don't even know that your phone cannot receive calls. The system also drops entire call processes and never lets you know that someone tried to call. I've tried calling our own office phone and not been able to get through to my own desk through cloudtalk. Their support chat service says "average response time is 5 minutes" but it usually is 2-4 hours, or a couple days. No explanation why. They REFUSE to get on the phone to solve issues unless you pay 2x as much for an Expert account, which is just a sign that they do not care about anyone but their premium customers. They will NOT go out of their way to help you. I had a lot of faith in this company when we first saw a demo of CloudTalk, and thought that it would be perfect for us, but they just put too many roadblocks in the way for us to continue using their service. I don't feel like a valued customer, and I don't see any improvement in a year.
Stefan
Sales Manager in Germany
Verified LinkedIn User
Marketing & Advertising, 2-10 Employees
Used the Software for: 1-5 months
Alternatives Considered:
CloudTalk offers the best solution to our small team
Comments: With CloudTalk we are solving the cold outreach via phone to potentially interested customers. The benefits of the software are: Monthly payable (no annual membership required), great customer support(!), intuitive handling and easy to use. Plus, CloudTalk works very well with most existing CRMs.
Pros:
The most incredible feature about CloudTalk is the function to autorecord convesations and to integrate them into our current CRM (we are using HubSpot). This is very convenient when reaching out to potential clients once again after several days or even weeks have passed because I can always go back into the frame and the vibe of the previous call and seamlessly go on to the next.
Cons:
There is nothing in particular that comes to mind. Maybe the call prices per minute are a little higher than for other cloud telephone systems.