What Is Kandji?
We're Kandji: the Apple device management and security platform that empowers secure and productive global work. Through advanced automation and thoughtful experiences, we're bringing much-needed harmony to the way admins, end-users, and global teams work today and tomorrow.
Who Uses Kandji?
Kandji is created for IT teams at medium to large size businesses that run on Apple devices.
Where can Kandji be deployed?
Cloud-based
On-premise
---
About the vendor
Kandji
Located in San Diego, US
Founded in 2018
Kandji pricing
Starting Price:
Yes, has free trial
No free version
Kandji does not have a free version but does offer a free trial.
Pricing plans
get a free trial
About the vendor
Kandji
Located in San Diego, US
Founded in 2018
Kandji videos and images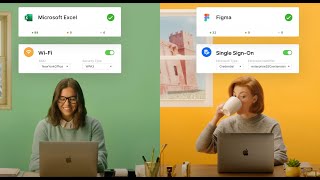 Features of Kandji
Access Controls/Permissions
Activity Dashboard
Activity Tracking
Alerts/Notifications
App Management
Application Security
Asset Tracking Software
Automatic Patch Deployment
Automatic Scans
Automatic User/Device Recognition
Compliance Management
Compliance Tracking
Configuration Management
Customization
Data Management Software
Data Security
Deployment Management
Device Management
Endpoint Management
IT Asset Management Software
IT Reporting
Inventory Management Software
Issue Auditing
Mobile Access
Mobile Device Management Software
Patch Management Software
Policy Management Software
Process/Workflow Automation
Real Time Monitoring
Real Time Notifications
Real-time Alerts
Remediation Management
Remote Access/Control
Remote Monitoring & Management
Reporting/Analytics
Security Management
Self Service Portal
Software Management
Synchronization Scheduling
Threat Intelligence
Usage Tracking/Analytics
User Management
Vulnerability Scanning
Jason
Chief Operating Officer in US
Verified LinkedIn User
Computer Software, 11-50 Employees
Used the Software for: 1-5 months
The best Mac management solution
Comments: I have a fleet of 35 Macs used by developers, designers, QA and administrative staff at our custom software development company. My users are very savvy and self-supporting, but we needed to be able to certify to our clients that our endpoints were secure: storage encryption enabled, software up-to-date, and common vectors for attacks closed up. Kandji lets me enforce and monitor those things and many other best practices that save us from downtime, which costs billable hours. Their support has been phenomenal, even going so far as to give me recommendations when I ask about their experiences with antivirus, Wi-Fi management, and the like.
Pros:
I love their common-sense approach to everything. Their solutions feel less hacky than other providers I tried and they seem to be very in-tune with Apple. They clearly spent a decade or more managing Macs the hard way so they know how to make it easy for me, an operations person who wears many hats.
Cons:
I just have one feature request, and that's for Blueprints to be able to inherit from one another. Right now all you can do is copy. They're considering implementing it, which I imagine isn't trivial.
Alternatives Considered: Hexnode UEM, Cisco Meraki, Jamf Pro, Fleetsmith and SimpleMDM
Reasons for Choosing Kandji: Rippling's hardware management was too simple and too brittle. We weren't using Rippling's payroll or HR functions, so it made sense to switch to a solution tailor-made for Mac management.
Switched From: Rippling
Reasons for Switching to Kandji: During my free trial, everything just made sense, the help documentation was thorough, and when it wasn't sufficient, support staff were extremely helpful and stuck with me until I had a solution.
Manuela
IT Administrator in Canada
Computer Software, 201-500 Employees
Used the Software for: 1-5 months
Kandji - Making Mac Device Management Easy!
Comments: I've had a really amazing experience. I actually reached out to Kandji about 6 months before I purchased the product as I was building the business case and my Sales Support Member was checking in with in the right increments, when I finally did pull the trigger he didn't even mention how long it took me to purchase (I also 90% of the time responded to his emails and updated him on whats going on). I went on the trail and had calls with sales and a support engineer to answer any questions I wasn't able to find answers for, look at my space and give me feedback and suggestions. I would recommend coming to those meetings prepared so you can get the most out them. With in a month the space was set up and I had a warm hand off to my Customer Success Manager, we had a call and they also looked at my space and when I asked "Now how would you suggest I get 200 people to enrol this on their machines" they shared how other customers do this and I felt really set up. I get regular check ins from my CSM, and the support team continues to be a great help. 5 Star review.
Pros:
I love how easy it is to use and understand. To make changes is a breeze and their support team is TOP NOTCH. I've always gotten quick, personable & knowledgeable support. I like that the software is similar in how you would use as Mac - very intuitive and the interface is so beautifully simplistic.
Cons:
There isn't anything that really bothers me. I've had some challenges for sure, but when I reach out to support they always find the answer, even if they don't have the answer in the chat they get back to me via email in a reasonable amount of time based on the urgency of the issue.
Alternatives Considered: Hexnode UEM, JumpCloud Directory Platform, Jamf Pro and Mosyle Business
Reasons for Switching to Kandji: Looking at the other managers, I found their interface to have "outdated" language. What I mean is you know when you have a multipul choice quiz, and the answers/ questions are phrased in way that is meant to confuse that - thats what I mean about "outdated" language. IT doesn't need to be complicated, and we should be able to move with the times and make the language simple for everyone to be able to understand. Navigating Kanji was also the easiest - just the right amount of menus. When I think about expanding IT, I'm confident I can hire someone who has NO experience using a device manager and they will be able to lean Kandji very quickly.
Matthew
Manager, IT & Facilities in US
Biotechnology, 51-200 Employees
Used the Software for: 6-12 months
Kandji over other Apple MDM's; a definite win
Comments: We moved from Cisco Meraki to this product after evaluating all items on the market and found the support, ease of use and technical expertise far superior. We are constantly making improvements to our zero touch environment as well as protecting assets we currently own.
Pros:
Support, granularity of blueprints and the ability to add software as we see fit
Cons:
Cost (but you get what you pay for). I know its cliché but we really love the product itself.
Chris
System Administrator in Germany
Investment Management Software, 501-1,000 Employees
Used the Software for: 1-5 months
Kandji
Pros:
Like the automatic patching features, but the ability to enforce updates sooner, such as immediately when it comes to security patches would be great.
Cons:
Cannot deploy specific software for 1-10 users without having to create an entire new blueprint and this can get out of control very quickly.
Thomas
IT Operations Manager in US
Computer Software, 11-50 Employees
Used the Software for: 1-5 months
Hiro Systems Kandji Review
Comments: Kandji is solving problems for me twofold. Administrator Side:
On the administrator side of things, as a previous user of Jamf, AirWatch, and Mosyle-- they're just terrible. You need to do a lot of research, have someone walk you through them whose done it before and at the very worst, spend time getting certified. In IT, we don't have a lot of time to spend and to spend that having to deeply learn/understand a platform to get it to do what we need is just not as acceptable in todays fast moving world. I was able to experience a Kandji Demo, and then literally after the demo build out my MDM solution in less than 30 minutes using the Library and Blueprint features in Kandji. I was absolutely in disbelief, I couldn't stop thinking that I somehow screwed something up because it was too fast. I set up an instance, built it out, fine-tuned it, and was up and testing deployment on my test computer in less than an hour. And like I mentioned before, whenever I was curious about something, I found the support articles in their knowledge base and even leveraged their live support for some securty questions. End-User Side:
On the end-user side, it just WORKS. And it's absolutely beautiful. Having a seamless and aesthetically pleasing experience is not something that tends to happen often. The user interface and the way that Kandji facilitates the no-touch deployment with Liftoff is absolutely insane. Everyone has a SelfService portal, but with auto-remediation-- Kandji
Pros:
The Kandji Team has made it incredibly easy to learn about, test, and deploy a complete MDM solution for Apple products. My absolute favorite part is the immense support that they provide in the form of their Knowledge Base support articles, and their amazing Live Chat support. As if setting up Kandji wasn't easy already, when you do need a resource, their knowledge base is impeccable and easy to navigate through to find answers. And on the rare occasion that I couldn't find a support article, I was able to chat with a support person via Live Chat right away. It all just seemed too good to be true, but it was in fact true all along. Kandji is here to deliver.
Cons:
I honestly have not experienced a downside to Kandji, or at least as of yet. This is one of the primary reasons why I love the platform/solution so much and have even recommended it to my other friends who also work in the IT industry as environment administrators for Mac fleets. If I had to nitpick something, it would be that they don't offer their amazing solution and platform for Windows computers. Hopefully one day Kandji can revamp and breathe life into Windows MDM as they did in the Apple Devices space.