15 years helping Canadian businesses
choose better software
What Is Kandji?
Kandji is the Apple device management and security platform that empowers secure and productive global work. With Kandji, Apple devices transform themselves into enterprise-ready endpoints, with all the right apps, settings, and security systems in place. Through advanced automation and thoughtful experiences, we're bringing much-needed harmony to the way IT, InfoSec, and Apple device users work today and tomorrow.
Who Uses Kandji?
Kandji is created for IT teams at medium to large size businesses that run on Apple devices.
Where can Kandji be deployed?
Cloud-based
On-premise
---
About the vendor
Kandji
Located in San Diego, US
Founded in 2018
Kandji pricing
Starting Price:
Yes, has free trial
No free version
Kandji does not have a free version but does offer a free trial.
About the vendor
Kandji
Located in San Diego, US
Founded in 2018
Kandji videos and images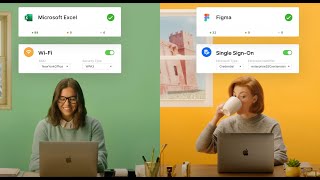 Features of Kandji
Access Controls/Permissions
Activity Dashboard
Activity Tracking
Alerts/Notifications
App Management
Application Management
Application Security
Asset Tracking Software
Automatic Patch Deployment
Automatic Scans
Automatic User/Device Recognition
Compliance Management
Compliance Tracking
Configuration Management
Data Management Software
Data Security
Deployment Management
Device Management
Endpoint Management
IT Asset Management Software
IT Reporting
Inventory Management Software
Issue Auditing
Mobile Access
Mobile Device Management Software
Patch Management Software
Policy Management Software
Process/Workflow Automation
Real Time Monitoring
Real Time Notifications
Real-time Alerts
Remediation Management
Remote Access/Control
Remote Monitoring & Management
Reporting/Analytics
Security Management
Self Service Portal
Software Management
Status Tracking
Synchronization Scheduling
Threat Intelligence
Usage Tracking/Analytics
User Management
Vulnerability Scanning
Chris
CTO in US
Verified LinkedIn User
Marketing & Advertising, 11–50 Employees
Used the Software for: 6-12 months
Reviewer Source
A perfect match for our needs
Comments: It's been great. The sales process was efficient, and in the few instances where I've needed support, the team have been responsive and have gone out of the way to help.
Pros:
As a smaller company without a dedicated IT team, Kandji makes managing our fleet of Macs simple. Transitioning from our previous MDM was straightforward and Kandji gives us the advanced features we need. I really like the in-built templates which gives you a configuration which is aligned to specific security standard, which can then be customized as desired. This allowed us to get up and running in less than a day. The software itself also feels modern - this comes across in the user experience and ease of use, especially when compared to other MDM solutions.
Cons:
As a relatively new offering, there are some features I wish were present - one example would be being able to assign an application to a single device without having to create an entirely new blueprint. To thier credit the Kandji team have acknowledged this and seem really receptive to feature requests.
Alternatives Considered: Jamf Pro, Mosyle Business, Addigy and Fleetsmith
Reasons for Choosing Kandji: We had outgrown the product and were looking for more advanced features.
Switched From: Jamf Now
Reasons for Switching to Kandji: Kanji offered the combination of powerful features and ease of use.
Dennis
IT Team Lead in US
Verified LinkedIn User
Computer Software, 501–1,000 Employees
Used the Software for: 1-5 months
Reviewer Source
Simpliest and most effecient MDM for Apple Device Management
Comments: We needed to simplify management of Apple devices. We needed an MDM that is effective and simple and didn't require hours upon hours of training to use. Kandji delivered on all points and their support is in a league of their own. Having an MDM that is easy to administer and works as expected takes all the pressure off of wondering if our Apple devices are configured and secured. To be completely honest, the peace of mind gained from using Kandji completely negates any cons I have and makes me infinitely & joyfully patient for the improvements in those areas.
Pros:
The auto-app library makes app installation very simple. Custom apps are easy to set up and deploy as you would expect. Their support team is astounding. Their knowledgableable, effective, and quick! Using blueprints to group devices and deploy apps and settings is simple and straightforward.
Cons:
Kandji's method of deploying configurations and apps to devices is it's best, and unfortunately the most crippling feature. Blueprints can help organize systems but leads to some frustration when attempting to make a one-off commands. Creating views for your devices doesn't work as expected (although I'm told this is something they are working to improve). Auto-apps require installation if you only want to keep them updated (I'm also told a self-service option is in development that will resolve this).
Alternatives Considered: Mosyle Business and Fleetsmith
Reasons for Choosing Kandji: Jamf was annoyingly difficult to administer, with some features not working as expected, the Jamf binaries failing to communicate, users being able to easily remove and break MDM connections, inconsistent behaviors with policy and configuration profile deployment, etc. What took months to set up in Jamf took about a week to configure in Kandji. We would often find ourselves shrugging in confusion as some apps would install with the built in pkg deployment via policy and others wouldn't (not an issue we have had with Kandji). The support experience was frustrating at best. The fact that we were able to set up, test, and migrate our entire organization to Kandji and that all our settings and apps work should say something.
Switched From: Jamf Pro
Reasons for Switching to Kandji: We had the entire instance set up within a week. It was so easy and made such an impression that after some basic testing and conversations with their migration team, we were sold.
Christian
IT Administrator in Germany
Information Technology & Services, 51–200 Employees
Used the Software for: Free Trial
Reviewer Source
First attempt of auto device enrollment killed/locked out device
Comments: Showstopper during trial as hardware kinda "killed"/locked out.
Pros:
support was responsive, but not really helpful in my case.
Cons:
First enrollment led to MacBook start in a pixeled blue screen after login window appeared for a few seconds. Then auto-reboot, same behaviour, infinite loop. Attempt to safe boot, NV RAM reset or restore did not work because Kandji obviously set a Firmware password on the device, but did not escrow it back to Kandji. Support assumed a hardware issue, which is ridiculous and more than a "co-incidence", because MacBook worked fine before enrolled to Kandji. So this leaves MacBook unuseable to us, which is a show stopper for the trial.
Manuela
IT Administrator in Canada
Computer Software, 201–500 Employees
Used the Software for: 1-5 months
Reviewer Source
Kandji - Making Mac Device Management Easy!
Comments: I've had a really amazing experience. I actually reached out to Kandji about 6 months before I purchased the product as I was building the business case and my Sales Support Member was checking in with in the right increments, when I finally did pull the trigger he didn't even mention how long it took me to purchase (I also 90% of the time responded to his emails and updated him on whats going on). I went on the trail and had calls with sales and a support engineer to answer any questions I wasn't able to find answers for, look at my space and give me feedback and suggestions. I would recommend coming to those meetings prepared so you can get the most out them. With in a month the space was set up and I had a warm hand off to my Customer Success Manager, we had a call and they also looked at my space and when I asked "Now how would you suggest I get 200 people to enrol this on their machines" they shared how other customers do this and I felt really set up. I get regular check ins from my CSM, and the support team continues to be a great help. 5 Star review.
Pros:
I love how easy it is to use and understand. To make changes is a breeze and their support team is TOP NOTCH. I've always gotten quick, personable & knowledgeable support. I like that the software is similar in how you would use as Mac - very intuitive and the interface is so beautifully simplistic.
Cons:
There isn't anything that really bothers me. I've had some challenges for sure, but when I reach out to support they always find the answer, even if they don't have the answer in the chat they get back to me via email in a reasonable amount of time based on the urgency of the issue.
Alternatives Considered: Hexnode UEM, JumpCloud Directory Platform, Jamf Pro and Mosyle Business
Reasons for Switching to Kandji: Looking at the other managers, I found their interface to have "outdated" language. What I mean is you know when you have a multipul choice quiz, and the answers/ questions are phrased in way that is meant to confuse that - thats what I mean about "outdated" language. IT doesn't need to be complicated, and we should be able to move with the times and make the language simple for everyone to be able to understand. Navigating Kanji was also the easiest - just the right amount of menus. When I think about expanding IT, I'm confident I can hire someone who has NO experience using a device manager and they will be able to lean Kandji very quickly.
Jacob
IT Systems Administrator in US
Computer Software, 51–200 Employees
Used the Software for: 1+ year
Reviewer Source
My favorite MDM
Comments: I am 1 person administering about 200 users, give or take. I have used other MDMs, and most of them either overload you with policy configuration mechanisms or make finding things like activation lock passcodes an arcane endeavor.
When tied to ABM and properly configured with Liftoff, my onboarding looks like this:
I open a Macbook fresh from Apple. I connect it manually to wi-fi. I watch. It's that easy.
Sometimes, maybe, a few seconds later, I log in to the auto admin profile. It runs some more parameters; maybe I'll run 'sudo kandji run' to watch. I create the new user. I shut it down and take it to FedEx.
That's it. Entire applications, like Adobe Creative Cloud or Slack, start installing if I will it. If I toggle a blueprint change, suddenly they're getting Docker and VSCode. The glory is that I don't even *have* to touch it - I could ship the laptop straight to my user and still be able to administer it. Kandji has even taken the panic response of "what if I need a laptop RIGHT NOW" away, because I can just direct a user to my organization's enrollment page after the fact and take it back over. I cannot imagine being 1 user servicing 200 and still using FileWave or Mosyle, plain and simple.
Pros:
I was shown the Kandji admin panel on my first day, having only seen the name in passing before, and was more or less told to just figure it out. I've opened my share of support tickets, but Kandji is so well organized as a tool that it's not scary at all to learn how to use. It has made plenty of my breakfix tickets take seconds to resolve, and where access control used to be a headache, it's made a no-brainer by Kandji.
Cons:
More a ding against Apple than Kandji, but in my experience, simultaneous app installation from Self Service doesn't seem to work - say you're waiting for xcode to install. You know it's ~14GB, but it's been stuck at 98.05% for two hours, so you're like, "okay, I'll just grab Chrome or something in the meantime," but you can't, because you started xcode first.
Alternatives Considered: Jamf Pro
Reasons for Choosing Kandji: Purchase was made before I started
Switched From: FileWave
Reasons for Switching to Kandji: Pricing, culture, new-ness, ease of implementation