15 years helping Canadian businesses
choose better software
What Is Infor M3?
Infor M3 is a cloud ERP solution that delivers industry-specific capabilities without extensive customizations or integrations in 32 languages and 71 countries. Infor M3 CloudSuites combine the Infor cloud platform built on infrastructure services from AWS®, and Infor OS—enabling cloud applications to work collaboratively with each other and with legacy software. M3 supports single and multi-company organizations, multi-site, multi-currency and empowers your ever changing business needs.
Who Uses Infor M3?
Infor M3 CloudSuites are designed for medium to large global manufacturers and distributors in the chemical, distribution, equipment, fashion, food and beverage, and industrial manufacturing.
Where can Infor M3 be deployed?
Cloud-based
On-premise
---
About the vendor
Infor
Located in Central Islip, US
Founded in 2014
Infor M3 support
Phone Support
24/7 (Live rep)
Chat
Infor M3 pricing
Starting Price:
Infor M3 does not have a free version.
About the vendor
Infor
Located in Central Islip, US
Founded in 2014
Infor M3 support
Phone Support
24/7 (Live rep)
Chat
Infor M3 videos and images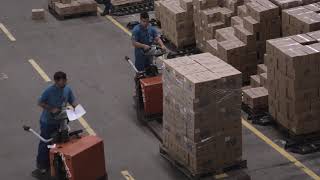 Features of Infor M3
Automated Scheduling
BOM Creation
Barcode/Ticket Scanning
Barcoding/RFID
Bills of Material
CRM Software
Capacity Planning Software
Change Management Software
Chemical Management
Collaboration Tools
Compliance Management
Contract/License Management
Demand Forecasting
Document Management Software
ERP
Enterprise Asset Management
Financial Management Software
Forecasting
Forms Automation Software
HR Management
Inspection Management
Inventory Management Software
Item Management
Late Fee Calculation
MES
Maintenance Management Software
Material Requirements Planning
Multi-Location
Order Fulfillment Software
Order Management Software
Predictive Analytics Software
Process Modeling & Designing
Procurement Management
Production Scheduling Software
Project Management Software
Purchase Order Management
Purchasing & Receiving
Quality Control
Quality Management Software
Quotes/Estimates
Rate Management
Real Time Data
Reporting/Analytics
Reservations Management
Resource Management Software
Returns Management
Rules-Based Workflow
Sales & Operations Planning
Sales Forecasting Software
Scheduling Software
Shipping Management
Supplier Management
Supply Chain Management Software
Task Management Software
Traceability
Transportation Management Software
Warehouse Management Software
What-if Analysis
Workflow Management Software
Dirk
Director, ERP System & Business Processing in US
Verified LinkedIn User
Airlines/Aviation, 201–500 Employees
Used the Software for: 2+ years
Reviewer Source
Proven, mature ERP is getting modern UI at last
Comments: I have worked with M3 for a number of organizations, and besides effectively managing the material plan and production schedule, it has also served well for the management of multiple business units which require monthly consolidation, multi-currency financial operations, and the complete life cycle of business processes.
Pros:
M3 is a stable, robust, proven ERP system that fits a wide variety of industries well, handles international business requirements and has the flexibility to support both the front office and the back office. In recent years, this has been supplemented with a modern UI toolset, allowing for workflow design and management, along with browser-based homepages and widgets that present users with the information they need to act on, focusing on exceptional situations instead of repetitive, routine tasks.
Cons:
The basic user interface for functional programs is still designed in the old AS400/RPG style, with a series of panels and a method of proceeding from panel to panel and program to program which can seem counter-intuitive to the user. Output management (for forms such as customer invoices or packing lists) has long been a weak spot but that is being addressed with new tools being developed. API's are available for many programs which allows for the development of custom user interfaces via Infor OS Homepages and Widgets, but there are significant gaps where API's have not been published.
Machinery, 51–200 Employees
Used the Software for: 2+ years
Reviewer Source
Pros and Cons
Comments: Over all Infor has continued to serve the needs of our organization. As our business has increased over the years, the software has allow us to make processes more efficient therefore, we can do jobs with less people. As we have associates leave, there is no need to replace them
Pros:
M3 is a system that is configurable to almost any circumstance. It seems is you can think of a process that you would like to have the system perform, Infor has though of this also and there is a way to make it happen inside of me
Cons:
The system has so many options and programs making it a hard to know what all you can do or how to do or navigate.
Alternatives Considered: JD Edwards EnterpriseOne
Reasons for Choosing Infor M3: Timing was the Y2K issue. We also needed a more robust system for our company
Reasons for Switching to Infor M3: M3 met more of the overall requirements we felt were pertinent to our business. - Production - Accounting - Reporting -Order Processing
Ben
M3 Project Manager in US
Environmental Services, 201–500 Employees
Used the Software for: 2+ years
Reviewer Source
Niche Rental Application
Comments: Allows for high volume of transactions and equipment movement throughout our over 30 locations. Could use more documentation on what is and is not supported functionality in certain programs. It is a fairly large ERP system, so this would be tough with all the new features being added.
Pros:
It has many more features than we currently use, that we can grow into.
Cons:
We are an unusual rental operation and initially it didn't have all the functionality that we required, so our 3rd party implementer made modifications to our base code, so when infor came out with the similar feature, we could not move to it. There are some feature fixes that can not be retrofit into our release.
Airlines/Aviation, 1,001–5,000 Employees
Used the Software for: 2+ years
Reviewer Source
Quality ERP
Comments: Infor support team (Elite customer) is excellent. Consulting engagements are sometimes not so great - it depends to a large degree on who you get..
Been users since 2010 comparison to the old Lawson company is night and day - way better now!
Pros:
Highly configurable product. Support from Infor is very good. Investment in the product by Infor continues to be significant and is showing results!
Cons:
Ironically, highly configurable! this lead to complexity in the initial set up to meet business process needs. However once established and implemented the product is stable and performs well. User interface is not premium but hoping for improvements when we move to Infor OS and homepages.
Verified Reviewer
Verified LinkedIn User
Glass, Ceramics & Concrete, 1,001–5,000 Employees
Used the Software for: 6-12 months
Reviewer Source
Lot of flexibility and usefull functionalities
Comments: user experience makes easier introduction of new hired colleagues.
Flexibility in configuration helps to add new functionalities fast.
Pros:
flexibility, easy of use and a lot of functionalities ready to use (that had to implement custom with other products)
Cons:
I see mainly 2 points: 1. enterprise structure has got some lacks, do not manage structured sales organizations (it doesn't exist a concept like it, which is usefull when you have same customer managed in different sales organization within the same company which could have different price list, discounts, payment terms) 2. all accounting is inherited through order, in example when I post good receipt I need to have cost center in purchase order and I cannot change during good receipt. And also for sales, all accounting are inherited from order. Workaround exists, but it is still a limitation
Alternatives Considered: SAP S/4HANA Cloud
Reasons for Switching to Infor M3: IT should be more simple and faster to implement, furthermore more flexible