What Is PayPal?
Over 26 million businesses choose PayPal to power their online payments both home and abroad. With easy setup, world-class fraud and seller protection tools, youll be able to reach more buyers and driver higher sales with PayPal. Whether youre selling on your own website or on marketplaces or via social media you can receive and send payments anywhere in the world with your all-in-one business account for online payments

24/7 Fraud Protection - Easy Integration - Global Expertise
Who Uses PayPal?
Whether you're a small business, ecommerce platform, marketplace, enterprise, or developer, PayPal Commerce Platform offers what you need to run your business and help it grow.
Where can PayPal be deployed?
Cloud-based
On-premise
---
About the vendor
PayPal
Located in San Jose, U.S.
Founded in 1998
About the vendor
PayPal
Located in San Jose, U.S.
Founded in 1998
PayPal videos and images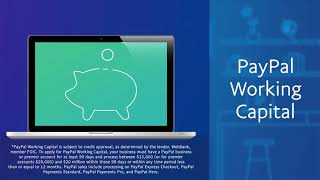 Compare PayPal pricing with similar products
Features of PayPal
ACH Payment Processing
Access Controls/Permissions
Ad hoc Reporting
Anomaly Detection
Barcode / Ticket Scanning
Billing & Invoicing
Compliance Management
Contact Database
Customer Management
Customizable Dashboard
Customizable Invoices
Dashboard Software
Data Import/Export
Data Management Software
Data Security
Data Visualization Software
Debit/Credit Card Processing
Electronic Payments
Financial Reporting Software
For B2B
For Retail
In-Person Payments
Intrusion Detection System
Inventory Management Software
Invoice Creation
Invoice History
Invoice Processing
Marketplace Integration
Mobile Access
Mobile Payments
Multi-Currency
Multi-Period Recurring Billing
Multiple Payment Options
Online Invoicing
Online Payments
Order Management Software
PCI Assessment
PCI Compliance Software
Payment Fraud Prevention
Payment Options
Payment Processing Software
Point of Sale (POS)
Product Catalog
Promotions Management
Real-time Alerts
Recurring Invoicing
Recurring/Subscription Billing
Reporting/Analytics
Restaurant POS Software
Risk Analytics
Sales Reports
Self Service Portal
Shipping Management
Shopping Cart Software
Social Media Integration
eCommerce Management
Mark Anthony
Freelancer in United Arab Emirates
Verified LinkedIn User
Computer Software, Self Employed
Used the Software for: 2+ years
The Best Digital Wallet
Comments: From linking my bank account to withdrawal, Paypal has been so efficient, easy to use, and straightforward. With the help of digital wallet banking, sending and receiving money locally or internationally has been so easy. With a single click, your money is on the go. Overall Paypal is for everyone.
Pros:
It is a user-friendly platform where in you can send and receive digital money from all over the globe. There are lots of websites that accept PayPal as a way of payment method and that makes it easier to make online purchases anywhere. Paypal can also be used on mobile phones which means you can access your account wherever and whenever you want it. Invoicing is very simple and easy to make when you are requesting payment.
Cons:
So far, the benefit of having a Paypal account is a big help for me. We all need Paypal for our online money transactions. It is a perfect platform for me.
Abin
Administrator in Canada
Investment Management Software, 501-1,000 Employees
Used the Software for: 2+ years
An amazing Platform for all types of transaction
Comments: The experience from using PayPal has helped in understanding how secure it is to use a mediator like PayPal because of its best in class protection towards safe guarding the personal data and ensuring the wallet is safe. I enjoy the feature of adding USD to the wallet and thus helping to save on forex and conversion rate. These days the PayPal recognizes the device that's being used and help in making seamless transaction without the need to verify over and over again . Upto date transaction records and easy to track the transaction makes it a tool for record keeping. Further, a lot of institutions are enrolled and are using PayPal making it global these days for buying and selling and accepting the proceeds through PayPal, and further sending and receiving money through banks. Overall, PayPal is one of its kind and best in class which is meant for the present days for both individual and business alike.
Pros:
Paypal is an user friendly and secure Plato for. which helps in navigating through and understanding the various features provided easily. The processing speed of transaction is so quick and instant. The facility to add various credit card providers and highest security measures will definitely make it a plus to rely on this platform without a second thought. Customer service is excellent that they work with us to resolve issues in a timely manner respecting the time of the user. Further, various currencies could be added to the account thus helping us to store the currency and use when we want without having the forex exposure affecting in the transaction.
Cons:
The software is so amazing that i don't see anything that seems like a drawback, one reason is PayPal is evolving as they constantly add features which are meeting and matching to the current trends and needed for the present technologically reliant economy.
Mary
Music Instructor in U.S.
Fine Art, 11-50 Employees
Used the Software for: 2+ years
Source: SoftwareAdvice
Alternatives Considered:
Trusty way to pay and receive payments
Comments: This has been a very reliable way to send money. However, quite a few people do not use it, and so it is not useful with them. I have not chosen to use it for online shopping.
Pros:
I have used this for a long time to send money and receive money. I love that I can go back and easily see transactions, and those I send money to the most are there as quick icons.
Cons:
It takes several steps to send money to someone, and a lot of changes have been made (taking out more fees, etc.).
Reginald
Freelancer in U.S.
Verified LinkedIn User
Information Technology & Services, Self Employed
Used the Software for: 2+ years
PayPal in 2022 – The Review
Comments: When it comes to managing your business, processing payments, and managing orders and inventory you really don't want to cut corners or mess with less established companies. PayPal is an industry standard for a reason. Whether your self employed freelancer, an artist, or the CEO of a company of several thousand running your business is stressful enough without the headache of managing the financial POS side of your business and PayPal helps relieve some of the stress.
Pros:
Ease of Use: PayPal has made it remarkably easy and quick to set up a business account by taking the complicated parts out of the equation without sacrificing quality, features, or functionality. The setup is very intuitive and walks you through all the important steps. Widely accepted: Since PayPal is a well-known global brand it's widely accepted and trusted as a secure and legitimate form of payment. There are other companies that come ago with varying amounts of trendy popularity but often with them, you run the risk of the person you're doing business with not accepting them. That's not the case with PayPal. Forward Thinking: Just like their easy setup PayPal has also made it easy to get involved with cryptocurrency by making it easy to purchase and walking you through the entire process. Security: What makes PayPal a titan in the industry is its security. For those who are interested in the technical side of it, PayPal offers 128-bit dual-end SSL encryption on all transactions as well as performing regular security checks on their own servers. Additionally, from a buyer's standpoint, they offer a really strong Buyer/Seller protection program. Data protection in a world of constant cyber threats is critical, and PayPal has made this a cornerstone of its brand.
Cons:
Hardware: The hardware (formerly PayPal Here, is now PayPal Zettle) is good however it must be purchased by the merchant separately. International Availability: PayPal is accepted in most places around the world however some countries are not available so you have to check ahead of time.
Brandy
Ceo in U.S.
Verified LinkedIn User
Retail, Self Employed
Used the Software for: 2+ years
The best 4 everything they do
Pros:
I love PayPal it's so easy 2 use it has lots of features & there all great features not a bunch of useless 1s u can easily send, receive & send request 4 $ u can get ur card that goes w ur acct so u can use it anywhere it made PayPal the best bc b4 that u couldn't pay w ur PayPal acct now u can & the invoicing even on a free or personal acct is great u can add ur personal login that will appear on ur invoices along w ur company info u can send a invoice & it also tells u if that person has opened that invoice or not u can edit it & all ur invoices r all in 1 place where u can easily them all & they have great customer service they r always fair n come 2 a fair decision & don't let u get ripped off by scammers it's all great
Cons:
I don't have any cona w PayPal except the changes that have been made u can't get ur $ until the package has arrived then 1 day later it releases it which means u have 2 pay 4 the shipping until the $ is taken off hold but I know this probably isn't PayPals doings