What Is SixBit Software?
A customizable subscription-based solution that provides listing, inventory, order, consignment, purchase orders, and drop-shipping management, tools for selling on eCommerce. SixBit Software currently supports eBay, Etsy, Shopify (currently on hold), and Hip Sites with future marketplace integrations coming. With SixBit Software's full-fledged support team, there is no need to wait around for someone to help you as we have a proven track history of getting back to you quickly, when you need it.
Who Uses SixBit Software?
For online stores that sell on eBay, Etsy, Shopify, and Hip. Five subscription levels can accommodate single hobbyist sellers all the way up to enterprise-level businesses with multiple employees.
Where can SixBit Software be deployed?
Cloud-based
On-premise
---
About the vendor
SixBit Software
Located in Sayre, US
Founded in 2009
Countries available
United States
SixBit Software pricing
Starting Price:
US$24.99/month
Yes, has free trial
No free version
SixBit Software does not have a free version but does offer a free trial. SixBit Software paid version starts at US$24.99/month.
Pricing plans
get a free trial
About the vendor
SixBit Software
Located in Sayre, US
Founded in 2009
Countries available
United States
SixBit Software videos and images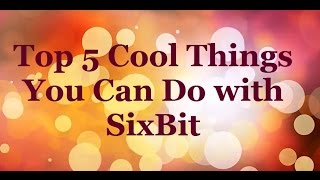 Features of SixBit Software
Alerts/Notifications
Cataloging/Categorization
Cost Tracking
Email Marketing Software
Inventory Auditing
Inventory Control Software
Inventory Management Software
Multi-Channel Marketing
Order Management Software
Order Tracking
Product Identification
Purchase Order Management
Reorder Management
Search/Filter
Shipping Management
Supplier Management
Alternatives to SixBit Software
Reviews of SixBit Software
Athena
Director of Operations in US
Verified LinkedIn User
Wholesale, 2–10 Employees
Used the Software for: 2+ years
Reviewer Source
Best listing software so far!
Comments: To date it is the best listing software we have come across. Regular updates and bug fixes keep the software moving forward and manageable.
Pros:
The biggest plus of Sixbit is that it is an actual database. It holds records from other software, at least for us, dating back to 2014. In addition to saving the records we are able to get an analysis of the sales. While eBay only holds 90 days of information, Sixbit allows us to keep better tabs on sales and inventory. It is also very helpful to have multiple users, as the administrator I can keep track of who is listing which item which is very helpful when it comes time to credit employees for their sales.
Cons:
The only con of this software is its intricate coding and use of SQL. We have run into issues with fresh installations and other computers being unable to view images in listings.
Apparel & Fashion, Self Employed
Used the Software for: 2+ years
Reviewer Source
SixBit for eBay Sellers
Comments: Sixbit dramatically speeds up the process of creating listings and managing inventory.
Pros:
I use Sixbit because it has the most advanced functionality for running a consignment business.
Cons:
It took a little getting used to because it's a powerful and complex program.
Automotive, 2–10 Employees
Used the Software for: 1-5 months
Reviewer Source
disaster
Pros:
like other software noting special too many function none is perfect
Cons:
I used turbo lister since 2008 and list over 100k items with it until ebay blocked it, it has some bugs but at least it would not do much damage on your existing listed , Sixbits try to manage your business ,listing, shipping , inventory .... (that I dont like ) I only used it to list items on my ebay and it was fine for that , it is based on SKU , if you have my items without SKU it will assign its own numbers , the problem is if your items have same title , it will assign same SKU to all of them even if they have different Ebay ID , Pic, Price .... I used this stupid software to update some of my items compatibility in bulk (I sale auto parts) it synced the all the listings with same title , all of my pictures gone , I cannot even find the orders because my item ID tags was in the pictures , their default auto database back up did not make any back up! customer support already knew the issue and their suggestion was to tick the option to end the duplicate listing (that their software made) so instead of 20 different door panels I will have 1 listing and rest will be deleted (genius solution from this morons ) I have to find and relist 1000 items from beginning because of their stupid programing and they do not even take responsibility , this will cost me few thousands dollar in sale and labor to fix it I will file a lawsuit ASAP they should be liable for these bugs Do not put your business on risk because of this buggy software
Retail, 2–10 Employees
Used the Software for: 2+ years
Reviewer Source
Demark Ebay review
Pros:
Keeps us straight with our inventory control.
Cons:
A lot to learn, but it is helpful once you learn the ins and outs.
Verified Reviewer
Verified LinkedIn User
Consumer Electronics, 51–200 Employees
Used the Software for: 6-12 months
Reviewer Source
Sixbit is a great program to use, though it does have it's bugs
Comments: After working for an electronics recycling center for over 6 months, I am pretty familiar with the basics of sixbit. I don't have experience with uploading items or managing profiles as those features are restricted for my manager's use. Overall, I do like it as it is much easier than uploading each individual item to eBay. It did take a while to get used to the controls/buttons. One thing I will point out is that when the program is restarted, the layout changes to the default, even under a saved profile, and it takes a few clicks to get it back.
Pros:
I like how easy it is to utilize templates when listing multiple items to eBay. It takes a lot of the legwork out, especially when listing hundreds of items per month.
Cons:
There is quite a learning curve when using the controls and understanding the window layout.