AutoEntry
What Is AutoEntry?
Eliminate manual data entry to simplify your bookkeeping tasks and unlock time savings. Integrates with multiple accounting solutions, including Quickbooks, Xero, Sage, Kashflow, Fuzemetrix and more.
Read less
Who Uses AutoEntry?
Designed for small to midsize businesses, it is an automated data entry platform that streamlines the process of bookkeeping and accounting.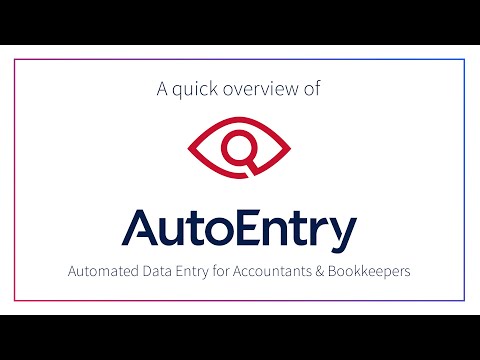 Not sure about AutoEntry? Compare with a popular alternative
Alternatives to AutoEntry
Daniel
Accounts Trainee in UK
Verified LinkedIn User
Accounting Software, 51-200 Employees
Used the Software for: 1-5 months
Source: GetApp
Convenient, accurate and time saving
Pros:
We have been using Auto Entry as a firm for a couple of months and we're really impressed at how much time it can save, level of accuracy and convenience. As a medium sized accountancy firm we are always looking at options to save labour hours inputting data and so far it is a good inexpensive solution. Purchase invoices are easy to process, we mostly upload all the invoices we want to process as one PDF and leave Auto Entry to process them, but there are options to process multi-page PDFs and more detailed breakdown. It will read the Date, Supplier name, and amounts, net of VAT and gross including it. When Auto Entry and QuickBooks are linked up, all the Suppliers, Customers and the Chart of Accounts are linked, to the supplier account and relevant nominal can be selected from a drop down, which Auto Entry remembers going forward. You can ''Approve'' invoices that are ready to import and sync up with QuickBooks. Sales work very similar to Purchases. Bank statements are processed quickly and are usually accurate, saving us many hours that our staff would have to spend manually summarising. The files at the end can then be either downloaded as an excel file or imported into QuickBooks. In terms of chargeable time it is inexpensive, freeing up time to work on other tasks. When we first tried out Auto Entry, there is a chat box and the bottom right that lets you know what advisors are active at that time. They were very helpful at the start when navigating it. - On behalf of Jerroms
Cons:
Occasionally a figure may be incorrect when converting bank statements, however this is very rare. Sometimes a duplicate items on an invoice may occur when processing purchase or sales invoices, Again quite rare.
EAMON
Director in Ireland
Accounting Software, 2-10 Employees
Used the Software for: 2+ years
Alternatives Considered:
Change how you deal with clients and your own accounts
Comments: Cut down on time spent on repetitive and labourious tasks to free up staff to work on higer paid tasks such as accounts preparation instead of record-keeping
Pros:
Easy to use New users are enthusiastic about the package Inexperienced users can make progress on data entry the package skims documents to pick up dates and amounts but also picks up on invoices where the invoice is entered twice and points out duplicates At the end of the accounts process everyone can log in and view an image of the actual invoice uploaded thereby cutting down on verbal explanations and long conversations and misunderstandings
Cons:
Possibly too easy to use Users sometimes click an invoice as paid which causes complications later
Accounting Software, 2-10 Employees
Used the Software for: 2+ years
Alternatives Considered:
Given my team some time back in the day.
Comments: This has saved us hours of data entry and irradiated typos when entering bank statements and invoices.
Pros:
The ease in which bank statements can be converted in to a Excel spreadsheet or downloaded in to the accounting software
Cons:
It would be good if departments could be allocated for Sage Accounting
Tom
Managing Partner in Australia
Investment Management Software, 51-200 Employees
Used the Software for: 2+ years
Source: SoftwareAdvice
Buggy Software . . . and Major Bugs not addressed for months.
Comments: Terrible. Have not been able to access for a month . . . and my creditors are screaming. Honestly, do not risk it with this product.
Pros:
I've been a customer (and pretty much a fan until recently) for more than 3 years and loved the automatic entry of invoices. Certainly beat manual entry. That said, the interface is very poorly design and generally very buggy in many ways. I was happy to put up with all of this, until recently when I could no longer even log on!!! Keep in mind all my creditor invoices are on this system . . . and the customer service team told me this was a "bug the team is working on". Essentially the 2FA failed and they have not resolved for a month! No work-around offered til just now (and I am still waiting after contacting their help desk again hours ago).
Cons:
IT Service Management is terrible. Very buggy and very major bugs are unresolved for week!
Andile
Account Manager in South Africa
Verified LinkedIn User
Information Technology & Services, 11-50 Employees
Used the Software for: Free Trial
Alternatives Considered:
Paperless entry
Comments: Accuracy is ensured, reduced admin time and seamless integration to cloud accounting, this is awesome.I have had the previllage of meeting the team, I trust the brand, product and people.
Pros:
I work with clients that deal with PDF and hard copy bank statements, my accountants are reduced to data capturing for hours, the seamless upload of these documents and bulk import/Integration to accounting systems save so much time and afford them to do what they do best: produce vital financial information to business in time.
Cons:
The billing method: credits.In an ideal world this is great, my Account clients deal with clients that have huge amounts of PDF and print outs which prove to be more expensive for them to render thier service.