What Is Document360?
This Black Friday You can get 40% off on all annual plans.
Document360 helps you to create a knowledge base, wikis, manuals & documentation at a scale.
Create, collaborate, & publish a self-service knowledge base with our easy-to-use editor.
Unlike other tools, you can not just create a private or public KB, but also create a mixed KB.
Maintain multiple versions, take advantage of the markdown editor and advanced analytics, be assured of robust security, & match with your brand identity.
Who Uses Document360?
Document360 is suitable for businesses of all sizes. 100k+ users use Document360 every day. Get 40% off this Black Friday. Create your knowledge base or documentation at a scale today!
Where can Document360 be deployed?
Cloud-based
On-premise
---
About the vendor
Kovai.co
Located in Sidcup, UK
Founded in 2017
Document360 pricing
Starting Price:
US$119.00/month
Yes, has free trial
Yes, has free version
Document360 has a free version and offers a free trial. Document360 paid version starts at US$119.00/month.
Pricing plans
get a free trial
About the vendor
Kovai.co
Located in Sidcup, UK
Founded in 2017
Document360 videos and images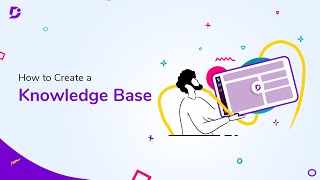 Features of Document360
Access Controls/Permissions
Alerts/Notifications
Cataloging/Categorization
Collaboration Tools
Commenting/Notes
Content Library
Content Management System (CMS) Software
Customizable Branding
Customizable Templates
Dashboard Software
Discussions / Forums
Feedback Management
Full Text Search
Knowledge Base Management
Knowledge Management Software
Multi-Language
Rich Text Editor
SEO Management
Self Service Portal
Text Editing
User Management
Widgets
Workflow Management Software
Alternatives to Document360
Christeen
SEO Specialist in India
Verified LinkedIn User
Computer Software, 2-10 Employees
Used the Software for: 1-5 months
Great overall, could add a couple of more features
Comments: Overall I find it a far preferable option to reduce the tickets that shoulder the customer support. The best tool for creating a product Knowledge base and FAQ pages.
Pros:
It gives you a central hub of information. Rather than searching and asking for support issues faced by employees through cluttered information, you encourage to find answer themselves. It can be used as both internal and external knowledge base. Top features for me in this tool is the powerful analytics that tells you what people have and what they are looking for, allowing you to plug the gap. This makes your knowledge base more reliable and usable. You can have user restriction access meaning complete control over who is able to access what. If you want to keep your information private.
Cons:
The only issue I see is you can import content from WordPress and no word or CHM. Though these are nice to have options I personally prefer having it.
Jessika
Senior Technical Writer in US
Computer Software, 51-200 Employees
Used the Software for: 1-5 months
Doc360 Is a User-Friendly and Intuitive KB Platform
Comments: Doc360's platform allows us to easily centralize our documentation that is searchable.
Pros:
The team and I searched for the right knowledge base platform solution for many weeks. After we tested Document360 and met with their support team, we knew we had found the one for us--one where you do not have to be a developer to use the product. Some things I love about Document360: - Comprehensive analytic reports from the number of article views to article ratings and user feedback. - Easy to create, edit, and publish articles. - Intuitive UI. - Flexible and customizable landing page. Doc360 is also equipped with many templates so you don't have to start from scratch. - Glossary makes it easy for readers to understand new concepts. This eliminates the need to reintroduce a concept across multiple articles. - I've received feedback from readers that searching for articles and finding information is easy. - Easy to tag articles for better visibility.
Cons:
- I've come across nuance cases like the numbers resetting between screenshots; however, I've found quick fixes such as going into the code to manually fix the numbers or just using Shift+Enter to continue the numbering. These quick fixes have become second nature, and I'm grateful that there are solutions. - When I leave an article, sometimes I'll come back and the spacing is different. (I.e. extra spaces between paragraphs, removed spaces between words.) I'd like to note that this bug is inconsistent. - Whenever I run into a bug, I email the support team and receive an immediate response (within an hour). Most of the time, the solution is in that response. If the answer isn't that simple, the support team is quick to schedule a meeting to resolve it.
Alternatives Considered: Helpjuice, Help Scout, Heroic Knowledge Base, Slite, Confluence, HubSpot CRM and Zendesk Suite
Reasons for Switching to Document360: Price, user-friendly and intuitive UI, search capabilities
Aarthi
Senior Technical Writer in India
Information Technology & Services, 51-200 Employees
Used the Software for: 6-12 months
The easiest and best tool for KB
Pros:
Very easy and intuitive tool for KB Gives complete ownership to writers to manage the end-to-end workflow of documentation Inbuilt image and table styles make work much easier SEO and Analytics give broader understanding of how to design KB
Cons:
Inflexible home page editor Introduction of span styles on copy-paste Junk characters with periods, quotes, etc. Difficulty in working with callouts Unavailability of preview or staging for intermediate check or review
Information Technology & Services, 11-50 Employees
Used the Software for: 1+ year
Document360 is Super Easy to setup and use
Comments: Document360 gives my company and team an easy spot for documentation about our product to our customers and provides a repository for our teams to help customers in the future. It saves us hours of time when dealing with customers as they can access the information they need to learn about our software.
Pros:
What I like best about Document360 is its easy use and easy-to-navigate and create pages. My team can easily create articles and link them to other articles in the system for our team and customers to use.
Cons:
Although the search function is mighty, sometimes, the search puts things in a strange order when searching for articles. It could be a user input error that could be causing the results to not come up as expected.
Alternatives Considered: Confluence
Reasons for Switching to Document360: Document360 gives my company and team an easy spot for documentation about our product to our customers and provides a repository for our teams to help customers in the future. It was very affordable for our needs as a company for our customers
David
Technical Writer in US
Computer Software, 201-500 Employees
Used the Software for: 6-12 months
Strong product for the price
Pros:
Document360 made it easy to set up and maintain our private knowledge base. They have most of the features we expected from a SaaS knowledgebase platform and the pricing is very reasonable. It was very important to us to keep our documentation private (available only our SaaS portal users) without having to pay for a license for every reader, and Document360 fit the bill.
Cons:
This is SaaS so you're doing everything via a browser, and the admin interface can be slow sometimes, and has a few annoying quirks. This has improved even since I first started using it, but it's not perfect. There are also a few key things I wish I could do via their REST API that are not available yet. Fortunately the Document360 team do actively engage with their customers' feature requests and they maitain an up-to-date customer-facing product development pipeline, so you can see what features and improvements are coming.